We were hiding from the heat, sisters in solidarity against vacationing in places that felt as hot as the surface of the sun. While most of our friends lounged by the pool, living their best lives with umbrella drinks and beach reads, the four of us sought refuge in the blessedly air-conditioned hotel room. In the privacy of that room, we could finally admit that we were melting and a little bit hangry (hot + angry) about it.
As we commiserated and cooled off, our conversation quickly turned to deeper topics.
I can still see us in that room, two of us on each of the two beds, facing each other and slowly getting comfort- able. I'm not sure how we got from "I cannot deal with this heat" to "Some spaces aren't safe for people who look like me," but we did. Of the four of us friends, one was Black and one was Asian American. As they began to share their lived experiences in the world and on the internet, I was stunned.
Listening to their stories, I was shocked both by what I was hearing and learning and by my own reaction. At one point I sat on my hands in an attempt to remind myself to stay quiet and listen. I'd never before taken the phrase "bite your tongue" as literal advice, but as I felt objections rattling in my throat, I wondered if I would need to actually do it.
Internally I screamed, "But I'm not like that!" I longed to say, "I would never treat you like that—and I'm so mad that someone did!" Words of encouragement and empathy tend to be my friendship superpower, but somehow I knew this wasn't the time. Somehow I sensed that my expressing rage on my friends' behalf wasn't what was needed. It wouldn't help, and it might even hurt.
I sat in that hotel room in the summer of 2017, listening to my friends talk and carefully asking follow-up questions. It took restraint that I don't normally exercise, discernment and discipline that can only be attributed to the Holy Spirit. And not only did God make it clear that I should talk less and listen more but He also helped me hear something new, something heart-changing.
When I heard my friends say that they didn't feel welcome in communities that included very few people of color, my gut reaction was to yell, "But you are welcome! I promise! I want you there! You should feel welcome there!" I don't think that reaction was completely wrong, but it was coming from a place of ignorance. I didn't know what I didn't know, but from that conversation and many more since then, I began to learn.
I've learned that I really don't understand what it's like to be a person of color in the United States. I've learned that having and loving friends from different cultural backgrounds doesn't mean I know what it's like to walk in their shoes. And as much as I've wanted to say, "We're all the same!" and move on, glossing over our differences downplays the pain and struggle and the beauty of those very differences. I've learned that just because I'm not overtly racist doesn't mean I don't have biases or that I don't benefit from a system rooted in racist assumptions and misunderstandings about people who are different from me.
I've learned that I have a lot to learn, and I won't be able to do that if I open my mouth and shout, "Not me!" and "Not every . . . !" each time the issue of race comes up. I've learned that feeling things in my heart is a good start, but it doesn't actually help my sisters and brothers of color. Well-intentioned emotions aren't enough.
We have to actually sit down together and listen. Sit on your hands if you need to. Bite your tongue if that's what it takes to stop yourself from interjecting or refuting what you're hearing, and just listen. I'm not saying this is easy, my friend. As a white woman, it's not easy for me to open up my mind and heart to recognize the injustices in this world, things that I simply wasn't aware of or unintentionally turned a blind eye to. It's not easy to sit in the tension of what the world is like and how I wish it would be. And I can only imagine that for my sisters and brothers of color it's not easy to vulnerably share their stories of encountering racism. It can't be easy to trust that you'll be believed and not questioned, fully accepted and not secretly rejected.
Sitting together on hotel beds or around dining tables, in conference rooms or church pews and really listening to others whose experiences are unlike our own isn't easy. But easy isn't the point. The point is connection. The point is loving one another well.
This is an excerpt by Mary Carver from Come Sit with Me.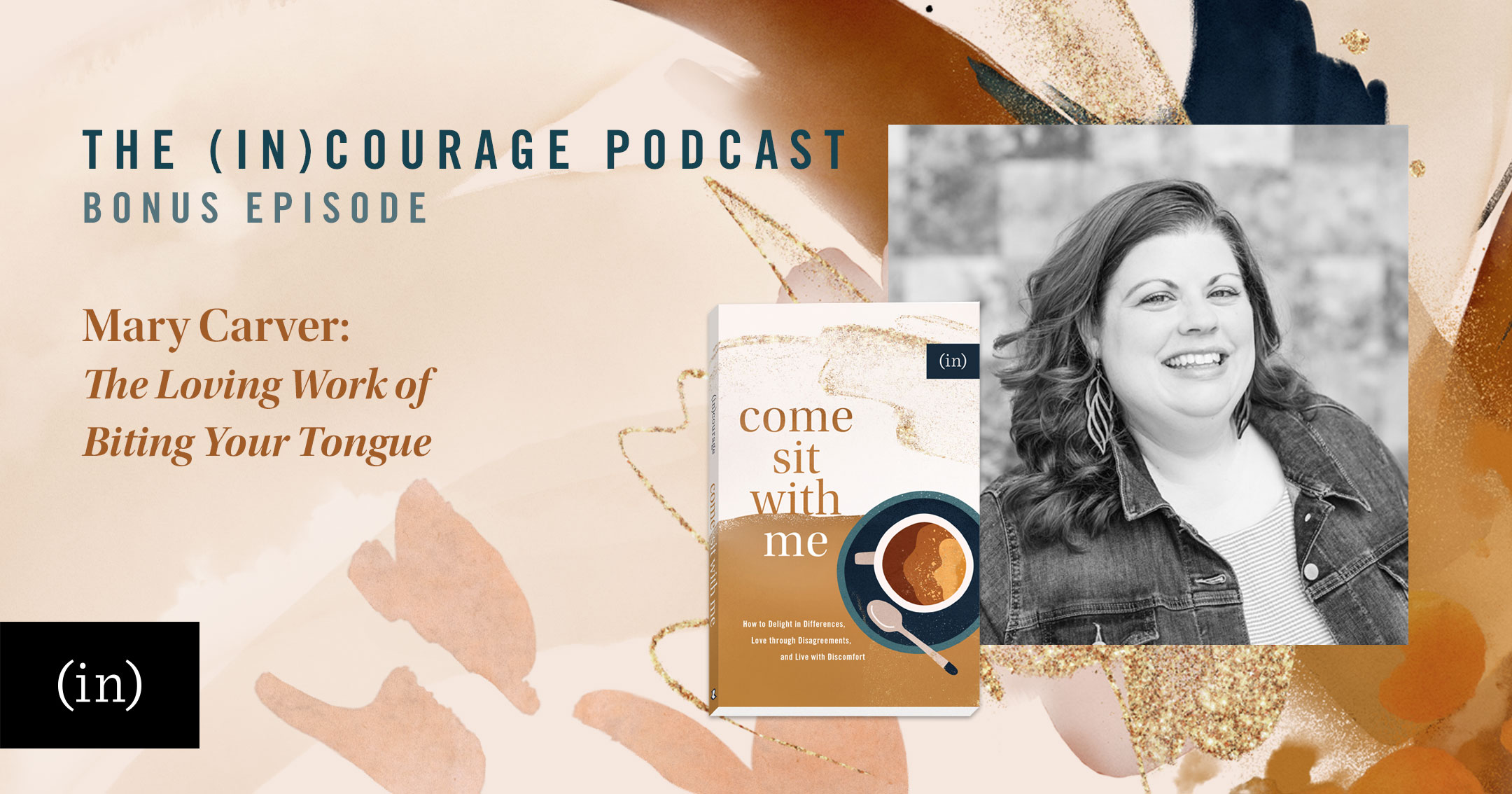 Learning, growing, and relating with people whose stories are unlike our own isn't always easy or comfortable; but it is possible… and worth it!
In Come Sit with Me: How to Delight in Differences, Love through Disagreements, and Live with Discomfort, you'll find stories from 26 (in)courage writers who bravely go first with their hard, awkward, sometimes heart-wrenching stories to give you real hope for the miraculous (and mundane) ways God works.
Leave a Comment