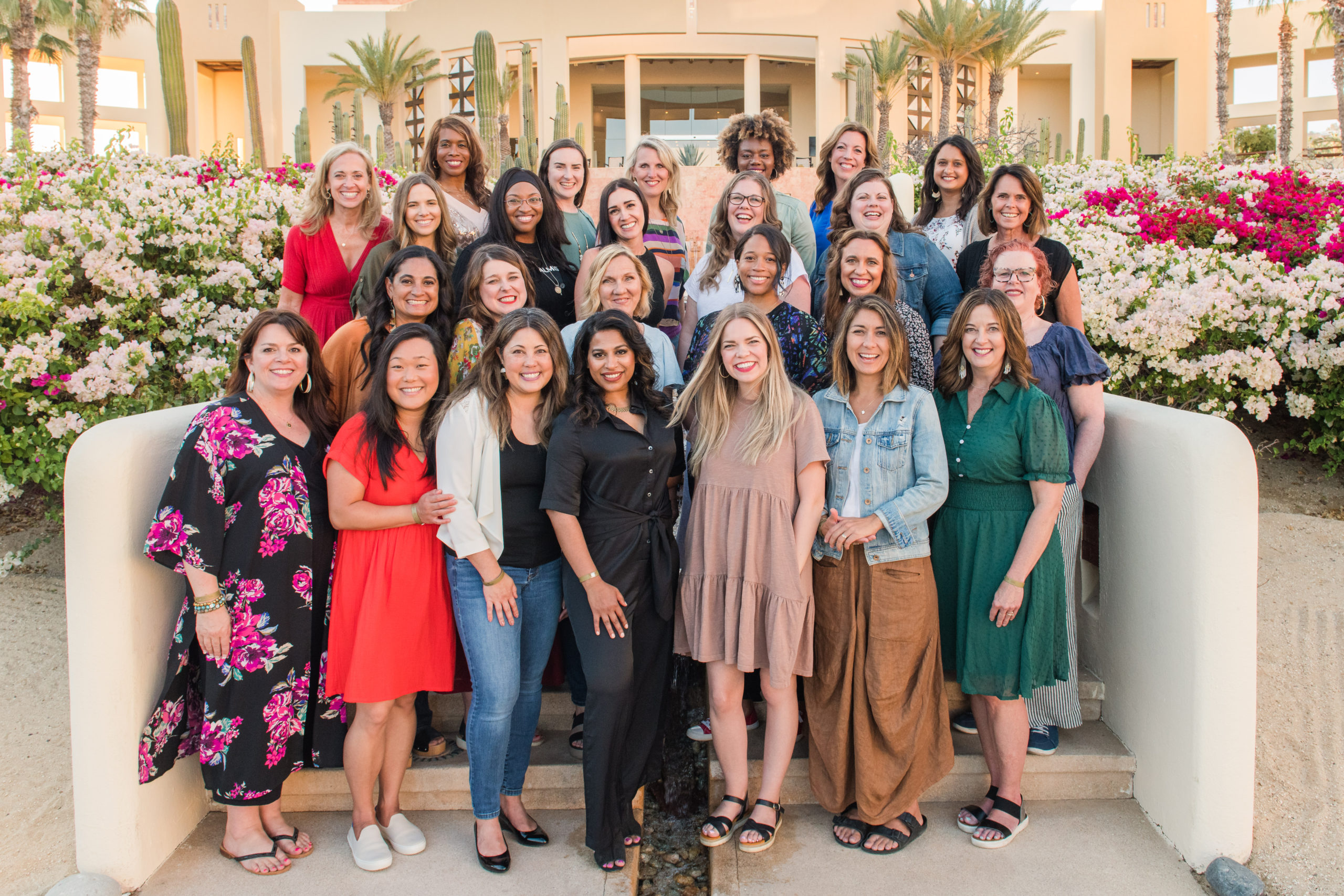 (in)courage was founded in 2009 by DaySpring (the Christian products subsidiary of Hallmark Cards, Inc.), as two employees, Holley Gerth and Stephanie Bryant, had the vision to create an "online home for the hearts of women". With the support of DaySpring, (in)courage launched as the first contributor site of its kind, publishing devotions and Jesus-centered stories seven days a week. The (in) in our name means that we are in Christ, connected, and in community with each other. From all of this comes true courage.
We like to think of (in)courage as a virtual living room. Here, you can come just the way you are. We don't show up with platitudes or tidy bows, just our real stories – beauty and growth and shattered bits together. We come with open arms and listening ears for those who are willing to give voice to their doubts and struggles. We grapple together over issues we can't easily solve. Together, we feel less alone, and we embrace learning from experiences unlike our own. Above all, we point one another to the hope of Jesus – which makes all the difference.
You should know that we're a community of women from different ages, life stages, and cultural backgrounds who enjoy different church traditions. But at the end of the day, the one thing that connects us is Jesus! So if you love Jesus and want to grow in Him, or you just want to know what it could look like to live with greater hope and purpose each day, you're in the right place.
(in)courage History
2009: Holley Gerth and Stephanie Bryant dream of an online home for the hearts of women. (in)courage is born!
2010: guest posts are featured at (in)courage.
2010 to 2017: Lisa-Jo Baker served (in)courage as the community manager. Lisa-Jo's creativity and passion for connecting women helped grow this community and shape the landscape of (in)courage.
2012 – 2017: we host events both online and in-person, including meetups via our (in)Real Life Online Conferences, online Community Groups, and the Bloom Book Club.
2014: (in)courage products and resources are launched at DaySpring.com. Nine new contributors are added.
2015: (in)courage focuses on "finding yourself among friends." Partnership with LifeWay and B&H Publishing begins.
2018: Ten new contributors are added. Joy Groblebe joins the (in)courage/DaySpring staff as full-time Content Marketing Director, and Becky Keife becomes Community Manager.
2020: (in)courage leans into building community, celebrating diversity, and becoming women of courage. Partnership with Revell Publishing begins.
2021: Anna Rendell expands her existing role with (in)courage to join DaySpring staff as a full-time Content Marketing Manager. The (in)courage Podcast launches.
2022: (in)courage looks to "empower women to be like Jesus." Three new contributors are added.
… we can't wait to see what God does next!
Over the years, (in)courage has published dozens of books, devotionals, journals, agenda planners, a devotional Bible, and eight Bible studies.
DaySpring and (in)courage continue to help Christian women live their faith by connecting them to God's Word and others through the power of shared stories. We use our articles, social media, Bible studies, podcast, and books to communicate God's love to women worldwide.
(in)courage Alumni
Along with our current writers, we deeply value our past contributors. These women, the ones who helped shape this place and speak to our souls, remain dear to our hearts. You can continue connecting with (in)courage alumni by enjoying their past (in)courage posts and visiting their websites:
Find out even more about (in)courage here!