My middle daughter popped her head through the door on that Friday night. I was just melting into bed after a very full week.
"Could you take me to the hot air balloon festival in the morning?" she asked, her toffee-brown eyes shining. "I want to take some photos."
As much as I wanted to sleep in, I have a practice of saying yes to as many opportunities as I can that involve quality time with my tween and teen daughters. It's a sweet privilege when they invite me in.
"Sounds amazing," I replied, stifling a yawn. "Can you help me set an alarm so I get up in time?"
After what seemed like just a few minutes, the blare of my alarm was urging me to rise. Bleary-eyed, I pulled on a pumpkin-colored fleece and a pair of jeans and headed downstairs. My girl was ready and waiting with her camera case, backpack, and water bottle.
My daughter recently joined the photojournalist staff for her high school newspaper. As a freshman, she's learning from the newspaper adviser, who is also a professional photographer, how to take photos. The hot air balloon festival presented the perfect opportunity to try out the manual settings on the fancy school camera and put her artistic eye to good use.
Hundreds of people filtered into the rodeo grounds before dawn in hopes of getting a glimpse of the massive balloons going up. I planted my lawn chair in front of one of the trucks that held a rainbow-checked hot air balloon.
While my daughter flitted around and took in the sights through the long lens of the camera, I sat back and observed. I smiled at a baby girl dancing in her onesie pajamas and some elementary-aged boys playing chase. The sun began to peek out from the horizon. Lemon-yellow light warmed the sky, illuminating the clouds against the cornflower-blue backdrop. Soon the spaces around me were packed with couples and families who had gathered like us to watch the launching of the balloons.
We heard a low roar – the sound of the balloon burners igniting. I did a little research and the burners are the most important part of the hot air balloon and typically run on propane. Those burners kick out a 15-20 foot flame that heats up the air inside the balloon. Hot air balloons work because heat rises. When the air inside the balloon is heated, it becomes less dense than the cooler air on the outside. This causes the balloon to float upwards. Hot air balloons don't need engines like airplanes because of this phenomenon.
The huge balloon in front of me lay limp on the ground like a parachute. Slowly, ever-so-slowly, the balloon filled with heated air and took on more of a round, robust shape. People got inside the basket tethered to the bottom of the balloon. Then we watched the balloons launch one by one.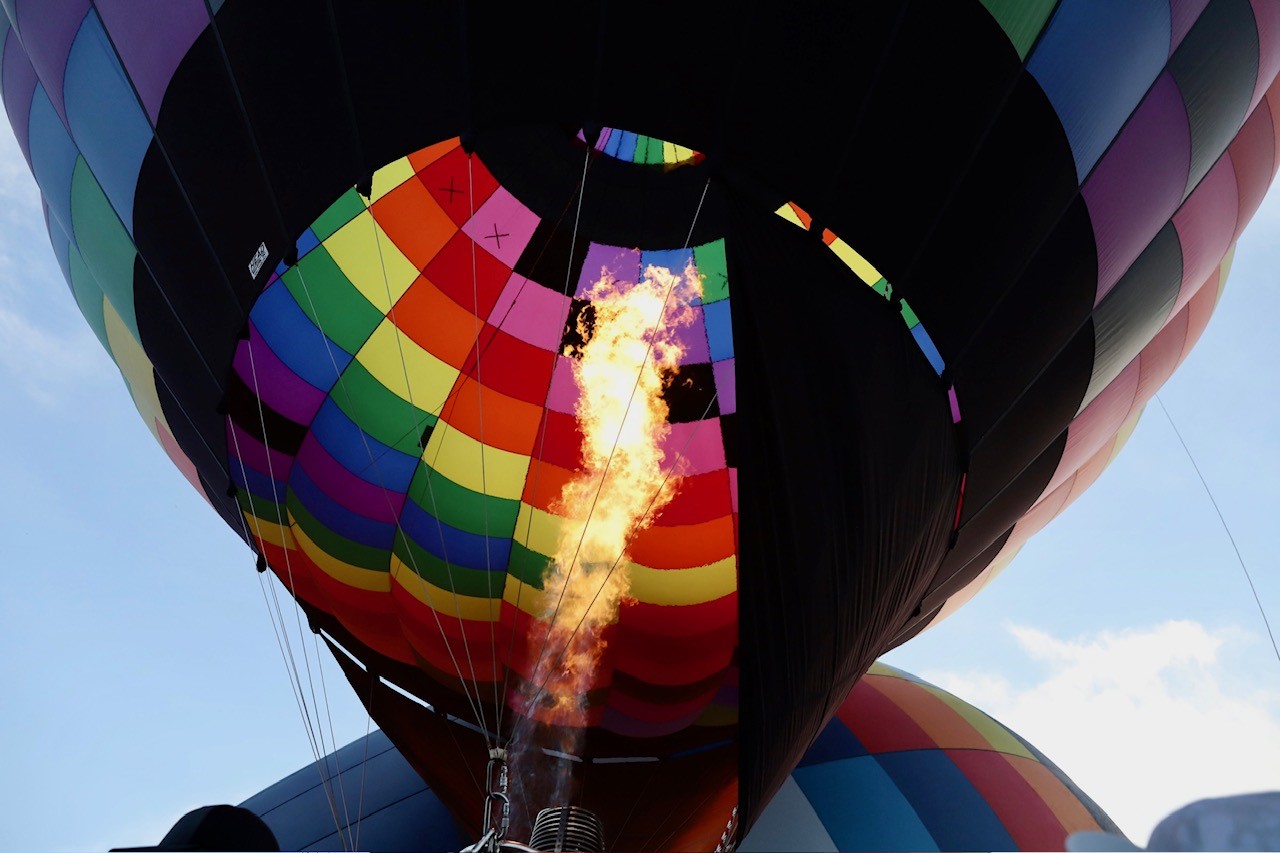 Photo Credit: Giada Gilmore Young
I couldn't help but marvel at this magical sight of balloons bobbing toward heaven.
It was also not lost on me that heat propelled the balloons upward. Just like the hot air balloons, it is so often the fire in life that becomes the catalyst for movement and causes us to look up.
In the Bible, Peter encourages believers to have endurance through suffering and trials. He reminds us not to be surprised by the heat and pressure: "Dear friends, do not be surprised at the fiery ordeal that has come on you to test you, as though something strange were happening to you. But rejoice inasmuch as you participate in the sufferings of Christ, so that you may be overjoyed when his glory is revealed" (1 Peter 4:12-13 NIV).
In life, it's not a question if we will encounter trials; it's about when we encounter them.
Life's challenges can cause us to sink or to soar.
People like Ruth, Naomi, Hagar, Joseph, Shadrach, Meshach, and Abednego knew what it felt like to literally and figuratively stand in the fire. Ruth and Naomi weathered great grief and loss. Hagar wandered into the wilderness when she was pregnant to escape the heat of her mistress. Joseph was sold into slavery by his own brothers. Shadrach, Meschach, and Abednego were tossed into a fiery furnace for refusing to bow to the king's image. Each one of them grew resilience and faith in the crucible of challenge.
As I watched my daughter taking pictures of the hot air balloons, I also felt reflective about the ways my girl has experienced heat in these last several years. There was a time when we would call her our "tissue-paper girl." She was so fragile and fraught with emotion after her daddy soared to heaven nine years ago. And who could blame her? He died when she was five. In more recent years, my daughter has faced several "fiery" trials including deep disappointments at school, changing friendships, and chronic back pain.
I also see how the heat has burned resilience in her. She's learned to lean on Jesus in ways I never imagined she would. I often catch her at night reading her Bible in bed. She's become a leader among her peers. And she's grown a confidence that comes through her relationship with Christ. She's teaching her mama to hold on through life's challenges.
The balloons glow in the incandescent morning light. My girl and I lift our heads from the heat to the heavens. And hope floats.
Dorina helps women discover God's glory in unexpected places. Subscribe to Dorina's Glorygram here for details about her new book, Breathing Through Grief.
Listen to today's devotion below or wherever you stream podcasts.
Leave a Comment