I'm staring at a screen as I sit in the big brown chair in our living room. On my computer is the face of a dear friend and colleague, someone I've worked closely with for almost a decade. I also see faces of women I've not met before who are part of All The Things, a group she leads.
My dear friend is walking through a hard season, as are many of the women. She reads a question submitted before the call. The exact words escape me but the gist was, "How do you have hope when you're in the messy middle, when nothing is resolved, when you don't know the ending?"
Ah, hope — light like a balloon, strong like steel, life-giving at times, and heart-crushing at others.
I think back to when Mark and I went through almost a decade of infertility. Every month I hoped for a baby. When that didn't happen, I became an expert at crying in bathrooms, using too-thin toilet paper for tissue. I once yelled at pregnant cows on the side of the highway while driving home from work. "It's not fair!" I told them, "You don't even appreciate how easy it is for you to get pregnant!" They looked up from eating grass and stared at me, wide-eyed and likely wondering why humans are so weird.
Then God took our story in a direction I never expected. We met a young woman, Lovelle, through a local organization called Saving Grace for girls who age out of the foster system or would otherwise be homeless. God made it clear that Lovelle was the daughter He planned for us all along. She was twenty when we met, twenty-one when she changed her last name to ours. We celebrate that day in our family each year like a holiday, calling it "Gerth Day." Lovelle met a boy, got married, and a few years later had a girl of her own. Eula, our granddaughter, was born on Gerth Day.
For so many years, I thought God's timing was off. But He'd had it down to the day all along. Now we also have a grandson, Clement.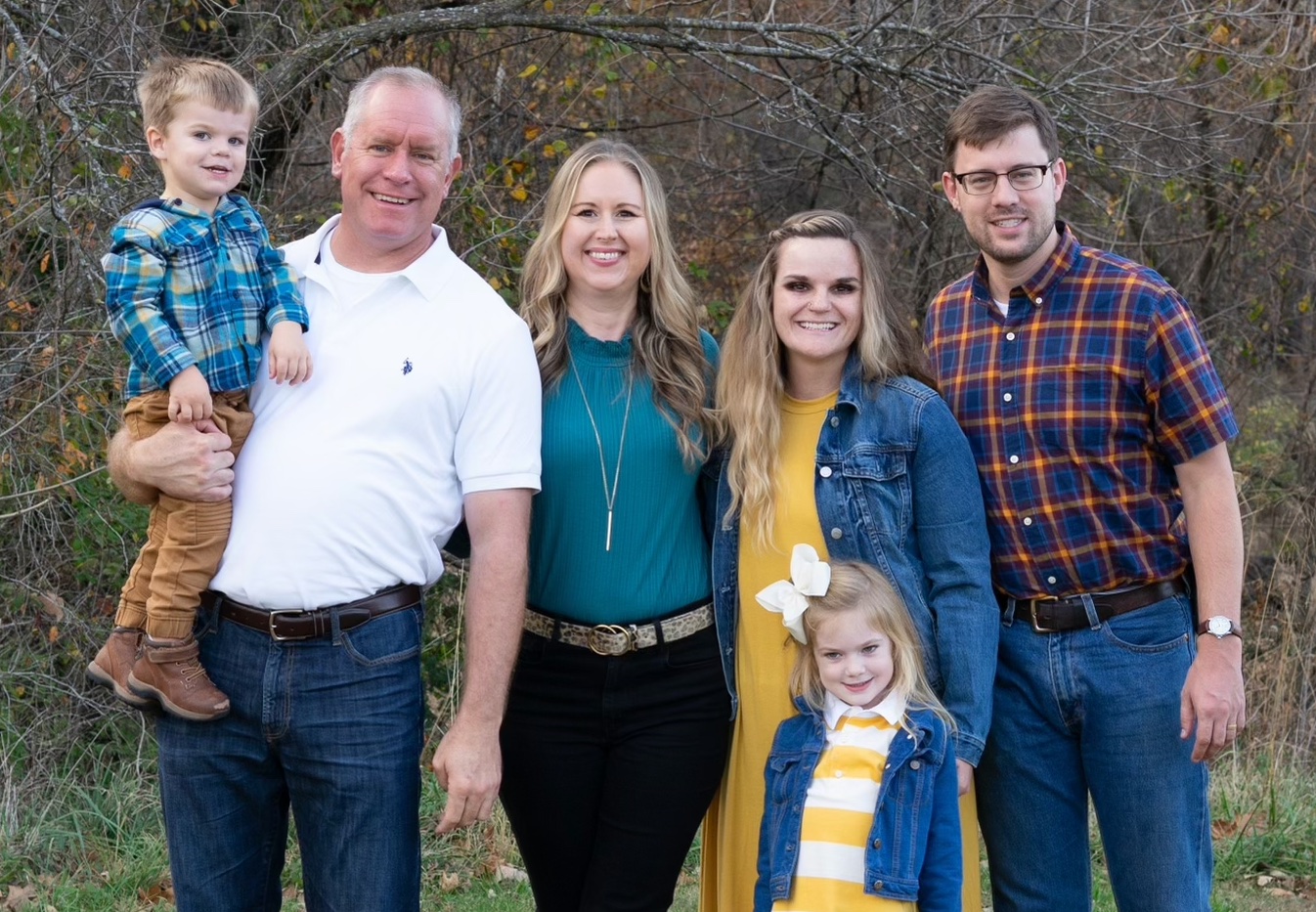 Going through the heartache of infertility and eventually growing our family in a way only God could orchestrate taught me about a different kind of hope.
"I think there are two kinds of hope," I tell the women on the video call, "We can hope for. Or we can hope in."
Hoping for involves specifics. I hoped for a baby. Hoping for is about what we want, and it can be a beautiful, powerful thing. It can also be deeply disappointing. It is a healthy part of being human; it's just not enough to sustain our souls when nothing is going as we planned. When the pregnancy test is negative again, the story feels less like Cinderella living happily ever after with the prince and more like the wicked stepsisters sold the glass slipper on eBay.
In those times, what can see us through is hoping in. I hope in a God whose character remains the same no matter what happens. I hope in the promise that I'm part of a purpose and plan bigger than I can see. Hoping in isn't meant to be used as a spiritual cliché or holy Band-Aid. It's not for the faint of heart. It's an anchor, a foundation, a still place our souls can go while the hurricane of hurt swirls around us, when the wind gusts are a hundred miles an hour and the debris of our former lives is flying through the air.
"Hoping for" may have recently drained out of you like the last bit of honey from a jar. You have a memory of what that kind of hope felt like, when you close your eyes you can still taste it sometimes, but there's none left just now — your toast is dry as a desert. Hoping for can be both delicious and unreliable.
Hoping in, on the other hand, can be the constant that gets us through as we heal. It is something solid, stable, unchanging. "Hoping in" is not an emotion or wish, a vision or vague desire — it is a near and present comfort. "Hoping for" is about the future. "Hoping in" is about Who is real in the here and now.
I'd like to tell you that what you're hoping for is going to come true. At the same time, I've lived a story with our family where I'm now so grateful all my original hopes didn't pan out. Sometimes what we think we want and what's truly best for us are two different things. Only God knows the difference. We can trust God with our hopes, with our fragile hearts, with our deepest hurts.
After the video call with the women ends, I sit in my brown chair a little longer and stare out the window. I think of all I have, and I feel grateful. I think of all I still desire, and I feel a familiar ache. Don't we all live suspended between gratitude and longing when we're healing? We sway in the wind of our feelings, trying to find surer footing.
I am hoping for better.
I'm hoping in a God who knows what's truly best.
That is enough for this moment, enough for me to take one more step.
Are you in a hard season too? Holley's latest devo has more hope and help for you. Get a free excerpt here!
Listen to today's devotion below or wherever you stream podcasts!
Leave a Comment