Three things will last forever—faith, hope, and love—and the greatest of these is love.
I Corinthians 13:13 NLT
Life often gets in the way of my best intentions. I long to be described as calm, easy breezy, and unshakeable no matter what comes my way. And yet here I am a frazzled, tired, ball of feelings.
You see, I'm a worrier by nature, often imagining twenty-seven what-if scenarios for any given situation. I'm easily thrown off-kilter into a spiral of stress that is cured only by prayer, a nap, and a snack. I say things I don't mean most every day, I get crabby more than I'd like to, and I long to give God more control even as I grip tightly to the plans I think are best.
Maybe you're like me and you would love to give it all over to God and let Him lead. Yet the idea of anchoring your days in faith, hope, and love feels aspirational… but unattainable. We long for that unshakeable faith we've seen in others! Yet we find ourselves perpetually getting distracted by the inconveniences, frustrations, and stressors of everyday life. (Do you feel me?)
But there is hope for us even here.
In my role as Product Manager for Bible Publishing at DaySpring, I recently worked through the new Inspire Illustrating Bible, which centers every one of its 300+ illustrations around faith, hope, and love. In my professional review and personal reflection of this special Bible, I came to understand that this promise in I Corinthians 13:13 is for all of us.
You may be stressed out, worn out, or burnt out, and God will meet you there with faith, hope, and love for your actual real life today.
He wants this promise in Scripture to act as our cornerstone in the chaos, helping even worriers like me to unburden ourselves, communing with the One who is Love itself. A life of faith, hope, and love is a promise for you to grab ahold of today, no matter what your life looks like right now. With God as your companion and your guide, faith, hope, and love can be yours.
Faith and hope act as the foundation of love, as evidenced by this verse. And we can embrace these things in our messy, ordinary, emotional days, remembering we don't have to be perfect to be His.
Hebrews 11:1 (NLT) says, "Faith shows the reality of what we hope for; it is the evidence of things we cannot see." Faith reminds us that God is in control. It's a balm for perfectionists like me.
When combined with hope, not only are we strengthened to believe that God is working all things together for our good (Romans 8:28), but we are sustained along the way with a hope that looks like confident expectation in the goodness of God's promises. Even on your worst days, you can cling to the promise "that God, the source of hope, will fill you completely with joy and peace because you trust in him. Then you will overflow with confident hope through the power of the Holy Spirit" (Romans 15:13 NLT).
And the reason that love is the greatest of these virtues is that it binds everything together. When love is the lens through which we view the world, when love is the motivation behind our actions, when love is the way we reflect God's character to others, everything about our ordinary days changes. When we love, we imitate Christ, who is love (I John 4:8). Love is the essence of God's character and the driving force behind all His actions. Even the most frazzled among us can learn to love like Him when we accept that He loves us just as we are today. Love is not merely a feeling; it is an action, a choice, and a way of life.
If you're like me – often feeling messy, disorganized, and a little chaotic — let's remember that God never asked us to fit inside a neat and tidy "good Christian" box. He asks us instead to believe that we are His, to accept His love, and to go throughout our days leaning on Him.
This means that no matter how busy, harried, or difficult life gets, we can be filled to overflowing with faith, hope, and love. God has not given more of Himself to someone who is more put-together, organized, or well-spoken than you. No, God is with you in your real life today, offering faith, hope, and love to us all.
Go to Him today in the midst of your mess, He is waiting with open arms.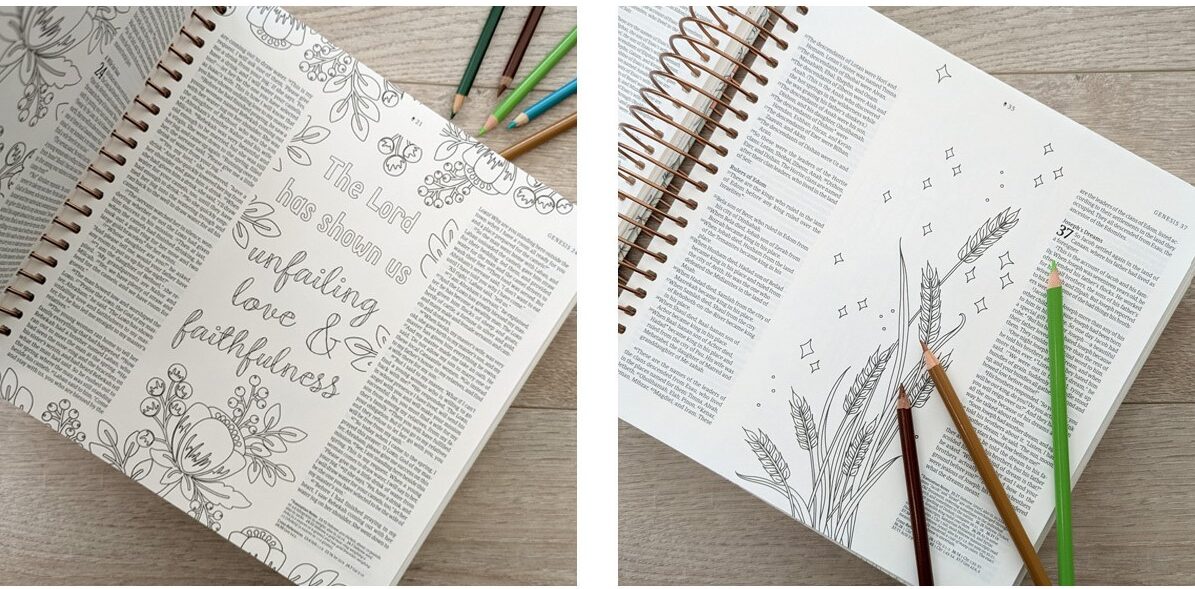 The DaySpring NLT Inspire Illustrating Bible features more than 300 ready-to-color designs, inviting readers to interact with the Word of God in a unique and refreshing way. With each of the illustrations reflecting one of the themes from 1 Corinthians 13:13, you will be able to express your creativity while focusing on what it means to be strong in faith, have a heart filled with hope, and take a posture of unconditional love. Linger longer in the Bible and spend time with God as you enjoy the relaxing benefits of coloring and creative journaling.
Plus, this beautiful Bible includes access to the Filament Bible app, which contains a wealth of resources to enhance the Bible-reading experience.
Pick up your Inspire Illustrating Bible… and leave a comment below to enter to WIN one for yourself*!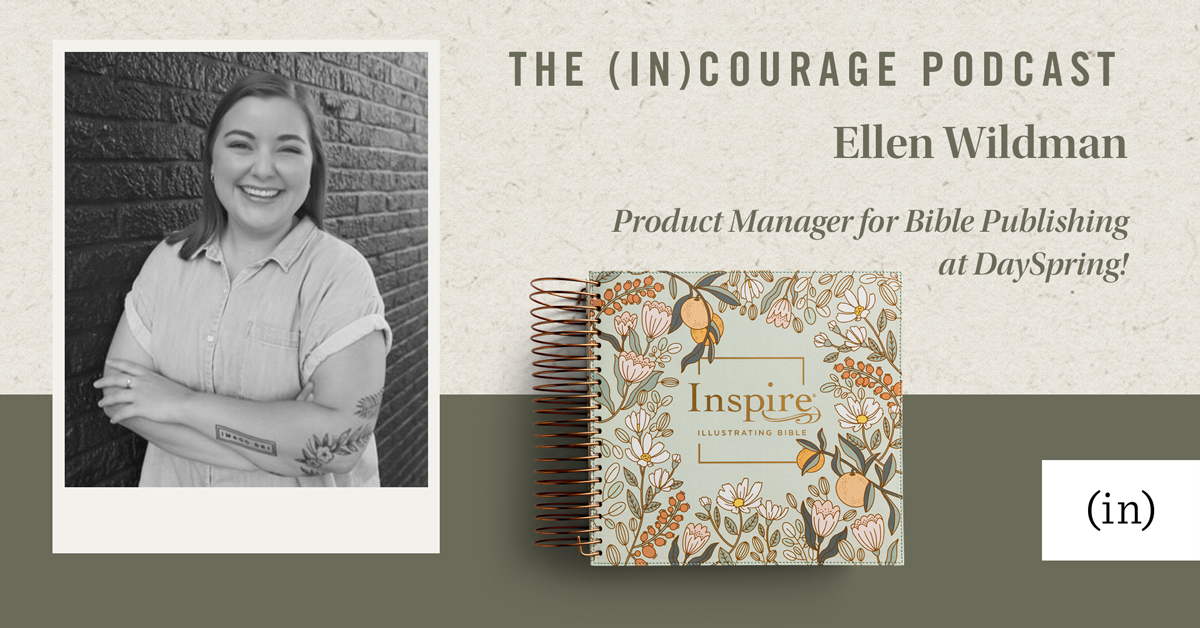 Then tune in this weekend for a very special bonus episode of the (in)courage podcast as Ellen Wildman, Product Manager of Bible Publishing at DaySpring, talks with Becky Keife about the behind-the-scenes of the Inspire Illustrating Bible! You don't want to miss this conversation!
Listen to today's devotion at the player below or wherever you stream podcasts.
*The giveaway is open to U.S. addresses only and closes on 11/6/23 at 11:59 p.m. central.
Leave a Comment