"Do not conform to the pattern of this world, but be transformed by the renewing of your mind. Then you will be able to test and approve what God's will is—His good, pleasing, and perfect will."
Romans 12:2 NIV
Our minds often feel cluttered, overwhelmed, and unclear about who we are, what we're here to do, and how to navigate the day-to-day moments of life. When this happens, it means that our mind is usually full — full of worry, doubt, fear, and uncertainty. The quality of our thought life is largely the litmus test for how we're really doing and what we really believe about ourselves, others, our circumstances, our future, and our standing with God. Almost instinctively, we tend to look at what's wrong instead of seeing what's wonderful.
So, how do we shift from a mind bogged down and steeped in anxiety to a mind that is joyful, optimistic, secure, and courageous? The answer: mindfulness.
Mindfulness simply means to be aware of something. And awareness is at the heart of abiding, which— using our working definition—means "to live in a state of expectancy." If you're in a state of worry, that means you're expecting something to go wrong. You're actually residing in doubt and choosing to find refuge in fear. However, Jesus showed us how to abide in peace by centering His life, words, and work around mindfulness with God. Everything else flowed from Him being constantly filled with expectancy about God's goodness.
Our mind is full of whatever we fill it with. The good news is that we can choose to fill it with the goodness of God. This is the reason for tracking your Daily Blessings and committing to seek out everyday goodness. Choosing to see life through the lens of appreciation, affirmation, and gratitude (instead of lack and loss) is how we renew our minds to align with the Holy Spirit. It's how we learn to see that God really is always with us. This awareness . . . this intentional discipline of holy mindfulness . . . is how we learn to abide.
Because we're rarely taught how to abide and just told that we should, this concept can end up fostering more stress and confusion. Don't let that happen here! Abiding is really simple. Breathe that in and embrace this truth for a moment. Abiding is simple, and it's designed to be enjoyable. It's not a to-do list or get-it-right type of thing. It only requires one thing: that you be intentional. Understand that abiding isn't random. It's specific. It's consciously choosing to enter and remain in the secret place of God (a promised space with only your name on it) for the purpose of receiving, resting, and resetting.
This also happens when we speak (declaratively) the language of God. Our words reset our world. You see, the brain is an organ, but the mind is an organization. Renewing your mind allows the presence of God to reset and reorganize your thinking (and speaking) so the Holy Spirit can recalibrate every aspect of your life. Our minds are the bridge to seeing either blessings or burdens. Mindfulness enables us to abide.
Lord, thank You for the gift of wisdom. I know You love to give wisdom freely and lavishly. Equip me to see the way You see. As I enter Your presence, renew my mind. I submit every stubborn and misaligned thought to Your Holy recalibration. As I abide in You, help me to think like You. Amen.
—
The greatest weapon blocking what God is building in your life is worry. As an ambitious woman daring to believe bigger about who you are and what Heaven has for you, you have much on your mind. Dreams, goals, responsibilities, mission-building, and a to-do list that never ends. Our mental stress can cause our eyes to default to what is wrong or missing versus seeing what God is sending. In her new book, Daily Blessings: A Mindfulness Journal on the Goodness of God, Reinvention Strategist Marshawn Evans Daniels shows how the practice of appreciation and affirmation invites you to exchange overwhelm, self-doubt, perfectionism, and distrust for a spirit-led, limitless mindset. You will see how God's love moves Heaven and Earth for you every single day and in every single way.
Daily Blessings has a ten-week intentional framework structured to help you practice appreciation and affirmation. Each week is based around one of The Ten Dimensions of Abiding. You'll kick off each week with (1) an overarching anchor Scripture, (2) a master devotional reading, (3) a mindfulness centering called "Let's Abide", and (4) guided Prayer Moxie. You can revisit the kick-off message for the pillar you are in each day if you like. You'll likely notice that the passage will spark something new each time. Additionally, each day is broken into two phases: Phase One is Morning Gratitude, and Phase Two is Evening Appreciation and Affirmation. This Daily Blessings journal is your daily invitation to abide in the goodness of God.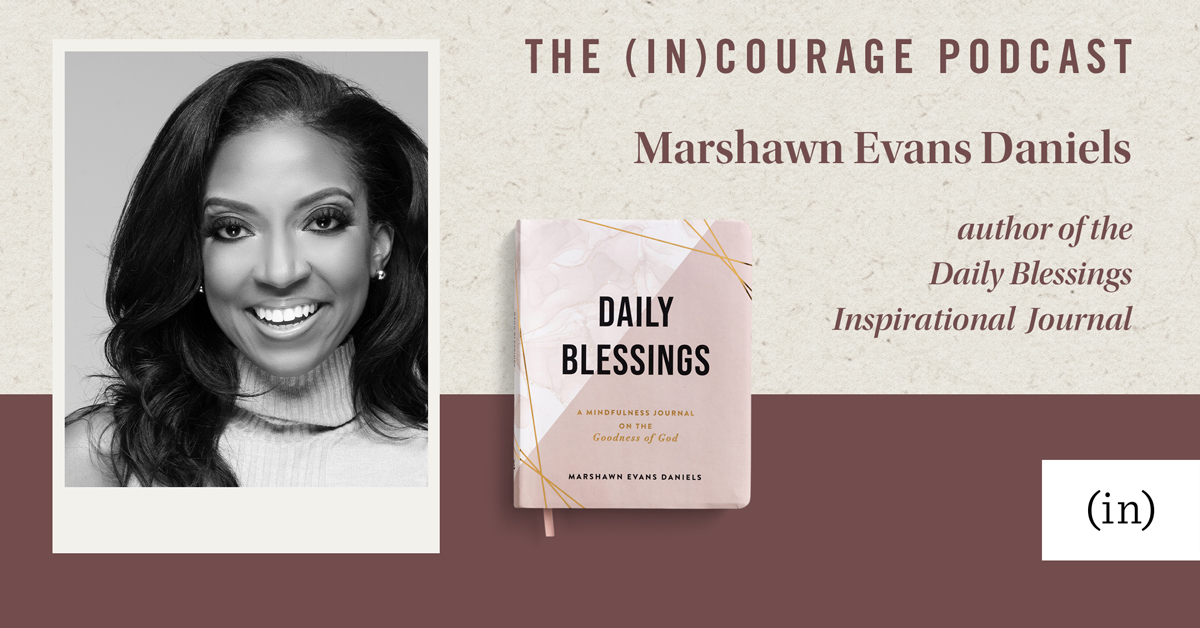 Then tune in this weekend to the (in)courage podcast as Marshawn talks with Becky Keife about the Daily Blessings Journal! You won't want to miss this POWERFUL conversation!
Listen to today's devotion at the player below or wherever you stream podcasts.
*The giveaway is open to U.S. addresses only and closes on 9/25/23 at 11:59 pm central.
Leave a Comment