Cain said to his brother Abel, "Let us go out to the field." And when they were in the field, Cain rose up against his brother Abel and killed him. Then the Lord said to Cain, "Where is your brother Abel?" He said, "I do not know; am I my brother's keeper?" And the Lord said, "What have you done? Listen, your brother's blood is crying out to me from the ground! And now you are cursed from the ground, which has opened its mouth to receive your brother's blood from your hand. When you till the ground, it will no longer yield to you its strength; you will be a fugitive and a wanderer on the earth." Cain said to the Lord, "My punishment is greater than I can bear! Today You have driven me away from the soil, and I shall be hidden from Your face; I shall be a fugitive and a wanderer on the earth, and anyone who meets me may kill me." Then the Lord said to him. "Not so! Whoever kills Cain will suffer a sevenfold vengeance." And the Lord put a mark on Cain, so that no one who came upon him would kill him. Then Cain went away from the presence of the Lord and settled in the land of Nod, east of Eden …
Adam knew his wife again, and she bore a son and named him Seth, for she said, "God has appointed for me another child instead of Abel, because Cain killed him." To Seth also a son was born, and he named him Enosh. At that time people began to invoke the name of the Lord.
Genesis 4:8-16, 25-26 NRSVA
Eve's life had been quiet for so long.
Once, a lifetime ago, it had not been so. When her boys, Cain and Abel, were small, her days were filled with the sounds of childhood.
Shouts of laughter. The stampede of bare feet as they chased each other in their play. The low whispers drifted to her through the darkness as the brothers planned the next day's adventures from their sleeping mats.
But as they grew into young men, their relationship began to change.
Laughter gave way to harsh words and tears. Instead of moving toward each other in friendship, her sons pulled away from each other, each wary of bridging the distance between them. At night, an angry silence fell over the tent as they turned their backs to each other from their sleeping mats.
Eve knew things were bad between her sons, but how could she have ever imagined the horror that was to come?
Abel's blood soaking into the cursed earth, his young life cut short by his own brother's hand.
Cain lost, too, driven away from home and family by his crime.
In one breathtaking stroke, Eve was forced to bury one son and watch the other walk out of her life forever.
Somehow, she opened her eyes that next morning. Somehow, she took her next breath. Somehow, she kept putting one foot in front of the other.
And the quiet descended, carried on the back of grief. In the silence of loss, life slipped by, day by day, month by month, year after year.
The loss of Cain and Abel was an ocean of pain that seemed to stretch endlessly between Eve and her husband Adam-too vast to chart, too precarious to cross. Until, somehow, a lifetime later, Adam and Eve drifted nearer each other, close enough to reach for the comfort of each other's arms across the years of loss. It was the beginning of healing, the first stirring of resurrection. The advent of new life.
Now, the silent years of mourning have drawn to an end.
Eve groans in agony as a contraction washes over her. With the next wave of pain, she cries out, and a moment later another, fainter cry, takes the place of her own.
Through laughter and joyful tears, Eve reaches down to lift her newborn son to her chest with trembling hands. She holds him near, and whispers his name for the first time.
"Seth."
The weary mother laughs in wonder as the baby boy's face wrinkles in fury and his cry grows louder. Once again, the sounds of life have come to her tent, filling the emptiness.
Banishing the quiet of grief and loss.
Tears have given way to laughter, and the sound of bare feet running in play won't be far behind. At night, a baby's cry will once again pierce the stillness of her tent, accompanied by whispered prayers of gratitude.
For at last, new life has come.
Against all odds. Despite every mistake and in defiance of each regret…
Life wins.
And this is the love story of Scripture from beginning to end: a loving God gives life. The accuser attacks, bringing death. For a time, it seems all hope is gone.
But God always has the last word.
—
This is an excerpt from the new book, From Where I Stand: A 30-Day Journey with Women of the Bible, written by two of our favorite writers, Sherri Gragg and Shanna Noel. This book invites you to trace the footsteps of ordinary women who faced unique challenges, endured extraordinary circumstances, and encountered the living God.
They are the long-suffering, courageous, flawed, and faithful women of the Bible. In this 30-day guide featuring devotions, Scriptures, and reflection questions, you'll experience what these women saw and how they felt, from the lushness of the Garden of Eden to the blistering sunshine illuminating Christ's tomb. You'll emerge with insights that can be gleaned from their failures, triumphs, patience, and perseverance. Most of all, you'll learn about the character of God who gave them life, remembered them, and placed them with a purpose exactly where they were meant to be. Just as He has done for you.
We know you'll simply love this book! Order your copy today . . . and leave a comment below for a chance to WIN one of 5 copies*!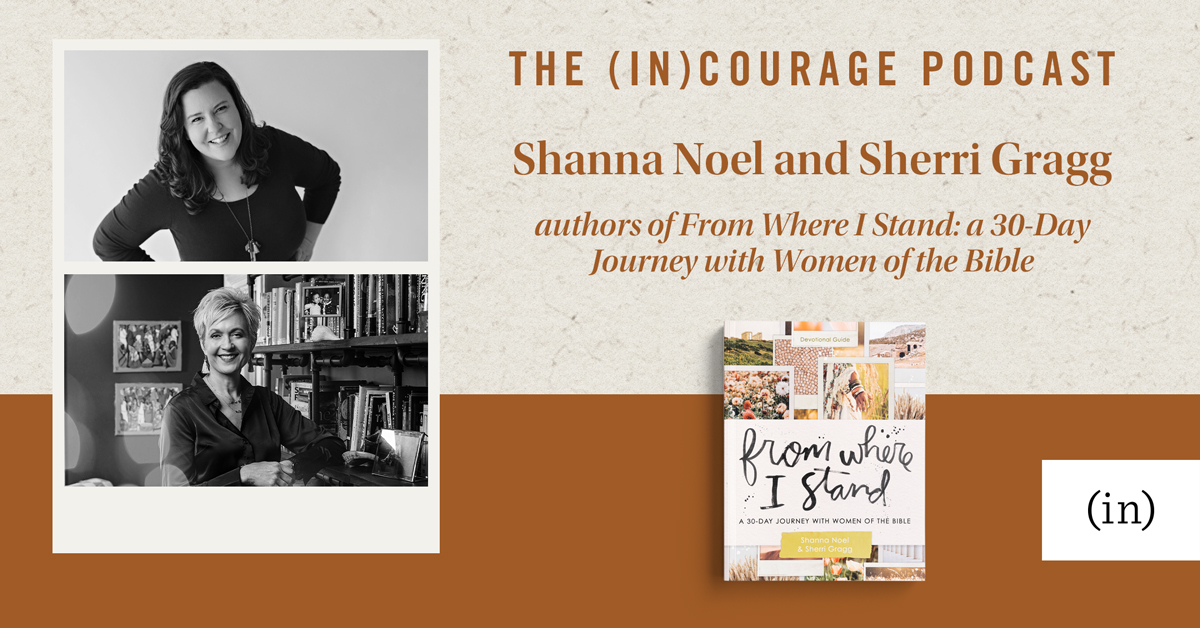 Then join Becky Keife this weekend on the (in)courage podcast for a conversation with Shanna and Sherri. Don't miss it!
Listen to today's article at the player below or wherever you stream podcasts.
Leave a Comment