On an early September morning, with the skies still deep in their slumber, a dear friend pulled into my driveway. I kissed my snoring husband on the forehead, tiptoed through the kitchen as I checked into my flight, and wheeled my suitcase outside. School was back in session, and I was heading to a writing conference. The fall air was thick with an early morning fog.
The mark of a good friend is someone who drives you to the airport. The mark of a best friend is someone who wakes up early and drives forty-five minutes of winding back roads to get you to the airport on time.
It was too early for conversation, so we were quiet during the drive, the two-lane road bending and shifting as the car carried us forward. Haze hung thick in the air, and the back roads seemed even quieter than usual. The far-stretching fields turned from green to gold. We could see only a slight stretch ahead of us.
The morning mist held a sense of mystery, inviting my mind to wander. Will my kids be okay while I'm gone? Is it selfish to travel for work? My unspoken anxieties hung in the autumn air as we traveled on the sleepy roads. I wanted to see further ahead, to know everything would be okay.
No matter how much we want to see what will be, we live surrounded by mystery.
We don't know what tomorrow will bring — we are but a vapor, our lives a mist (see James 4:14).
I wonder what it would be like if followers of Christ were known for our willingness to embrace the mystery rather than claiming to always have clear and concise answers.
Because the truth is that a life of faith is mysterious.
We live in mystery, believing there is truth in a swirl of now and not yet.
Amid life's unpredictability, the temptation to seek clear-cut answers is strong. Yet, we believe in a God who created galaxies and became an infant born in the dirt. We live in the tension of now and not yet, unable to fathom all the mysteries of life and God's ways.
The apostle Paul reminds us that this Christian life is a profound mystery that exceeds our understanding (1 Timothy 3:16). We don't have all the answers, but we believe in the mysterious truth that is clear enough. In the haze of the unknown, we trust that Christ will light our path just enough to keep moving forward.
Eventually, our drive through the dense fog ended. My friend pulled up to the departure line at the airport, and I opened the car door, the thick fog blanketing me.
I didn't know what the future held, but at that moment, I knew that God held me.
As parents, we're entrusted with nurturing and guiding our children while navigating our own wonderings about faith. Life's demands often make it challenging to tend to our souls and our family's flourishing.
We can embrace the fantastic, messy, holy mysteries of faith in every season.
This fall, consider taking some time to reflect:
Why is there peace in knowing we can't fathom the mysteries of God?
Why do you think people (especially adults) have such a hard time saying, "I don't know"?
Have you ever shared your doubts and wonderings with God or with someone you trust? What happened?
What can the fall season teach us about God's mysteries?
Borrow this prayer:
O God of mystery, hear our prayer. Comfort us in our doubts. Give us peace when we don't know what comes next. We know our lives are but a vapor, but we also know that in the mist, You are there.
Help us to live into the mystery of a life of faith. Let us embrace the beauty in the unknowing. Give our family the courage to admit what we do not know and faith to trust You with our questions.
In our wondering and in our wandering, we believe in what we cannot see. Amen.
May God lead you and your family into rhythms of grace this fall – and in all the seasons to come.
Adapted from Every Season Sacred by Kayla Craig. Copyright © 2023. Used by permission of Tyndale House Publishers, a Division of Tyndale House Ministries. All rights reserved.
—
Every Season Sacred: Reflections, Prayers, and Invitations to Nourish Your Soul and Nurture Your Family Throughout the Years by Kayla Craig is a weekly invitation for parents to ask big questions, embrace faithful rhythms, and experience God's mysterious, loving presence together. Every week, Every Season Sacred includes:
Honest & hopeful devotions for every season of the parenting journey
Encouragement to parent with intention & imagination, presence & purpose
Open-ended conversation questions & discussion prompts
Thoughtful prayers to borrow throughout the year.
With tender curiosity and contemplative wisdom, Kayla blends thoughtful musings and practical resources to meet parents right where they are. Whether you're parenting a toddler or a teen, this family resource is one to turn to all year long as you journey through fall, winter, spring, and summer. You might want to grab a few copies of this beautiful, nuanced hardcover book as gifts to have on hand!
Great news! Kayla is gifting her preorder bundle to (in)courage readers with no purchase required! Visit this exclusive page to get immediate access to 100 family conversation cards, a booklet of daily prayers, a curated fall playlist, and instant access to the book's first chapters.
AND more great news… we're giving away five copies of Every Season Sacred!
Just leave a comment about your favorite season or rhythm, and you're entered to win*.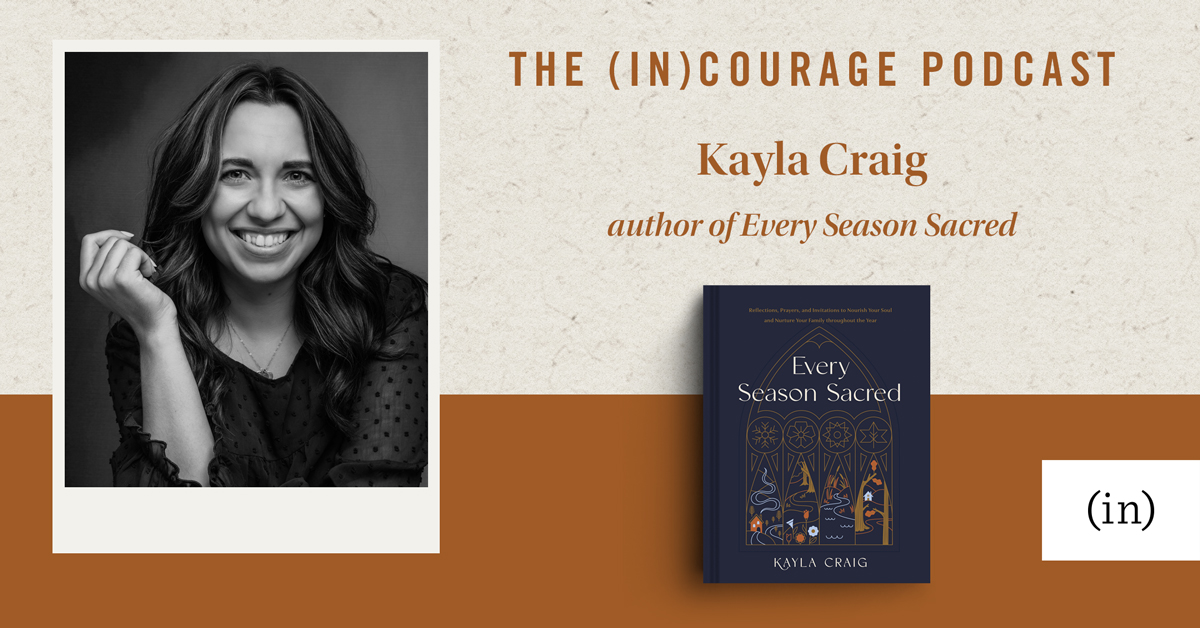 Tune in to the (in)courage podcast this weekend as Kayla Craig and Becky Keife have a vulnerable and delightful conversation about Every Season Sacred!
*Giveaway open to US addresses only and closes at 11:59 pm Central on 9/26/23. 
Listen to today's article below or wherever you stream podcasts!
Leave a Comment