Here's what I think we all need:
Our own little confession booths – places where we can get ruthlessly honest with God, and with ourselves. Places where we can bare our souls, stop self-protecting, and say the things that other people might find outlandish or outrageous.
In theory, we know God can handle that kind of honesty. In theory, we understand that we really do have our own little confession booths – and those booths are open 24/7, wherever we are.
But honestly? We don't always practice stepping inside and getting real with God.
Ask me how I know.
Candidly, I have a long history of keeping secrets from God, which I realize is the single-most ridiculous statement ever written in the history of (in)courage. One does not keep secrets from God. (But one does try, from time to time.)
Case in point: Many years ago, I attended a weekend women's retreat. One evening, a pastor handed each of us a tiny piece of paper. On that paper, we were supposed to write down everything we could think of that was holding us back from God.
As songs played in the background, a lengthy list ran flipbook-style in my brain.
Shame.
Guilt.
Sin after sin.
Burden after burden.
Good grief, I thought to myself, I need more than this tiny piece of paper. I need one of those giant rolls of butcher paper!
But even though I had a mile of confessions running through my head, I was unwilling to write them all down on paper.
We had been assured that no one would read our papers. In fact, they would be burned. So, I wasn't afraid of people seeing my sin. I was afraid of being honest with God. Furthermore, I didn't want to face the weight of my burdens by seeing them written out. The result: I left a bunch of stuff off of my paper, and in some cases, I was only half-honest with Him, because I wouldn't write whole words; I wrote initials to represent my sin. I was refusing to tell God the truth.
At the time, I didn't know if God could really love me in my failure. I thought He could only love the good in me.
That, of course, is anti-Gospel. How could I so easily forget that it's because of my sin that Christ died? He loves me (and you!) that much.
You can hardly turn a page of the New Testament without encountering God's arms-wide-open love toward us. "But God demonstrates his own love for us in this: While we were still sinners, Christ died for us" (Romans 5:8).
Jesus' life demonstrated that perfect love. He cleansed people, not only of their sins but of their hurts and hang-ups. With the people He healed, Jesus often started by asking the person in front of Him a provocative, direct question – a way of saying, "Step into the confession booth."
Think for a moment about some of the questions Jesus asked.
"Do you want to get well?" (John 5:6)
"Why did you doubt?" (Matthew 14:31)
"Do you still not see or understand?" (Mark 8:17)
"What do you want me to do for you?" (Luke 18:41)
If Jesus invited you into your own little confession booth today – just you and Him – and He asked you those questions, how would you answer?
When I think about my most honest answers, I am moved to tears. And those tears, I'm learning, are so very good, so very healing.
In the years since that retreat, I've learned that full honesty takes a special kind of courage, and ultimately, it holds a special kind of power. It's a form of intimacy with yourself — and with God.
You don't have to run into a little booth to tell your stuff to God. You can tell Him right now, right where you are. As it says in Hebrews 4:16, "Let us then approach God's throne of grace with confidence, so that we may receive mercy and find grace to help us in our time of need."
So, friend, write it all down. (Not just the initials.) Or speak it out loud. I call it "courageous honesty, obsessive truth-telling, and beautifully ruthless self-discovery."
May you find that you don't have to shine yourself up when you come before God. You just need to show up.
—
Are you feeling the urge to get honest before God, but don't know where to start? Jennifer's got you covered. She's written Stuff I'd Only Tell God: A Guided Journal of Courageous Honesty, Obsessive Truth-Telling, and Beautifully Ruthless Self-Discovery. She describes the journal as "your own little confession booth." Inside, you'll find daring questions – including a list of questions Jesus asked. You'll also find provocative lists, quirky charts, and thought-provoking prompts. This journal is a place to record ideas, beliefs, secrets, memories, wonderings, and wishes – things that might seem outlandish or outrageous to anyone else but are what make you you.
Below are three prompts from the thousands inside Stuff I'd Only Tell God. Answer one (or more, if you wish!) in the comments for a chance to WIN one of five copies of the journal*.
Option 1: My life is valuable because:
Option 2: If a toy manufacturer were to make an action figure of you, these are the three accessories it would come with:
Option 3: If I could ask God one question, this is what I'd ask: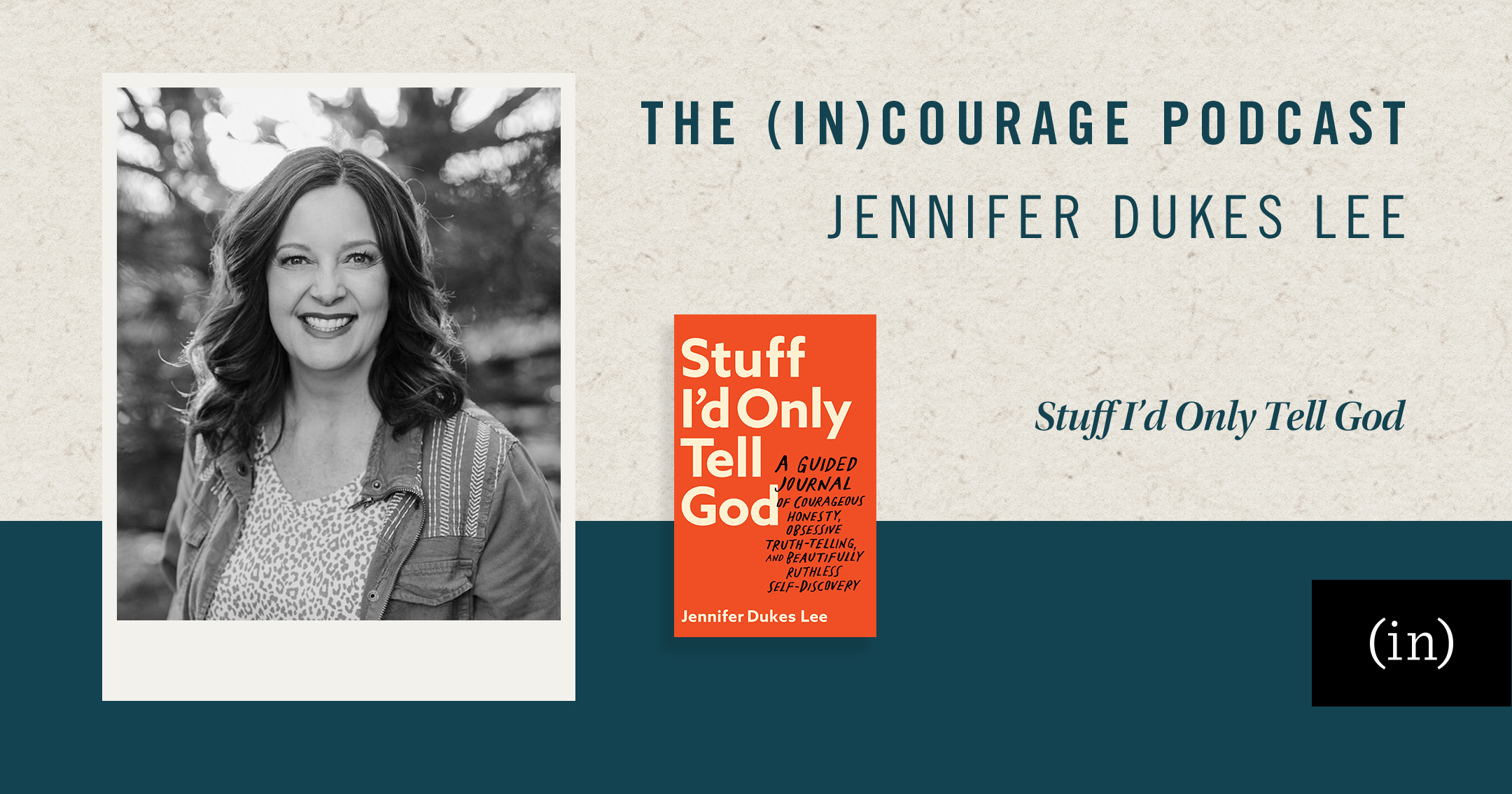 We can't wait to read your answers! Also, join Becky this weekend on the (in)courage podcast for a conversation with Jennifer about Stuff I'd Only Tell God!
Listen to today's article via the player below or wherever you stream podcasts!
*Giveaway open to US addresses only and closes at 11:59 pm central on 5/15/23. Please allow 4-6 weeks for delivery.
Leave a Comment