I had a wonderful time with one of my best pals the other night. I never imagined saying that about someone more than forty years older than me who was born in another country. I never imagined I would love someone so much with whom I had so little in common. She has never been a mother or sister, and I've never been an artist or engineer. She's never written a book and I've never traveled the world. I don't know what it's like to lose my husband or live through WWII, and she doesn't know what it's like to live with clinical anxiety.
But for all our differences, there is always common ground to be found.
We both have an affinity for houseplants, reading, and a good cup of coffee. We both adore mountains and trees and changing leaves. We both believe life is better with pie and gratitude. And every time we're together, I learn something new about my beautifully aged friend that makes me love her even more.
As we sat together near first base, watching my two older sons play baseball as the late afternoon sky turned to golden dusk and the nearby foothills, palm trees, and pines popped like charcoal silhouettes against the sky, I learned that once Christel sliced her leg open while skiing. When she got to urgent care, the doctor told her the numbing shots might hurt as bad as the actual stitches. So she said, "Well then, just sew me up! But make sure you do it tight because I've got a downhill ski race in three days."
She threw her head back and laughed. It was almost as if her decades of lines and wrinkles faded into the shadows of wild memories. Though her eighty-something-year-old body can longer shred the slopes, run a 10K, soar upside down in a prop plane, or whitewater raft (yes, she did all those things!), her adventurous spark and joy for life is still alive and well.
And I almost missed the gift of her story and pleasure.
Earlier in the day, Christel came to mind. She often does. Several times a week I stop by with a cup of coffee (with cream and sugar, just how she likes it, and only half full because she and her husband always shared just one cup). How sweet is that? Or she comes over for dinner, or I drop off a plate of tacos or a bowl of chili if we're running back and forth between kids' sports. We've grown into a sweet rhythm of sharing life. My boys take her trashcans in and out every week. She pops onto our porch with a box of See's candy or pie from Marie Calendar's. Bless her.
Over the years God has taught me to pay attention to His Spirit and to whom He wants to love through my presence. This has especially been true with Christel. There was the time He used my dusty skills in medical billing to alleviate a source of her stress. Or the time He showed me how a chocolate cake can be a step of obedience. I've learned to delight in responding to the Spirit's guidance, even if it costs me temporary awkwardness or inconvenience.
But when I felt the nudge to invite Christel to the baseball game, I hesitated. The thought crossed my mind that it would be easier to go to the game alone. Alone I could listen to a podcast or sneak in a chapter of Jami Nato's book between innings. Alone I wouldn't have to worry if she was hot or cold or needed a play-by-play explanation. But alone also isn't as rich as together. Alone doesn't make room for someone else to belong. If I had chosen alone, Christel would have spent another evening alone too.
I pulled out my phone and scooted closer to my dear friend. She doesn't understand selfies, but I told her I like capturing memories, so she obliged and gave me a little wave to boot.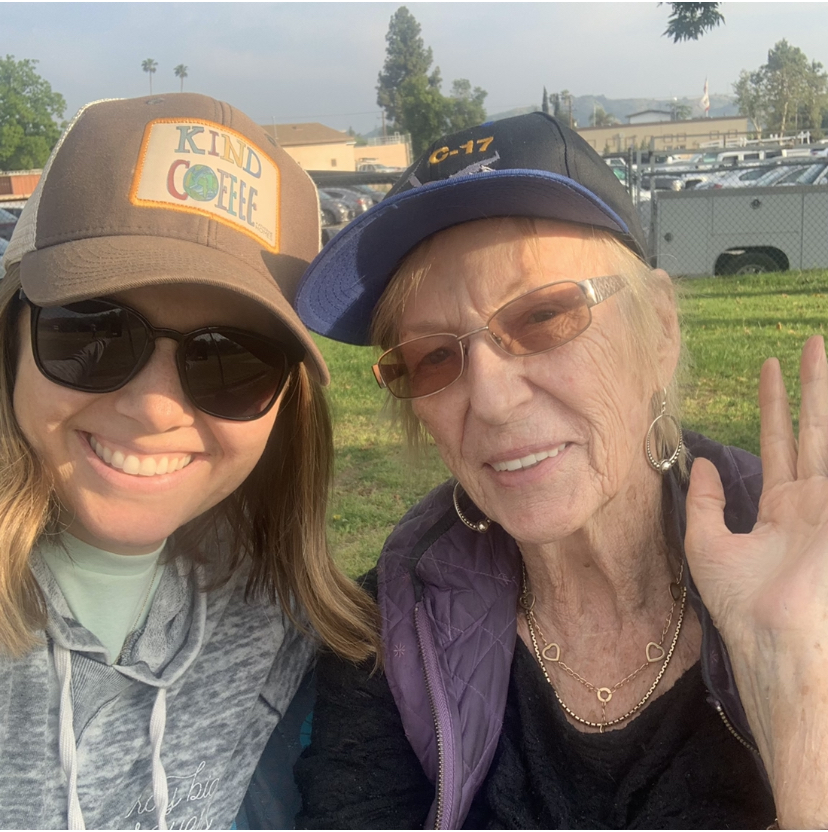 I showed her the photo and she asked, "How can I get a print of this?"
"I'll get one made for you."
She smiled wide and said she will send it to her family in Germany.
I think God was smiling too. He delights when His kids take care of one another. He is thrilled when we soak in His love for us so much that we can't help but let it pour out to others.
Hebrews 13:16 says, "Don't neglect to do what is good and to share, for God is pleased with such sacrifices."
Philippians 2:4 reminds us, "Don't look out only for your own interests, but take an interest in others, too."
And of course, Jesus commands, "Love each other. Just as I have loved you, you should love each other" (John 13:34).
Who in your life can you love and look out for this week? Who might be waiting for an invitation to belong? I guarantee they won't be the only ones marked by the gift of together.
Listen to today's article below or on your favorite podcast player. 
Leave a Comment