When Adam and Eve realized they were naked, they became acutely aware of their physical differences, and instead of celebrating God's image in each of them, they felt shame. Their shame pushed them to conceal their differences, and they sewed fig leaves for clothes. This played out the narrative Satan had set forth — that maybe God was holding out on them and didn't have their best interests in mind.
They learned to cover, to hide, and to see their differences as a means of separation, oppression, and shame. Suddenly, as a result of their disobedience, there was a hierarchy and a power struggle at work, and what was intended for good, beauty, and celebration was broken. And now, any time we reject a part of ourselves that makes us distinct — including our ethnic and cultural identity — it's all part of this ongoing brokenness.
By thirteen, I'd learned to believe the lie whispered in my ear like the one the sly serpent told Eve and all the daughters after her: that to belong I would have to get rid of everything that kept me from blending in and hide all that colored me in as the full version of myself. I'd already learned to question the way I was made and whether the one who made me had good intentions in mind.
I believed that cultural assimilation would give me a way to belong and move through life with less shame, but instead of offering me belonging, it only isolated me further. My fig leaves not only separated me from my classmates and from true friendship, but they also distanced me from my family and all the things I knew as home.
When I was a child, my family made three trips to Korea. From the moment we set foot in the country, people stared at my sister and me with wide eyes. We were Korean blemishes, evidence of unrequited national love, honyol daughters in the motherland where pure bloodlines are sought after and protected at all costs.
How can I feel at home and foreign at the same time? I wondered.
On my first trip to Korea when I was seven, my parents and I went to a dinner party with my mom's extended family and their friends. I was sitting in the front room with my cousins and a bunch of kids I didn't know. One of the boys kept pointing at me. He was taller than I was, with smooth black hair cut like a bowl around his head.
When we all went outside to play, he poked me with a toothpick. I stared at him, then at the toothpick, too stunned and confused to understand why he'd do something like that. Everyone else was laughing, especially the boy with the secret toothpick. I tried to stay away from him, on the other side of the group of kids. My stomach turned when our eyes met.
I went inside to see my parents, but they were drinking and laughing, enjoying the other adults. I didn't say what was wrong but stood quietly, wondering which adults were the toothpick boy's parents.
"It's boring for you in here," my mom whispered. "Go back and play with other kids."
I went back outside, and we all stayed there until it was dark. Every chance he got, the boy poked me hard — in the arm, in the back, in the neck, in my thigh — while I listened to the adults inside laughing.
When we left, I was so relieved I immediately fell asleep in the car. I never told my parents. Somehow, even as a first grader, I decided I was to carry the world of my mom's loss, and both the worlds that couldn't welcome me, in my tiny elementary-school body. I wanted to stay in Korea forever, and I also wanted to leave for fear of more round-faced boys who would poke my mixed skin with a dirty toothpick to remind me that I don't belong.
Our story as sons of Adam and daughters of Eve isn't just one of knowing God separate from our humanity and our own God-made bodies. God intends for us to know Him as we come to know ourselves. Our unique selves are to be studied, seen, uncovered, and sought with urgency. Knowing ourselves without shame is shalom in action — life unfolding the way it was meant to, the narrative of the Kingdom of God-come-down. In the midst of this, God's dreams come true, unfolding detail by detail in our mothers' wombs.
When God calls out to Eve and Adam after they've eaten from the tree of the knowledge of good and evil, He asks them, "Where are you?" Even though He knows where they are, what they've done, and what the consequences will be, He seeks them out in their hiding.
He does this again and again. When Cain hides after murdering his brother, God finds him and asks him where his brother is. When Hagar runs from her oppressive life, He asks her where she's come from and where she's going.
God's love will not let us go on hiding forever. His love finds us, stops for us, and searches for those who have been harmed and those who need healing.
And whenever we come near to someone else in hiding, we imitate Jesus, our Immanuel: the God who comes near.
Adapted from Tell Me the Dream Again: Reflections on Family, Ethnicity, and the Sacred Work of Belonging, by Tasha Jun. Copyright © 2023. Used by permission of Tyndale House Publishers, a Division of Tyndale House Ministries. All rights reserved.
—
Told with tender honesty and compelling prose, Tell Me the Dream Again: Reflections on Family, Ethnicity, and the Sacred Work of Belonging, by Tasha Jun is a memoir-in-essays exploring:
what it means to be biracial in America today
the joy and healing that comes with embracing every part of who we are, and
how our identity in Christ is tightly woven with the unique colors, scents, and culture he's given us.
We are not outsiders to God. When we let all the details of ourselves unfold ― when we embrace who we were divinely knit together to be ― this is when we'll fully experience his perfect love.
Order your copy of Tell Me the Dream Again today . . . and leave a comment below for a chance to WIN one of 5 copies*!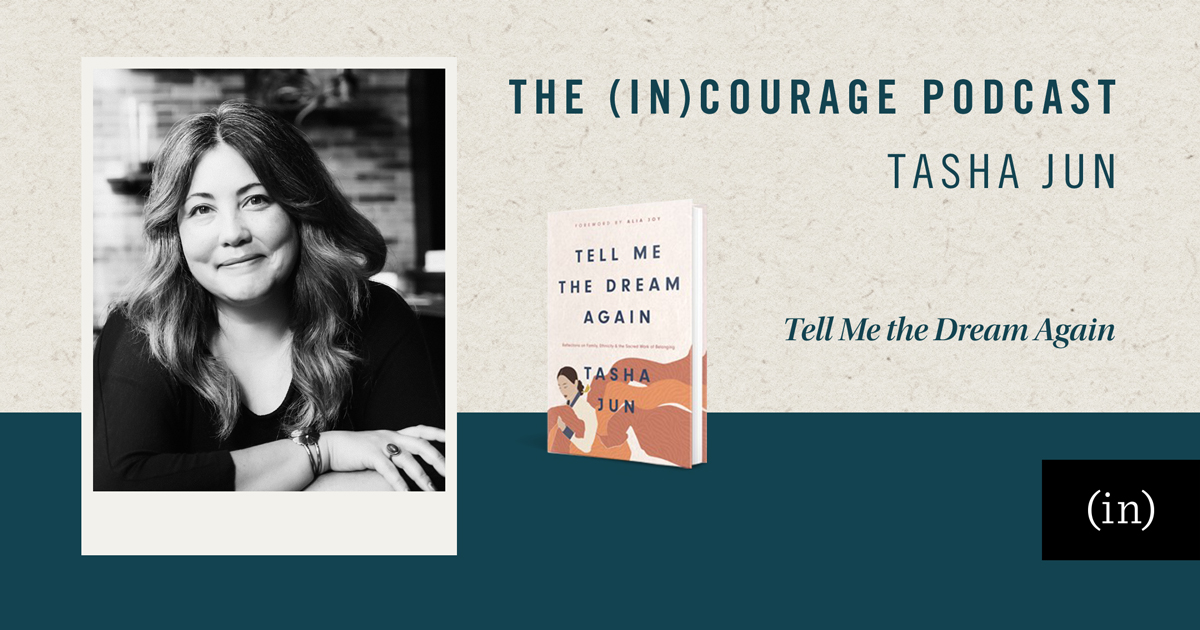 Then join Becky Keife for a conversation with Tasha this weekend on the (in)courage podcast. Don't miss it!
Listen to today's article at the player below or wherever you stream podcasts.
*Giveaway open to US addresses only and closes at 11:59 pm central on 5/14/23. Winners will be drawn at random and notified via email. Please allow 4-6 weeks for delivery.
Leave a Comment