Sleeplessness is a problem for so many in our world today, but peaceful, deep, and restful sleep is possible. Friend, if you struggle with a racing mind, wakeful spirit, and troubled heart before bed, we have just the book for you. Sleep Psalms: Nightly Moments of Mindfulness and Rest by Pray.com will help calm your mind and re-center you on God. Throughout the 100 entries, you'll discover deep peace and be reminded that God is in control. Each entry focuses on the lyrical poetry of the Psalms and also includes a short devotion and prayer. God is working for our good even as we sleep. Read on for an excerpt from Sleep Psalms:
—
No matter what your day looks like, no matter what obstacles are in front of us, there is joy to be found here — yes, joy! We can have joy because of God's strength that empowers us to help us, to guard us, to hold us, and to lead us to victory and rest. We will not face a single struggle on our own, and this is something to celebrate.
As you breathe in the hope you have in God, breathe out the stresses you carry. Open your heart to His love and allow Him to usher you into His peace and calm. Tonight, find rest in the goodness and faithfulness of God and let these verses lead you into the joy that is yours when your thoughts are focused on Him.
O LORD, the king rejoices in the strength You give;
he takes great delight in the deliverance You provide.
You grant him his heart's desire;
You do not refuse his request. (Selah)
For You bring him rich blessings;
You place a golden crown on his head.
He asked You to sustain his life,
and You have granted him long life and an enduring dynasty. Your deliverance brings him great honor;
You give him majestic splendor.
For You grant him lasting blessings;
You give him great joy by allowing him into Your presence. For the king trusts in the LORD,
and because of the Most High's faithfulness he is not shaken. You prevail over all Your enemies;
Your power is too great for those who hate You.
You bum them up like a fiery furnace when You appear. The LORD angrily devours them;
the fire consumes them.
You destroy their offspring from the earth,
their descendants from among the human race.
Yes, they intend to do You harm;
they dream up a scheme, but they do not succeed.
For You make them retreat
when You aim Your arrows at them. Rise up, O LORD, in strength!
We will sing and praise Your power.
Psalm 21
Worshiping God before you go to sleep can give you a new perspective on your day and help you focus on positive thoughts, calming your mind and relaxing your body. Reflect on His goodness and be reminded of His continual faithfulness in all the great things He has done, giving you deep, restful sleep.
Think of a time when God granted your prayers and answered your request for something, but you were moving too quickly to realize He helped you and answered your pleas. Take a moment to acknowledge that, ask for His forgiveness, and give Him the glory tonight!
Rejoice in God's faithfulness. Praise God for the times He has answered your prayers and given you the desires of your heart. Praise Him for all the good things in your life.
Lord, I ask for healing of all the bruises I carry; restore my spirit and help me to remember Your mighty power. Surround me with Your soothing presence and receive my voice of praise for Your faithfulness to me. Thank You for loving me just as I am-let me rest in Your love tonight. Thank You for the gift of knowing that Your strength is mine to draw from in all the circumstances I face. In Jesus' name, I pray. Amen.
– 
With 99 more devotions to help you wind down from your day and reconnect with God before you go to sleep, Sleep Psalms by Pray.com is a wonderful addition to your daily devotions.
Pray.com serves millions of Christians worldwide by helping people make prayer a priority in their life. Pray.com is driven by a mission to grow faith, cultivate community, and leave a legacy of helping others. Pray.com helps people hear the Bible come to life with world-class, faith-based audio content, make prayer a priority with inspiring daily devotions, and experience peace before they go to sleep with Bedtime Bible Stories narrated by celebrity voices.
Pick up your copy of Sleep Psalms today, and leave a comment below to enter to WIN one of five copies*!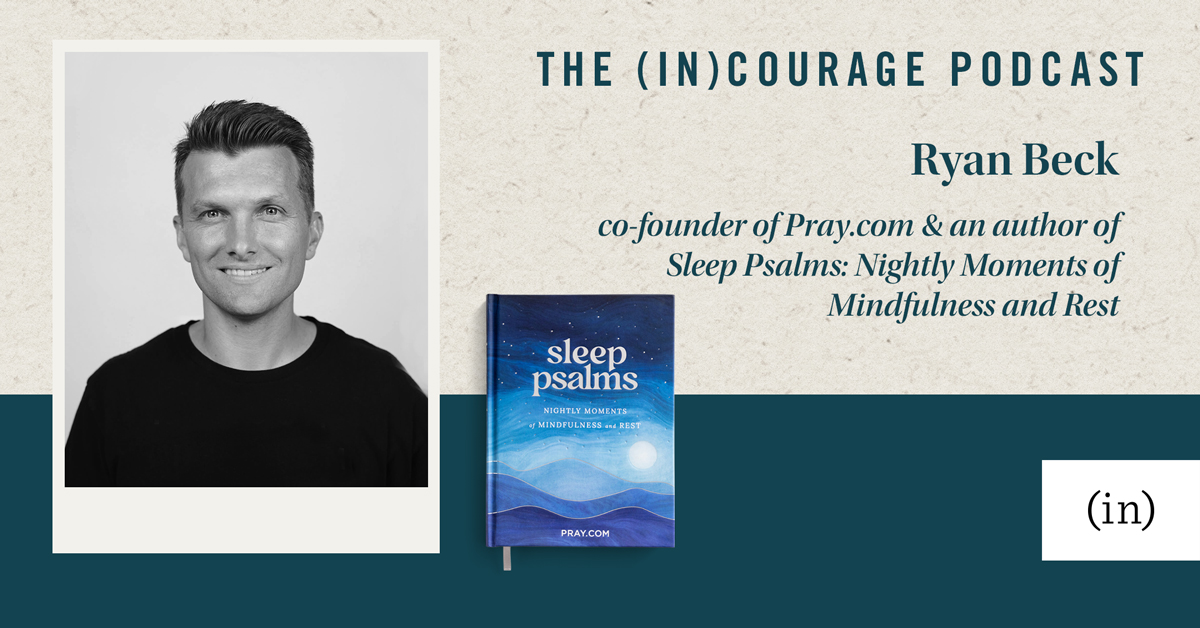 Then listen in this weekend for a bonus episode of the (in)courage podcast as Ryan Beck, co-creator of Pray.com, talks with Becky Keife about Sleep Psalms!
Listen to today's article at the player below or wherever you stream podcasts.
*Giveaway open to US addresses only and closes at 11:59 pm central on 5/30/23. Winners will be drawn at random and notified via email. Please allow 4-6 weeks for delivery.
Leave a Comment