Scripture — we need it every, single, day. Here at (in)courage, we love to share stories from our lives that have a gospel takeaway. That's the basis of our articles, our podcasts, our books and Bible studies, and even our agenda planners. Scripture — and how we experience God's Word in our lives — is the foundation of it all. We know you want your lives to be Scripture-based, and we want to help.
And friends! We also know your love for planners. We know you're looking at your planner every day, using it for task organizing, to-do lists, meal plans, and even using it to connect with Jesus because our planners include Scripture on every page!
Did you know the (in)courage planner includes a Bible reading plan? Scripture on each monthly and weekly spread? Stickers reminding you to pray, and stickers you can write prayer requests on? All true, and all pointing you to the Lord each and every day.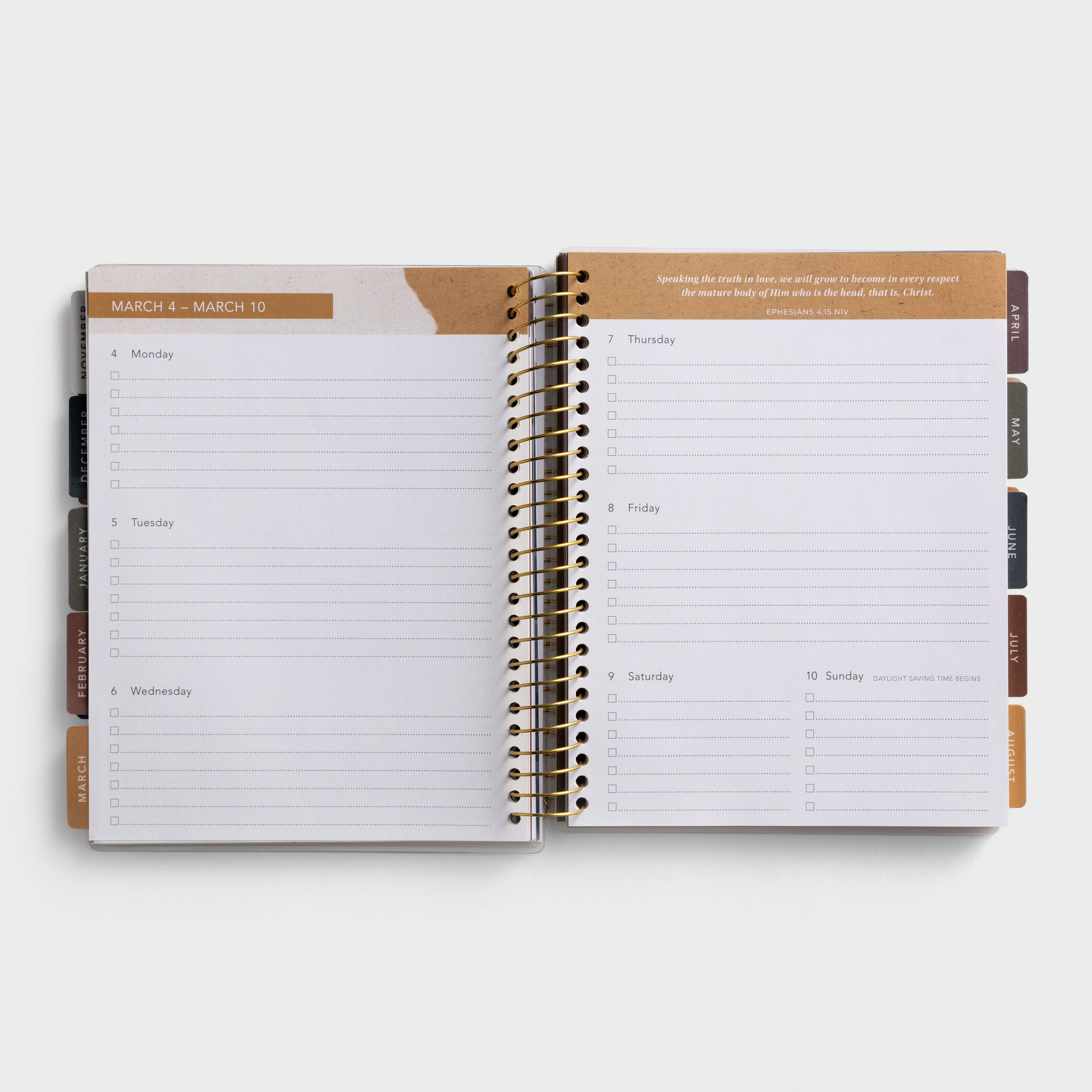 And every month of the 2023-24 (in)courage Something New Agenda Planner features a story from (in)courage! You'll get to read as one of our writers shares her heart for mercy, hope, wisdom, or peace… while always asking God to do something new. You can scan the QR code beside each excerpt or visit incourage.me/somethingnew to read the full devotions! But here, we'll give you a sneak peek:
I call this to mind, and therefore I have hope: Because of the LORD's faithful love, we do not perish, for His mercies never end. They are new every morning; great is Your faithfulness!
Lamentations 3:21-23 CSB
From Mary Carver: "If you're afraid that you've missed your chance, that you've messed up too much, that you've wandered too far, that you've waited too long, know that God will never give up on you. He is here to give you another chance. Though the weeks and seasons and years come to an end, His mercies never do. Take heart. Our God is a God of second chances."
–
Over all these virtues put on love, which binds them all together in perfect unity. Let the peace of Christ rule in your hearts, since as members of one body you were called to peace. And be thankful.
Colossians 3:14-15 NIV
From Anjuli Paschall: "When someone doesn't give or receive love the way you think they should, resist the temptation to believe they don't love you. The easiest thing to do is to stop pouring out love. But don't stop. There isn't just one right way to love. There aren't just five love languages but millions of ways we can love because we all have our own God-given love stories. We were each designed to love in our own way. I'm tempted to make love in a black-and-white way, but I'm learning it can be very fluid. It can bend, flex, and bleed different colors. Love requires wisdom."
–
Be merciful, even as your Father is merciful.
Luke 6:36 ESV
From Dorina Lazo Gilmore-Young: "Through Jesus Christ, God displayed both mercy and justice. He sent His son to die on the cross as a substitute for you and me. He met us in our depravity with compassion, and His mercy continues to preserve us through the gifts of forgiveness and salvation. And as recipients of His mercy, we are called to emulate His mercy. Mercy is an invitation to align our hearts with the heart of God and to dignify those around us."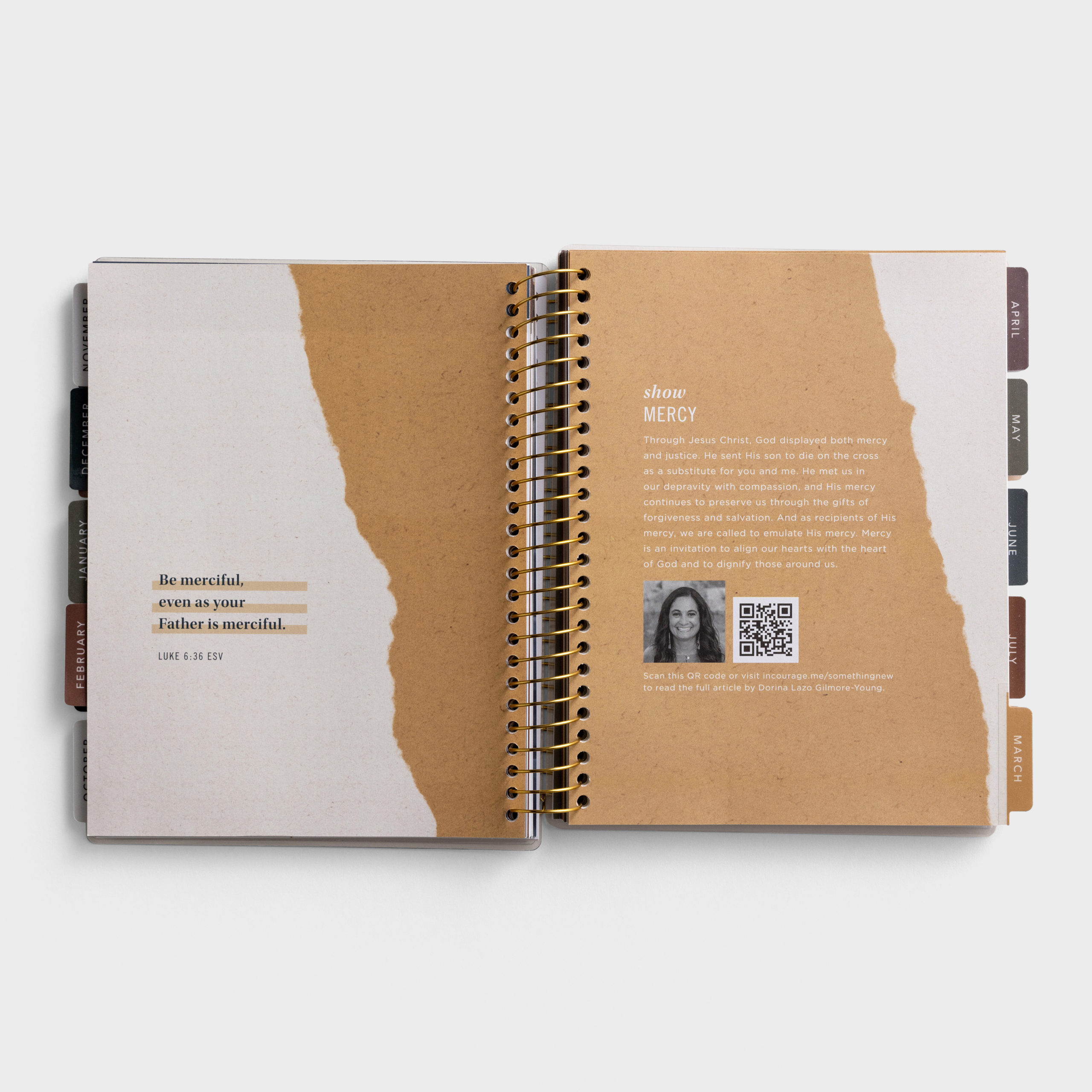 This eighteen-month 2023-24 (in)courage agenda planner also provides the classic DaySpring planner features, including a durable laminated cover and tabs, a lay-flat design with continuous spiral, an interior pocket page, and generous space for noting your plans. Ooh, and we are giddy over the return of checkboxes on the weekly lined pages!
You will be inspired by the beautiful monthly art spreads, weekly verses, and inspirational devotions throughout. The notes section will help you write down quick thoughts to come back to, the pass-along prayer cards will encourage your heart (or the heart of a friend!), and again, there are even three pages of adorable stickers you can write on to help bring your planner some color and extra joy!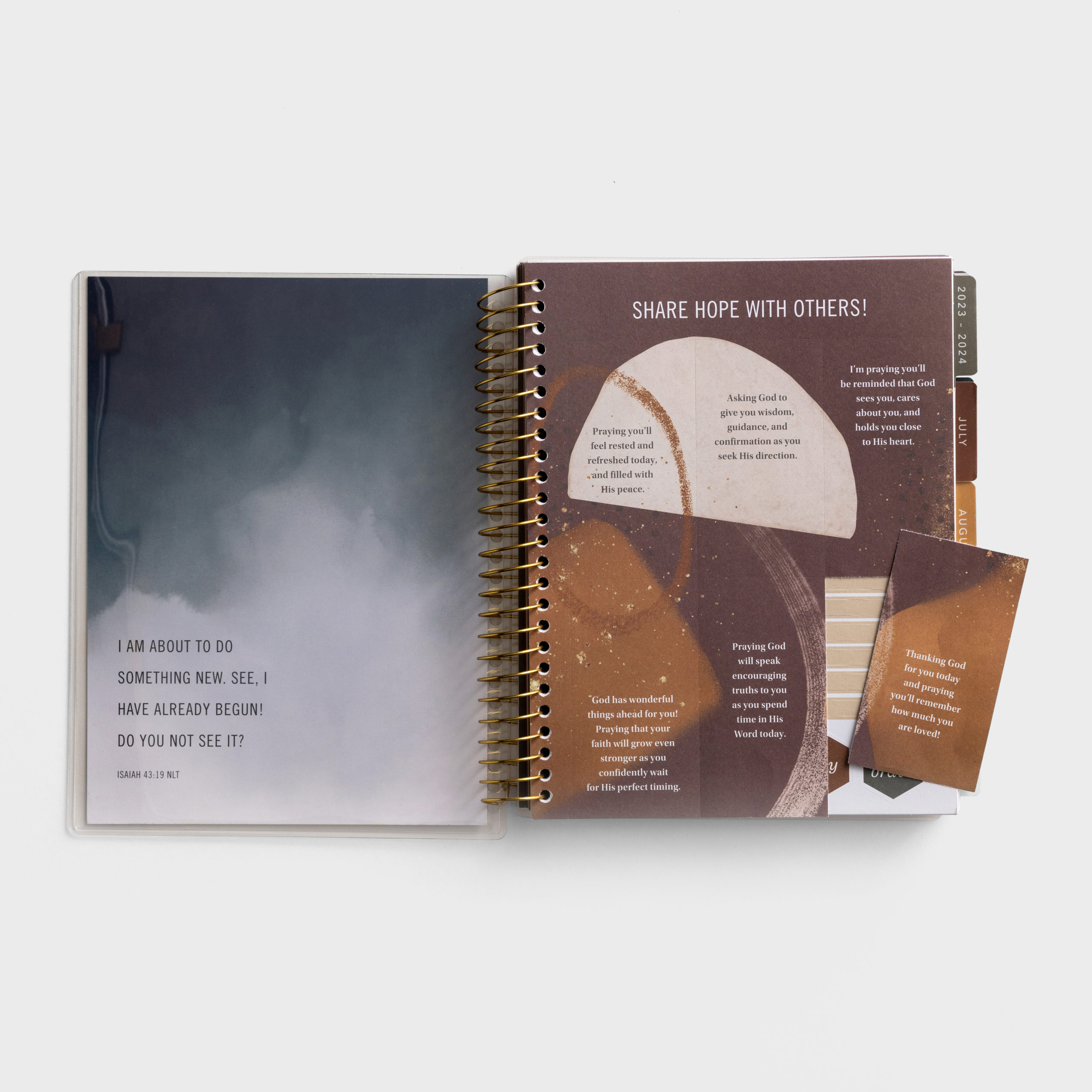 Plan out and walk through your days with this Scripture-based planner, knowing that when we include God's Word even in the cracks of our day, He multiplies its goodness in our hearts and lives.
Pick up your (in)courage Something New Agenda planner today!
Listen to today's article* at the player below or wherever you stream podcasts.
*Please note, the devotional excerpts from the planner that are included above were not included in the audio version. We apologize, and hope you will read and be blessed by them!
Leave a Comment