I'm at an event holding a tiny plate covered with crackers and cheese, green grapes, and a few olives, wondering how to eat without looking awkward. Actually, I'm wondering how to even be in this room without awkwardness. All around me conversations flow, laughter echoes, and people exchange contact information, but I feel out of place. 
If you search for introvert memes, you'll quickly find this one: "Introverts Unite (Separately in Your Own Homes)." It makes me laugh but also spreads a common misconception about introverts — that we somehow love people less than extroverts do. The truth? Introverts love people just as much as extroverts; we just do so in different ways. 
An extrovert might enjoy a dinner party with a dozen people around the table, while an introvert likely prefers coffee with one friend. Why? One reason for this is the primary neurotransmitter we rely on. Extroverts prefer dopamine, which is released in high-stimulation situations (like a conference or party). Introverts thrive on acetylcholine, which is released when we're able to fully focus, whether on a project we're passionate about, personal reflection, or a meaningful conversation with one person. 
I did a survey asking my subscribers, "Are you an introvert or extrovert?" and "What's your biggest challenge as an introvert or extrovert?" To my surprise, the most common answer for extroverts was loneliness. They said things like, "I have a lot of acquaintances, but I long for deeper connections." Introverts, you may feel pressure to connect with others differently, but your style of socializing is needed in this world too — especially by the people who look like they have plenty of connections. 
All through the New Testament, the phrase "one another" is repeated. 
"Love one another" (John 13:34). 
"Accept one another" (Romans 15:7). 
"Encourage one another" (2 Corinthians 13:11). 
"Serve one another" (Galatians 5:13). 
"Be kind and compassionate to one another" (Ephesians 4:32). 
These verses don't say "love groups of people" or "love everyone at once." They say "one another." When an expert in the law asked Jesus what mattered most, His answer was to love God and "love your neighbor as yourself'" (Luke 10:27). He didn't say love your neighbors (plural); He said to love your neighbor (singular). Then He told the story of the good Samaritan, which is about one person helping another. 
When it comes to relationships, quality over quantity is the theme. It's  not about how many people we have in our lives but how well we love whoever God puts in front of us each day. 
I eventually overcome my awkwardness at the event and end up having some fun and meaningful conversations. We laugh, talk, and share our hearts. At the end of the evening, I walk outside into a cloudless, silent evening. The stars are flung across the sky, diamonds on velvet. 
I remember I'm part of something so much bigger than I am, that I belong to Someone who spoke all this into being, that He is with me even now, that He made me who I am. Introvert or extrovert, He created you too. You have your own unique and beautiful way of connecting with others. 
So let's release any expectations we have of ourselves about how many friends we make, the frequency of social events on our calendar, or the number of likes we get on social media. Instead, let's focus on loving others in the powerful way God designed us to — one person at a time. 
Breath prayer: God, thank You for creating me to connect with others in my own unique and needed way. Help me do so today. Amen.  
What's your biggest challenge as an introvert or extrovert? 
 – 
This post is adapted from Holley Gerth's new book, Introvert by Design: A Guided Journal for Living with New Confidence in Who You're Created to Be. Find out more, take a one-minute quiz to see what percent introvert you are, and read a free excerpt at HolleyGerth.com/Introverts!
Pick up your copy today, and leave a comment below to enter to WIN one of five copies*!
Then listen in this weekend for a bonus episode of the (in)courage podcast as Holley talks with Becky Keife about Introvert by Design!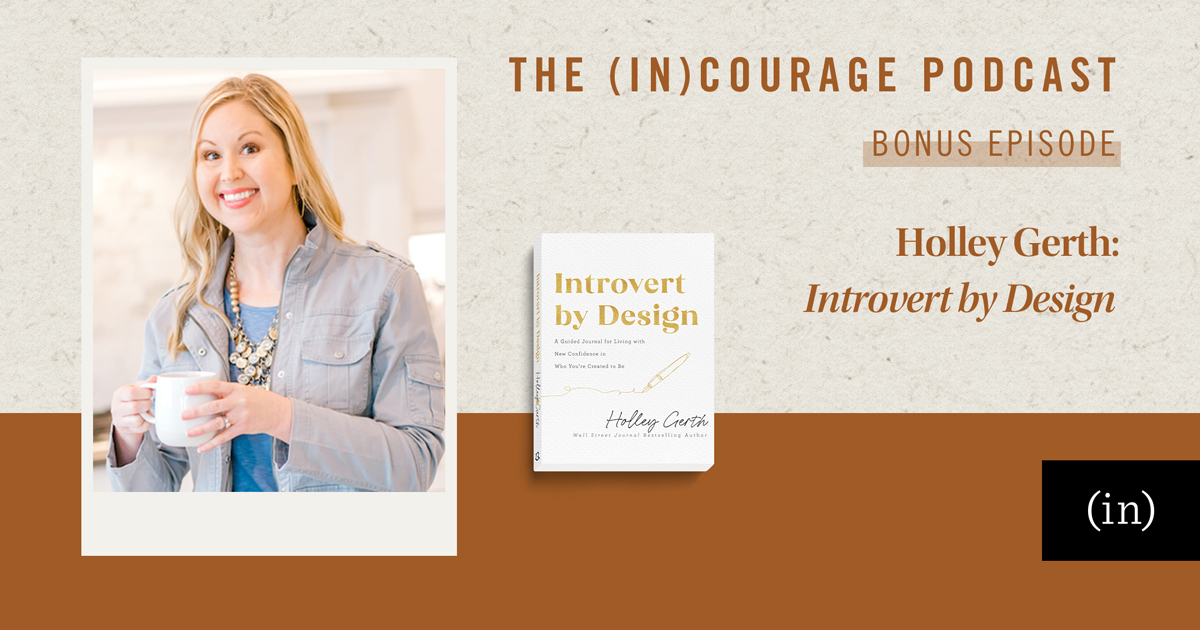 Listen to today's article at the player below or wherever you stream podcasts.
*Giveaway open to US addresses only and closes at 11:59 pm central on 5/7/23. Winners will be drawn at random and notified via email. Please allow 4-6 weeks for delivery.
Leave a Comment