My hair was falling out.
Yes, me – the girl with thick black hair whose hairstylists always declared, "Wow! You have a LOT of hair!" —  quietly freaked out every time I washed my hair. It had gotten so bad that I started stretching out days between washings because I was so discouraged watching hair swirl down the drain on the shower floor.
It started during the pandemic. At first, I wasn't too worried. "Oh, well, it'll grow back."
"Things will be better by the summer," I told myself. I held my breath, figuring by fall, my boys would return to school and life would return to normal. My anxiety climbed as I tried to juggle looming work deadlines with the gazillion hats I wore — from cheerleading mom to crisis counselor, referee, first-time homeschooling teacher, and short-order cook.
My priorities were my kids and my husband. Me? I'll figure that out later. 
But the longer the pandemic stretched out, my emotional reserves, once filled with optimism, started thinning — and so did my hair. The more stressed I became, the more hair I seemed to lose.
What I needed was hope. Optimism is imagining how circumstances will get better, but hope is seeing God's love and care in the midst of bad circumstances. Hope is a refuge in uncertainty when optimism runs dry.
Friend, are you also feeling weary, in the middle of a hard season you thought was temporary, only to discover you're stretched so thin – you're burned out, losing your joy and hope?
We often don't know we're stressed until our body sends us signals. Our hair starts falling out. Fibromyalgia worsens. We might get migraines, eye twitching, or insomnia. These are common symptoms of burnout that women I work with as a soul care coach share. Scientific studies back this up – women suffer from burnout more than men!
We're so busy taking care of everyone else, we forget about our well-being. And that's not good because God cares about you. How you feel matters to God. You are His beloved daughter.
How can we keep pouring out if we don't make space for God to replenish our emotional reserves?
It breaks God's heart seeing His little girl – YOU – running ragged. There's a story of a little girl in the Bible who everyone thought was dead as she lay on her bed without breath. Everyone had lost hope that life could be different — and I can relate to that.
But when Jesus came to where the young girl was, He took her hand . . . and His gentle, loving touch brought her back to life! Guess what was the first thing Jesus said? Give her something to eat (Mark 5:43).
Notice: Jesus didn't tell the girl to serve the crowd gathered outside. Jesus didn't tell her to go do her chores. Instead, Jesus lovingly focused on her well-being.
It's important to God that we nourish our bodies with rest and take time to feel His loving touch — which can revive us with hope.
How do you respond to stress? Do you feel uncomfortable taking time out to do something that brings you peace or joy? Or do you try to fill up by doing something productive for "the crowd" or doing chores instead of nurturing your well-being?
To encourage you, I'd like to share three changes that helped me rest when I was burned out. God wanted me to believe I was worthy of care and take action in the midst of my hard, messy now.
First, I needed to eat better. Because I was trying to squeeze in a bottomless checklist of to-do's, I was skipping lunch, and eating odds-and-ends. Eat lunch, Bonnie! You need protein.
Second, I needed to face my fear and let go of expectations. I had to let go of responsibilities that were no longer healthy for me. Despite worst-case scenarios playing in my head, I asked God for courage and asked friends to support me in creating boundaries.
Third, I began praying Breath Prayers to nurture hope whenever I felt overwhelmed. It's a simple way to pray using Scripture to release tension in your body and re-oxygenate your soul with God's peace as you breathe in God's love and breathe out your worries.
Hand your problems over to Jesus as you pray this breath prayer from 1 Peter 5:7: "Cast all your anxiety on him because he cares for you."
Inhale: I cast all my anxiety on You.
Exhale: Because You care for me.
With each breath you take, name each worry and give it to God in prayer.
To hope again is to believe God will help us. Hope gives us permission to do things differently and to believe God will be faithful. His love fuels your hope, and hope is the oxygen your soul breathes. 
Since I've made changes to my schedule, nutrition, and my expectations, my hair stopped falling out as much. Over time, my hair health began to be replenished.
God can renew your hope. Jesus tenderly folds your hand in His, loving you unconditionally.
Thank You, Jesus, for being my anchor and my hope. Help me rest in You. Amen.
"We have this hope as an anchor for the soul, firm and secure."
Hebrews 6:19
How can you take better care of yourself?  Which of the three changes from today's devotional do you need to take to heart?
—
Do you ever feel so worried, you can't turn off those worrisome thoughts? In her new practical guidebook to lower stress, Breathe: 21 Days to Stress Less & Restore Chaos to Calm, Soul Care expert and author Bonnie Gray shares 21 stressors and 21 solutions to help you find your spark of joy!
This guidebook will refresh weary hearts to flourish in four areas of wellness – emotional, physical, spiritual, and social. With breath prayers based on Scripture and science, Breathe will help you break free from worry, stress, and anxiety. Order by April 13th and receive a free 4-video wellness Bible Study from Bonnie when you sign up here!
Order your copy of Breathe today . . . and leave a comment below for a chance to WIN one of 5 copies*!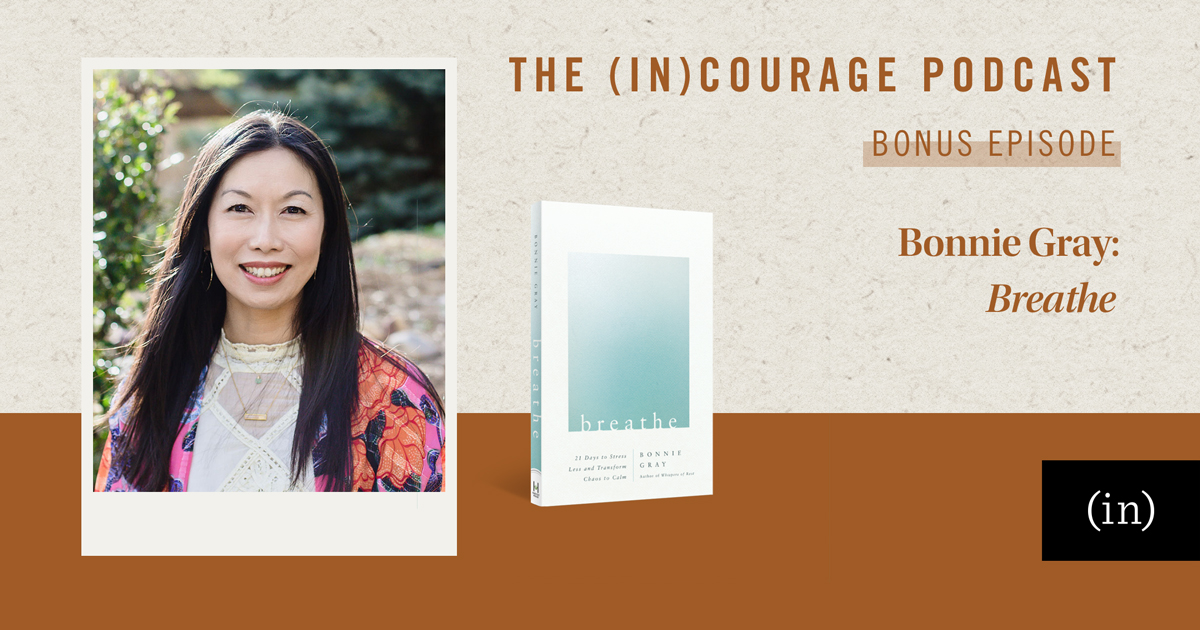 Then join Becky Keife for a conversation with Bonnie this weekend on the (in)courage podcast. Don't miss it!
Listen to today's article below or wherever you stream podcasts. 
*Giveaway open to US addresses only and closes at 11:59 pm central on 4/16/23. Winners will be drawn at random and notified via email. Please allow 4-6 weeks for delivery.
Leave a Comment