"Rise and shine and give God the glory, glory," Mama sings. 
Glory?, Zayla thinks, wrinkling her nose, "Mama, we talk and sing about glory at church, but what exactly is glory?"
"Well, that's a good question," Mama says with a broad smile. "Let's go look for it." 
____ 
These are the opening lines to my new children's book, Chasing God's Glory. When my three daughters were little, we started going on glory-chasing hunts together. This was the way we would lift our heads to see God at work on ordinary days and difficult days. 
The word glory is mentioned more than 500 times in Scripture. If we study the scriptures that mention it, we discover God's glory is the very essence of who God is, His character. Glory is what sets God apart. It's the way God reveals Himself to us. It's His presence. 
Back in 2014, I chose the word glory as my word of the year. Little did I know that this single, five-letter word would be the thing God would use to transform me, inspire me, lift me, and carry me through the most difficult year of my life. This would be the beginning of tracing His glory story in the most unexpected narrative.  
I had to train myself to notice  God's glory around me through tragedy and triumph. That was the year my husband was diagnosed with stage four cancer. That was the year my lover leaped into Heaven – the ultimate Glory – leaving me a widow with three small children. That was the year I experienced God's glory in little girl giggles, home-cooked meals, and road trips. That was the year He showed up for us through our community who served us, fed us, collected money for medical bills, and lifted us. 
God has shown me that glory is the very beginning of the story and also the grand finale. This one word is used throughout the Bible as another word for His presence, majesty, beauty, creation, and heaven. Many of the heroes of our faith from Moses to Mary, from Isaiah to Paul, came to understand His glory in profound ways. 
I heard a sermon where the pastor talked about how we are called to be "glory chasers." Pastor Mitchel Lee's phrase sparked something deep inside me. He argued that we humans were put on this earth to discover God's glory and reflect it back to God and those around us. We are to live and work and run for God's glory.  
Now nine years later, I'm still a glory chaser. I'm still looking for God in my every day. I'm tracing His faithfulness through every piece of my past. I'm leading others up the trail to unearth His glory for themselves. 
I believe God's glory is a frame, a way for us to view the Bible and, more importantly, our lives. Jesus tells Martha in John 11:40, "Did I not tell you that if you believe, you will see the glory of God?" This is His way of urging her to seek His glory. 
Jesus knows He is about to perform a miracle. He knows He is about to raise His friend Lazarus from the dead. Martha, like so many of us, is focused on what is right in front of her. 
Now when I am overwhelmed by the breathtaking colors of a sunset waltzing over ocean waves, I count it a picture of His glory. When I see the intricate beauty of a snowflake, I name it as His glory. When I am caught up in a heart talk with a dear friend, I believe the encouragement I find there is just another tangible example of His glory.  
Glory-chasing has become a habit for me. It's the way I breathe. It's the way I move forward one step at a time. It's my new life purpose. I find myself framing everything by these two questions:  
How can I trace God working for His glory in my present circumstances?  
How can I reflect His glory to others through my actions and attitude today? 
Through this new children's book, my heart is to teach kids of all ages to chase after God's glory in the world.  
____
"I think I'm starting to get it," Zayla says. "Is glory all these things God created?" 
Mama nods. "It's a reflection of who He is and how He's working in the world."
"Chasing God's glory is fun! Can we do it again tomorrow?" Zayla asks before she drifts off to sleep. 
____
Award-winning author Dorina Lazo Gilmore-Young's rich multicultural story and Alyssa De Asis' vibrant artwork make Chasing God's Glory both a celebration and an invitation as you and your children become glory chasers right where you are!
When Zayla asks her mom to describe God's glory, Mama knows it's time for an adventure! Together Mama and Zayla discover how sunrises and dancing, green peppers and daffodils, kind words and loving hugs, are all reminders of God's glory around us every day.
We're so excited for this adorable and much-needed message to get into your hands!
Order your copy today . . . and leave a comment below for a chance to WIN one of 5 copies*!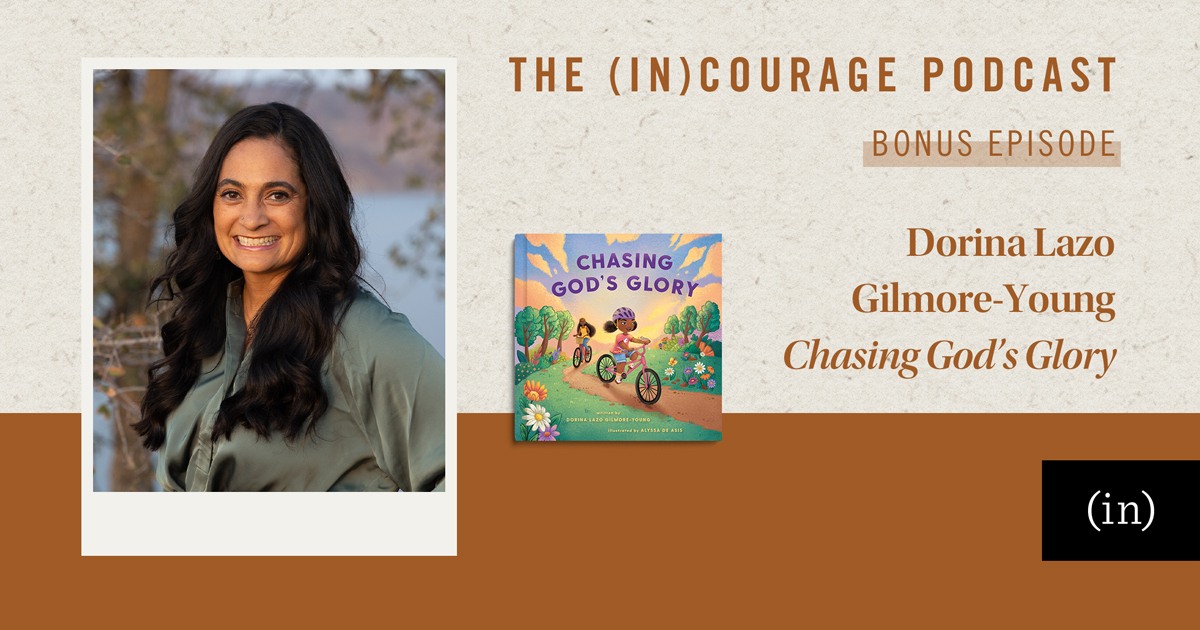 Then join Becky Keife for a conversation with Dorina this weekend on the (in)courage podcast. Don't miss it!
Listen to today's article at the player below or wherever you stream podcasts.
*Giveaway open to US addresses only and ends at 11:59 pm central on 3/24/23. Winner will be notified via email. Please allow 4-6 weeks for book to arrive.
Leave a Comment