I was sitting outside soaking up the summer sun when my phone buzzed with an incoming text from one of our adult sons.
"Can I come home? I need to come home."
For months, he'd faced numerous challenges. A rigorous college academic load and challenging leadership positions, all exacerbated by a pandemic that wouldn't go away. Then in the middle of all that, one of his most important relationships went south. This is our optimistic child, the one whose glass is always half full. And the one who thrives on relationship. I could sense his discouragement, no matter how brief the text.
"Of course. Always. I'll have your room ready."
I remember doing something similar decades before, when I was a sophomore at a small private Christian college. Although in many ways I thrived, I was still a young nineteen-year-old with a fragile self-image and a desperate desire to be loved. So when a few peers made some thoughtless comments about my appearance, it crushed me. I remember the humiliation and rejection. And I remember lying on the bottom bunk in my dorm room when I made the call to my parents.
Can I come home?
There is a homesickness we feel in places of pain. No matter the size or source, pain shouts, "This is not the way it's supposed to be!" And no matter the friends we call or distractions we employ, the suffering creates an otherness, alienating us from everything familiar. And causing us to long for home with a cry that rattles our bones.
The author of Hebrews recounts the many men and women of faith who experienced this homesickness in suffering:
"All these people were still living by faith when they died. They did not receive the things promised; they only saw them and welcomed them from a distance, admitting that they were foreigners and strangers on earth. People who say such things show that they are looking for a country of their own. If they had been thinking of the country they had left, they would have had opportunity to return. Instead, they were longing for a better country—a heavenly one."
Heb. 11:13–16
Longing for heaven. Homesick. But this kind of homesickness can't be cured by an earthly solution.
In 2014, I got a phone call from my dad while I was speaking at an event in Florida. While I sat in my hotel room thousands of miles away, my dad told me that he had only a few months left to live. Pancreatic cancer is vicious, and my fathers was no exception.
That was May 8. By August 19 he was gone. In those three short months, I watched my father process the reality of his mortality. Earlier that same year, I'd received a second cancer diagnosis, so I took notes. I watched him mourn his impending death, the future he'd dreamed of with his wife, children, grandchildren, and friends, the memories we'd make without him, and the plans he'd made but wouldn't achieve.
But I also watched him dream of heaven. As if he were planning a once-in-a-lifetime vacation, I saw his anticipation and excitement and watched as he planned and prepared. He read his Bible more, talked about Jesus more. And although he grieved, he also experienced real joy. After spending his adulthood dreaming of heaven, that dream was about to be fulfilled.
Homesick. He was homesick.
Can I come home?
Of course. Always. I'll have your room ready.
On August 19, 2014, he finally got to see it.
Although you and I have mailing addresses, this is not our home. It will never be our home. We feel the ache of this truth every time the temporary walls of our lives crumble and crash. It is oh so easy to forget that this life is not all there is. But, as author Randy Alcorn said in his book Heaven, "We cannot anticipate or desire what we cannot imagine."
What if we spent more time dreaming and planning for heaven? What if we allowed ourselves the luxury of anticipation, of dreaming of the life that is to come with as much enthusiasm as we dream of our next tropical vacation? Doing so is part of the practice of perspective, and one of the secrets to a faith that does not fail.
As real as our challenges are, heaven must become even more real. That pain you feel? You're homesick. But that's okay, because to be homesick only confirms that the best is yet to come.
Go ahead and dream, even while you weep. One day soon, you will finally be home. And He'll have your room ready.
Taken from A Faith that Will Not Fail by Michele Cushatt. Copyright © March 2023 by Zondervan. Used by permission of Zondervan, www.zondervan.com.

Life can be hard. Although there are moments of beauty and goodness, more often than not, life is marked by fear, struggle, disappointment, and loss. And we don't know what to do with it. We've tried to find hope and security in various people and places — but each has proved unworthy of our trust. We need more. Something — or Someone – -who won't fail us when our world falls apart.
In her new book, A Faith that Will Not Fail: 10 Practices to Build Up Your Faith When Your World is Falling Apart, beloved author and Bible teacher Michele Cushatt presents a better way. By exploring powerful personal, historical, and biblical stories of people of extraordinary faith, she curates and shares ten practices to help you deepen your confidence and certainty in the God who can be trusted with your worry, questions, confusion, and grief. As a woman who has been through immeasurable suffering, Michele writes with both deep compassion and practical insight as she guides you to:
Practice lament and process grief without guilt or shame.
Understand what keeps you from trusting God and how to navigate doubt with truth.
Learn simple ways to foster shalom and gratitude on a daily basis.
Develop a fresh, eternal perspective that delivers both peace for today and hope for tomorrow.
Savor daily "faith-builder" practices to strengthen your confidence in God's love and purposes for you, no matter what happens.
There is hope in your hardship and a God who is both with you and for you. A Faith that Will Not Fail points the way to the only One you can truly trust, and ultimately, to a faith in him that will not fail.
Order your copy of A Faith that Will Not Fail today . . . and leave a comment below for a chance to WIN one of 5 copies*!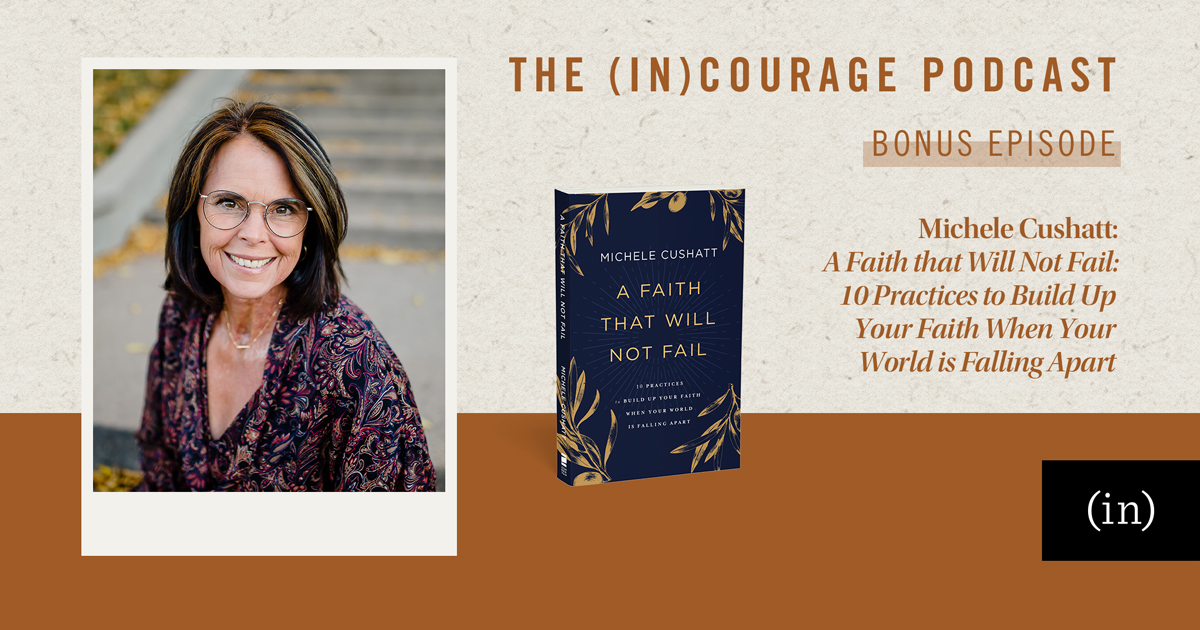 Then join Becky Keife for a conversation with Michele this weekend on the (in)courage podcast. Don't miss it!
Listen to today's article at the player below or wherever you stream podcasts.
*Giveaway open until 4/3/23 at 11:59 pm central to US addresses only. Winners will be notified via email. Please allow 4-6 weeks for delivery.
Leave a Comment