It was a small fib. But I was a little girl. Just five years old, I suddenly had a haul of pocket change when I had not a job, a piggy bank, or a way to get my tiny fingers on all those shiny nickels and dimes. 
So, I lied about the money. Where did I get it? 
"I found it on the sidewalk." Or, "My friend at kindergarten gave it to me." Or, "Daddy dropped it in the backyard." Or, "Mommy left it in the kitchen." You get the drift. Every story got more convoluted and, to my parents' ears, surely more absurd. 
To a person telling a lie, it's an exercise in self-deception, convincing yourself you're not "cutting from whole cloth"– or lying like crazy — when all that subterfuge keeps doubling down on itself until not a thread of frayed truth remains. 
I'm still amazed, looking back, at how determined I was to make my fibs seem truthful. "But It's true!" I pleaded to my parents — who let me coil myself deeper into my fabricated hole. They knew eventually I'd understand this: 
Telling lies is a path to pain — until we walk back to Christ, our Truth. God "detests lying lips" (Proverbs 12:22.) He makes that clear in  Psalm 101:7: 
"No one who practices deceit 
    will dwell in my house; 
no one who speaks falsely 
    will stand in my presence." 
That's the landscape I dared to trod in Double the Lies, the second installment of my historical mystery series about theologian-turned-detective Annalee Spain. Why this topic? I had personal experience of twisting a lie into deceitful truth, especially when lying to myself.  
I remember that outcast feeling to this day. My embarrassing truth?  
I was pilfering money from the dresser top of a neighbor lady who babysat me at her house after school. Her nickels and dimes seemed a pathway to boundless treasures. Candy from the corner store. Popsicles from the ice cream truck. Lollipops at the grocer's. 
More than such things, however, money seemed to say I mattered. That was my thinking at even age five. I'm intrigued, indeed, how false thinking from my childhood became a plot lesson in the grown-up story of my new mystery, Double the Lies. 
When I suggested that title to my editor at Tyndale House, she loved it immediately. We hadn't yet agreed on the entire plot. But we both felt certain that a mystery involving lies could take the story to places every soul has gone — into the mire of deceit – and then shine a light on how to climb our way out. 
I've been on that journey since I grew up with the most hurtful lie of my childhood, Jim Crow segregation. "Colored people" like me were declared the awful worst. "WHITES ONLY ALLOWED" shouted society's signs and, despite my young age, I could read them. 
To borrow a religious term, I was baptized into the fire of this fight, trying to prove myself greater than such awful untruth – while my wise parents invited me to come clean first about my own. I sobbed, in fact, when I finally broke down and confessed my childish wrongdoing.  
My parents forgave me, and so did God. Our neighbor lady, too. I became so leery of lying that, as a writer, I seized honesty as my hallmark, looking for ways to tell tough truths.  
Thus, I didn't run when the plot of Double the Lies swung to interracial romance, an illegal notion in the 1920s where Annalee's story takes place. A surprise, it tests my young Black detective because she already has promised her heart to another. Would she give in to the risky temptation? Or tell the truth that she was flattered and attracted by it — a distraction she had to confront to solve the real crime. 
William Shakespeare had a phrase for such courage: "O, while you live, tell truth and shame the devil!" He wrote that for his popular wartime play, Henry IV, Part I, where his brave hero Hotspur declares his command over Satan by simply shaming him. How? By speaking truth. 
What a powerful way, in our age, to beat back conspiracy theories and falsehoods. Yet the best tactic to conquer a lie? 
Lift up the One who is our Truth. In Jesus' own words: "I am the way and the truth and the life. No one comes to the Father except through me" (John 14:6). 
My little detective learns that the hard way. But finally, she prays a humble prayer, simply asking God for help. As she wonders, maybe those "are the prayers God answers first. Honest ones."  
Soon, indeed, she's free to solve the mystery. If her journey sounds intriguing, I invite you to dive into her story to see what you discover – perhaps about yourself. 
Meantime, may we never doubt that the whole truth is never far. His name is Christ  — and His truth keeps marching on. That sounds like a battle song, and maybe it is. More than all, however, His truth marches us toward His forgiving, accepting love. For me. For you. For all. 
—
Double the Lies from award-winning author Patricia Raybon is featured in the February issue of Woman's World Magazine, and was lauded by Publishers Weekly as a "fast-moving mystery" whose "mix of history and intrigue will captivate readers." The novel is "stirring, fast-paced and powerful," says Foreword Reviews, It follows All That Is Secret, the 2022 Christy Award-winning debut of the Annalee Spain Mystery series from Tyndale House.
Order your copy today . . . and leave a comment below for a chance to WIN one of 5 copies*!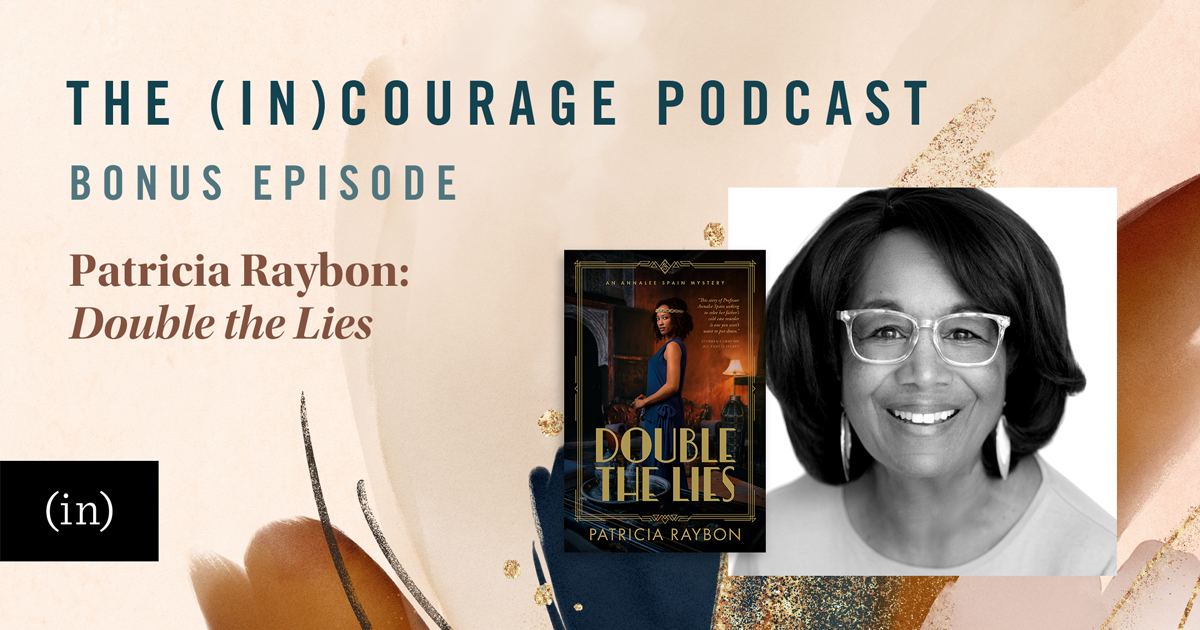 Then join Becky Keife for a conversation with Patricia this weekend on the (in)courage podcast. Don't miss it!
Listen to today's article at the player below or wherever you stream podcasts.
*Giveaway open until 2/13/23 at 11:59 pm central to US addresses only. Winners will be notified via email. Please allow 4-6 weeks for delivery.
Leave a Comment