Want to do a Bible study but aren't sure where to start? Looking to walk through Scripture with a fantastic group of women? Need someone else to handle the planning and coordinating that comes with organizing a Bible study?
Above all that, are you searching for the kind of wisdom that only comes from the Lord? We've got you, friend!
Join us for our Create in Me a Heart of Wisdom Online Bible study, led by Grace P. Cho! Yep, it's time for our winter study, and this time we're searching for wisdom with an easy-to-join, deeply impactful study. We can't wait! We will spend six weeks going through the Create in Me a Heart of Wisdom Bible study, written by Grace P. Cho and featuring stories from several of our (in)courage contributors.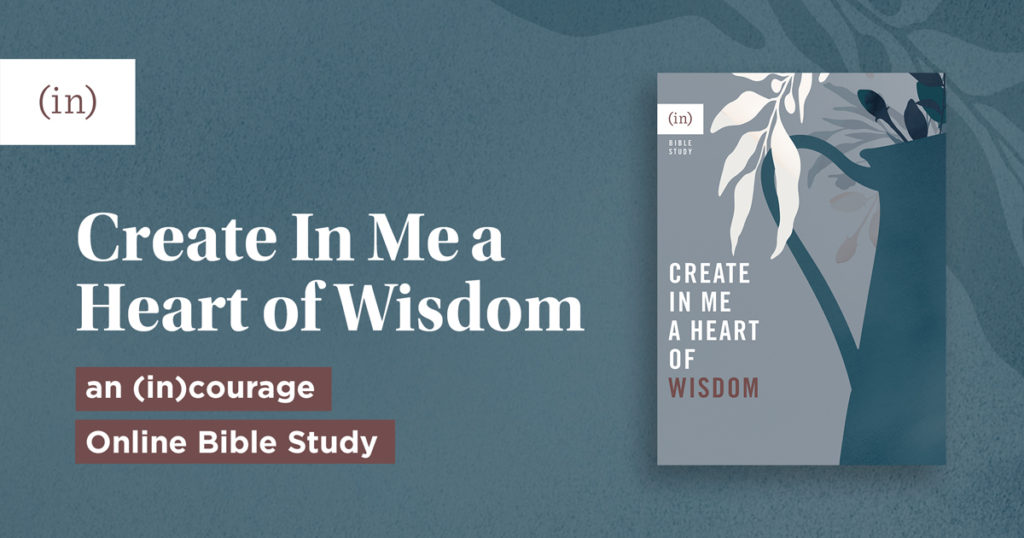 Join the Heart of Wisdom Online Bible Study!
Here's what you need to know:
1. You'll need a copy of Create in Me a Heart of Wisdom to fully participate in the study. We will provide the reading guidelines, discussion questions, and video conversations along the way!
2. Officially sign up for the study (it's free to join!). Click here and register. When you do, we'll send you the first week from Create in Me a Heart of Wisdom AND a printable page of Scripture Memory bookmarks for FREE!
3.  The study runs from February 20th to March 31st.  Every Monday you can start reading that week's chapter, and we'll share the memory verse for the week on our social channels. On Thursdays, you can tune in for "Ten Minutes of Wisdom with Grace" — a brief, inspiring video! We'll also send you an email with a weekly recap, including the memory verse, a link to the video on YouTube, lock screens, reflection questions, and more.
This really couldn't be easier!
Invite a few friends to join you! Send them to this page so they can sign up! If you're looking to connect with other women in real life, this is a great way to do so. Simply read the Bible study each week, then gather together (in person or online) to watch that week's video, enjoy your own discussion, and close in prayer.
That's it! Super fun and low-stress, right? That's how we like to do things when life is already full to the brim.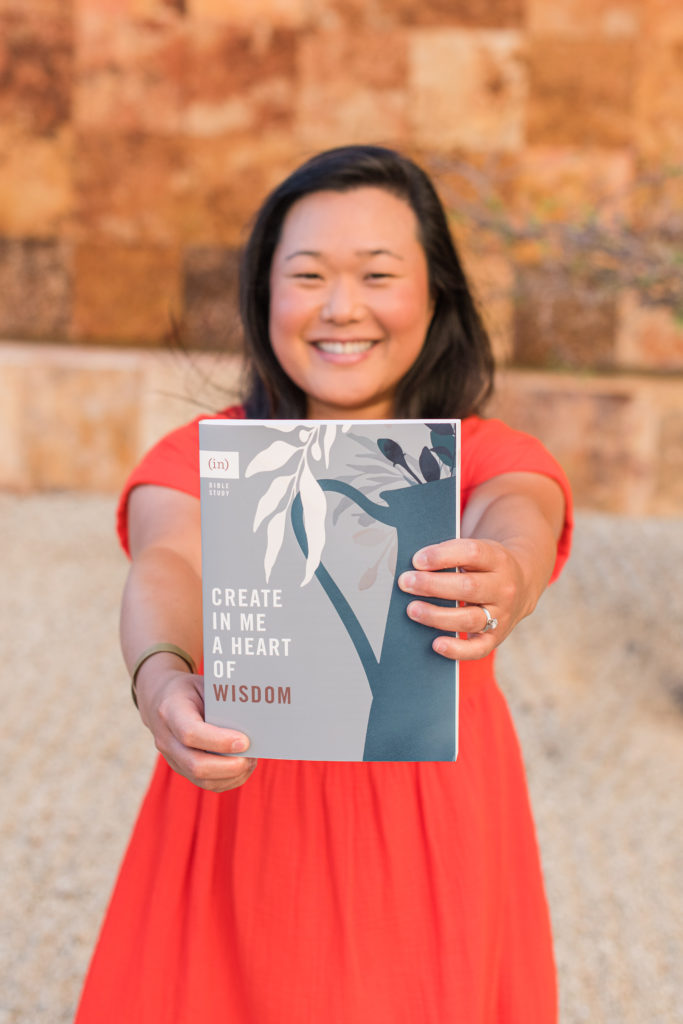 Don't have your copy of the study yet or want to give a copy to a friend? Cue a GIVEAWAY! [giveaway now closed]
Tell us in the comments if you've got your book already or to whom you'd like to gift a copy, and we'll pick FIVE of you to WIN a free Bible study! The giveaway is open to U.S. addresses only and closes on February 13th at 11:59 pm central.
Then, mark your calendars for February 20th when we kick off the Create in Me a Heart of Wisdom Online Bible Study! We hope you'll join us. Sign up here or at the form below!
We can't wait to get started!
Join the online study and let's seek hearts of wisdom — together.

Listen in to a conversation with Create in Me a Heart of Wisdom author Grace P. Cho on the (in)courage podcast!
Listen to today's article below or wherever you stream podcasts!
Signing up will get you the OBS, a free week, and occasional emails from (in)courage. You can opt-out at any time.
Leave a Comment