In the new book From Where I Stand: 30 Days in the Life of Paul, you are invited to trace the footsteps of a man who went from relentlessly persecuting Christians to becoming one of the greatest evangelists in history. 
The path of the apostle Paul is one of transformation. In From Where I Stand, you will be transported back in time to the places where Paul, once a notorious opponent of the faith, preached the Gospel to nations who had long been enemies of God's people. You will feel what he felt, see what he saw, and encounter the living Christ along beaten dirt roads and within dank prison walls. As you walk in Paul's shoes, you'll be encouraged to journal (or even paint, draw, and handletter) along and answer heart-provoking questions that will illuminate your own spiritual journey. 
Read on for an excerpt + giveaway!
—
By day, the heat was relentless. With the cloudless dome of the sky above, and a sea of sand below, Saul's donkey trudged steadily onward weaving its way through bare, jagged mountains.
When the sun dropped beneath the horizon each evening, the temperature plummeted. Saul huddled close to the donkey's side for warmth and stared up into the sweeping night sky, strewn with thousands upon thousands of stars.
Day, after night, after day, the cycle repeated as Sinai, the mountain of God, steadily grew closer.
Sinai. The mountain where, as Moses led the children of Israel out of Egypt, God affirmed His covenant with them and gave them the law.
Sinai. Where Elijah, another zealous man of God, had once fled, discouraged, disillusioned, and alone when his life, too, had turned upside down. There in a cave on the mountainside, God met with his weary prophet, Elijah, in the holy silence of Sinai to encourage and renew him, and to recommission him for his purpose and the work that remained.
Now Saul followed in Elijah's footsteps to seek God's face, recommit himself to God, and discover what it meant to be faithful now that he knew Jesus was the Messiah.
Finally, sunburned and weary, Saul stood at the base of the mountain. Somewhere, far above him, God had spoken to Moses face-to-face, giving him the law. And there, on the plain surrounding the base of the mountain, the twelve tribes of Israel had once set up camp and committed themselves to obey God, then immediately betrayed Him by fashioning a golden calf to worship instead. And somewhere, in one of the caves dotting the mountainside, was where God met with Elijah and commissioned him to announce Israel's new king.
On Sinai, the place of covenant and new beginnings, Saul met with God. Afterward, when he turned his donkey back toward Damascus, he, like Elijah, did so with a new mission: Saul (who would later be renamed Paul) would proclaim the advent of Israel's new king. But this time her King was the Lord of all creation.
King Jesus, the Messiah, would reign forever. He would be called Wonderful, Counselor, Mighty God, Everlasting Father, Prince of Peace, and His kingdom would have no end.
We all have had times when it felt like our lives were spinning out of control, when we lost focus and a bit of our true selves along the way. When we get face-to-face with God, He shows us the big picture, what we can't see when we are wounded, beaten down, and weary.
Sometimes we must stop the merry-go-round of life and intentionally seek out a place where we can commune with God without interruption so that He can get us back on track. This isn't indulgence. This is taking our relationship with God — and how that relationship works itself out in our realm of influence — seriously.
Often, when we look back on these times, we find they are important faith landmarks, after which neither we nor our faith are ever the same.
First Kings 19:13 tells us that Elijah covered his face with his mantle before approaching God. Perhaps some of us hesitate to get face-to-face with God because it can be terrifying to encounter such infinite power and glory.
Our mighty God, however, is also a God of love. He wants to meet with us. He wants to know us, and for us to know Him in return.
God reveals Himself to us in the quiet spaces we consecrate for Him alone.
—
From Where I Stand is by two of our favorite writers, Sherri Gragg and Shanna Noel, and we know you'll learn a ton, be inspired, and simply love it! Order your copy today . . . and leave a comment below for a chance to WIN one of 5 copies*!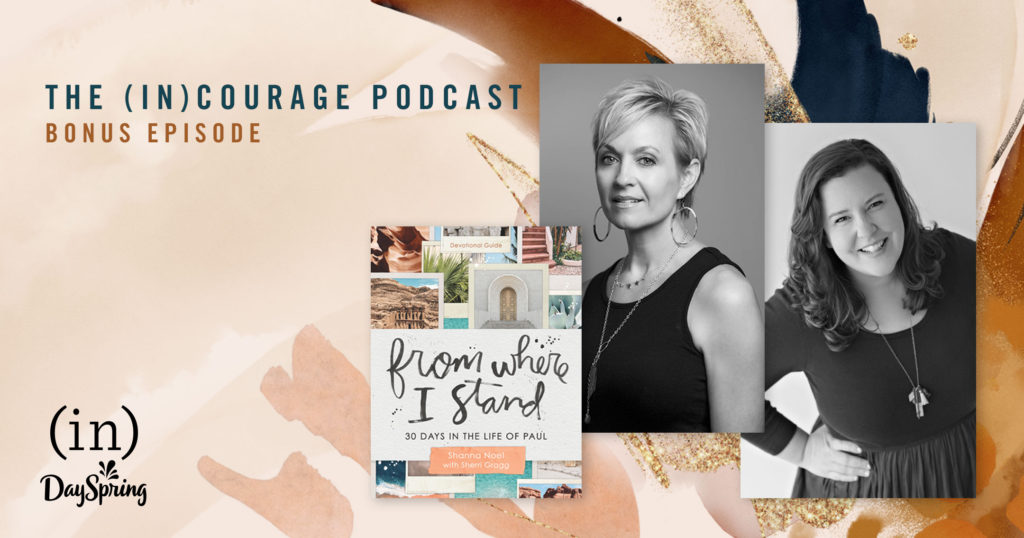 Then join Becky Keife for a conversation with Shanna and Sherri this weekend on the (in)courage podcast. Don't miss it!
Listen to today's article at the player below or wherever you stream podcasts.
*giveaway open until 10/28/22 at 11:59pm central to US addresses only.
Leave a Comment