This past school year was hectic. After a year and a half of a much more relaxed schedule, my daughters and I were back to maximum capacity with a calendar crammed full of practices and deadlines and projects and rehearsals. Every weeknight was full of driving and juggling and eating another dinner on the go. 
As a result, I found myself multitasking more than ever — replying to emails on my phone while also keeping an eye on my daughter kicking and punching in taekwondo class or running to the gas station to fill up the car or picking up another pizza for dinner during another daughter's guitar lesson. Some nights I even completed the ultimate mom trifecta: dropping off one daughter for practice, then zipping home to spend quality time with the other one (a.k.a., watching "our" TV show while also folding a basket full of towels), then hopping back in the car in time for the end of practice. 
After a few months of this intensity, I realized that I'd begun protecting one particular half-hour of the week. On Wednesday afternoons I waited for my youngest to arrive home from school. The minute she got off the bus, I rushed her to the bathroom and then directed her to grab her piano bag. I rattled off directions for making a simple dinner to my oldest, and then the two of us were off to piano lessons. 
Every week, I'd pull into her teacher's driveway without a minute to spare, knowing that as soon as she got back in the car, we'd hurry home to inhale dinner before taking my oldest to youth group. But for those thirty minutes, parked and waiting? I could breathe. 
For the first several weeks of this routine, I tried to fill those minutes with my usual approach. However, I realized quickly that I didn't have quite enough time to dive into a work project and at that time of the day, my brain was too fried to make a good grocery list or arrange play dates. Next, I tried taking a drive and letting my mind wander for half an hour. But after getting lost on country roads and barely making it back in time, I decided that wasn't my best option either. 
Finally, I tried breathing . . . and praying. Not breathing for a minute, then getting back to work. Not breathing so deeply that I lost track of time (and all the turns I'd taken on those back roads). Just taking a deep breath in and letting all the stuff I'd been holding onto and juggling out. Taking a minute to face the worries and fears and frustrations my jam-packed schedule did its best to distract me from. 
While my daughter learned to play piano and my car idled in the shade, I took a breath and talked to God. 
I told Him how tired I was, how nervous I was about an upcoming appointment, how sad I was over a daughter's recent disobedience. I asked Him to show me ways to be a better mom, a better woman — and I listened when He reminded me that I am loved just as I am. I asked Him for help, for patience, and for the energy to make dinner and listen to a minute-by-minute description of a child's favorite movie. I admitted that I wasn't sure I have what my kids need right now and that I was lonely, wishing for just one close friend in my town. 
And not a single one of those conversations took more than a few minutes. Not one of them required a place on my to-do list or the ability to talk clearly without rambling, sighing, or crying. I didn't need to fix my make-up or put on real pants, and nobody asked me to send a calendar request. I just showed up, in my parked car, in the middle of my busy day in a busy week, and God met me there. 
He'll meet you in the parking lot, too. Or the driveway, those back roads, the bleachers or auditorium, or your pantry that doesn't really have room for a person but somehow you fit yourself in there anyway. 
God isn't asking us to get it together or to get more done. He also isn't demanding a formal, standing appointment before He will carve out time to meet with us. Our heavenly Father knows how incredibly draining and difficult parenting can be, and He wants to walk with us, hold us, and carry us through this season. He loves us so much that He will meet us exactly where we are, and if that means our prayers happen in the parking lot, then that's where He'll be. 
My prayer for you — from my dining room table, my parked car, my closet where I hide from my kids — is that my new devotional, Prayers from the Parking Lot, will remind you that it's okay to take those "parked" moments to talk to God and will help you find the words to pray. 
—
If you've ever found yourself waiting (or hiding) in your car, desperate for guidance, peace, or reassurance that you're not completely bombing this season of motherhood, Prayers from the Parking Lot is for you. The short devotions will point you straight to the One who loves you so much He'll meet you anytime, anywhere — even (or especially) in the parking lot.
Get your copy today (and maybe a copy for a mom friend as well). . . and leave a comment below for a chance to WIN one of 5 copies*!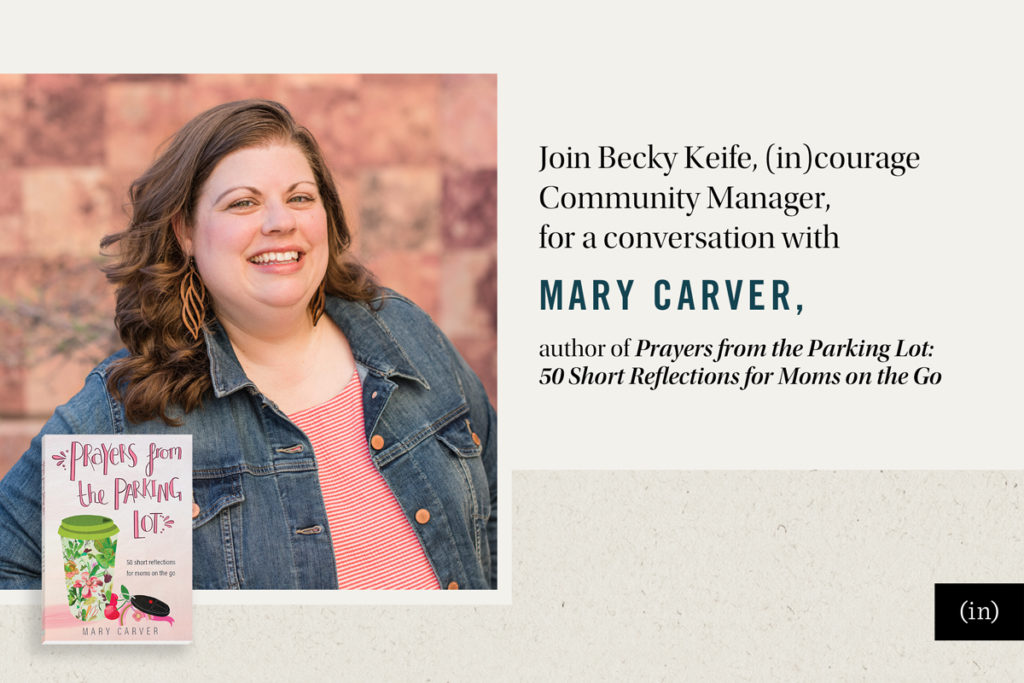 Then join Becky Keife for a conversation with author Mary Carver, tomorrow on Facebook and Instagram! We'll replay their conversation on the (in)courage podcast this weekend too. Don't miss it!
Listen to today's article at the player below or wherever you stream podcasts!
*Giveaway open until 8/12/22 at 11:59pm central to US addresses only. Winners will be notified via email. Please allow 4-6 weeks for delivery.
Leave a Comment