Do you ever hear someone talk about peace and then look at their life and think, Well yeah, it's easy for you to be content! Look at how perfect and easy your life is! Meanwhile, peace in your own life feels crowded out by trial after trial, struggle after struggle. How can you be content when the basement floods, the baby won't sleep through the night, the teenager won't obey curfew, the budget's too tight, loneliness is a constant companion, and you hurt your hip in your sleep? (Is it just me?)
It's easy to associate peace and contentment with pleasant circumstances. Surely that's the message our culture preaches. Just buy that new skincare product, organize your closet, put your kid in that program, throw the perfect party, read the self-help book, and earn that promotion. Ta-da! Then you will be content with your life. And yet … I don't know anyone who has done all the things and didn't wind up just creating another list of must-haves and must-dos.
Even if we're not swayed by material things, we do this with spiritual matters. Just help with that ministry and attend that retreat, check off your quiet time box, make your donation, and pray before every meal. Surely those good things will lead to the peace we long for, right?
Looking for contentment by doing good things for Jesus won't replace the peace found in Jesus.
The apostle Paul writes, "I can do all this through him who gives me strength." Too often Christians apply this verse to mean "I can do anything I want by the power of God." While it's true that God does empower His people to do a multitude of things, in the context of Philippians 4, Paul isn't talking about things like running a marathon, starting a business, or even serving the poor. He's talking about how to live from a posture of contentment. How to find an inner stability, serenity, and satisfaction that don't hinge on our present situation.
Whether he had a full belly or felt hunger pangs, as a free man or in prison chains, Paul learned that peace isn't found in the presence of abundance or the absence of hardship. Peace is the quiet strength provided by Jesus.
Paul was beaten, abandoned, and imprisoned. He battled sickness and loneliness. He begged God to remove a "thorn in the flesh," which God refused to do. "Each time he said, 'My grace is all you need. My power works best in weakness.' So now I am glad to boast about my weaknesses, so that the power of Christ can work through me" (2 Corinthians 12:9 NLT).
This is the way Paul learned to be content in every situation. This is the way we can learn to be content in every situation. Paul's source of peace wasn't in his own accolades but in the atoning forgiveness of Jesus. His peace wasn't in his own efforts but in the effective grace of Jesus. Paul no longer identified himself by his pedigree and prestige because his true identity was in Jesus.
I know what it is to be in need, and I know what it is to have plenty. I have learned the secret of being content in any and every situation, whether well fed or hungry, whether living in plenty or in want. I can do all this through him who gives me strength.
Philippians 4:12–13 (NIV)
Paul took on a posture of contentment, which enabled him to experience the life-changing peace of Jesus. Our circumstances don't have to be extreme for us to need God's peace.
On a regular Tuesday when you run out of laundry detergent. On a Saturday night when you get a phone call that makes your heart sink. When you're treated unfairly, when you get overlooked, when your security net falls through, when a door slams in your face — every moment of every day you have a choice to make. Are you going to look for happiness in what's happening around you? Or are you going to look for strength and peace from the one who is in you?
Choose well today, friend.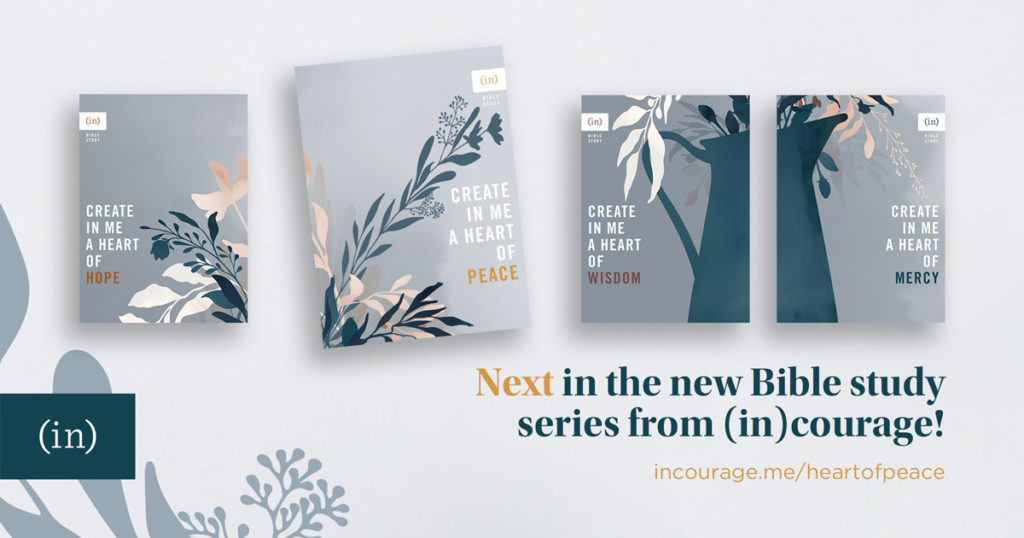 We all want peace. We crave an inner calm-meets-strength that doesn't rattle with volatile circumstances or disappear with busyness.
What if this kind of unshakable peace actually is possible?
We think it is.
That's why we're full of PEACE and joy today to tell you that our newest (in)courage Bible study, Create in Me a Heart of Peace, is now available! Cue the confetti! This Bible study features the real-life, going-first kind of stories you know and love from our (in)courage writers and an in-depth Scripture study — like the excerpt you just read from study author Becky Keife.
And isn't peace just what we all need right now? The Create in Me a Heart of Peace Bible Study is the second in our series of four studies, and it's now available wherever books are sold, including:
And what would a launch day celebration be without a giveaway?!
To celebrate the release of Create in Me a Heart of Peace, we're giving away FIVE gift bundles!* Just leave a comment on this post telling us where you need peace in your life right now, and you'll be entered to win a bundle that includes:
We're thrilled that this Bible study is able to be in your hands. Get your copy and let's learn what God says about peace. Sign up below and we'll send you the first week of the Create in Me a Heart of Peace for FREE so you can start right away!
Listen to today's article below or on your favorite podcast player!
*Signing up will get you the free week and occasional emails from (in)courage. You can opt out at any time. Giveaway open until 9/2/22 at 11:59pm central to US addresses only.
Leave a Comment