There are a few things that are true about me:
One, I've seen Friends way too many times.
Two, I have an unhealthy love for Air Jordans.
Three, once you get me talking about the Biblical narrative and the importance of knowing Scripture, I can't stop.
Believe it or not, that last thing about me hasn't always been true. In reality, I've really only grown in my knowledge and love for the Word over the past few years, despite spending my entire life in the church. Part of the reason I didn't understand the Bible was that it wasn't really taught to me, outside of verse memorization and Sunday School stories. The other big reason I didn't understand Scripture was that it always seemed so overwhelming to study.
The truth is that studying the Bible can feel daunting, but it doesn't have to be. There are many methods of study, but before you determine the best way to go about it, it's important to recognize why we study the Bible. There are many reasons to study Scripture, but here are four of the most important to me:
1. Studying Scripture reveals who God is.
The Bible was written for many reasons, but the number one reason studying the Bible is important is that it teaches us who God is. It breaks down the attributes and identity of God throughout the entire book. We learn He provides, He keeps His promises, He protects us, He is our foundation, He is gracious, and the list goes on. We are shown these traits through different historical events, and digging into the Bible helps us know and understand the Lord better.
2. Studying Scripture shows us why we need Christ.
The main point of the gospel is that God sent His Son, Jesus, to come to the world as a man, live a perfect life, and die as the final sacrifice in order for us to be righteous. A lot of the time, however, that's the extent of the teaching we get on why Jesus' sacrifice was important.
At a basic level, yes, God sent His Son to die for us because sin was brought into the world. Through the rest of the Old Testament, however, you see so many different instances of a cycle of sin, punishment, repentance, and forgiveness. Not only do these instances teach us who God is, they show us how badly we need another way to redemption. The more we learn about why we need Jesus, the more we understand the sacrifice He gave.
3. Studying Scripture teaches us how to live like Christ.
As Christians, we are called to live like Jesus (1 John 2:6, Galatians 2:20, John 3:30). It's important to pursue a Christ-like life because it's our actions that point others to Him. What better way to learn how to act like Christ than to study the book that was God-breathed (2 Timothy 3:16-17)?
While we see Jesus all over the Old Testament, even back to Genesis (Genesis 1:26), some of the more obvious information about how Jesus lived is in the New Testament. We see His life in the Gospels, and the letters of the New Testament show us how other men and women lived out the gospel in their own lives. From these experiences, we see what it looks like to live a life that reflects Christ.
Personally, I find Paul's letters to be very helpful. He gives some excellent and practical ways to be like Christ in his letters, and he acknowledges the struggles we go through as humans.
4. Studying Scripture strengthens our relationship with the Lord.
Just like close friendships require communication and attention, so does your relationship with the Lord. And it starts with spending time in His Word.
If you're not regularly reading your Bible, I encourage you to start. You don't have to jump into daily study if you haven't opened your Bible in weeks. Start with something you can manage and go from there. In my experience, the more I studied the Bible the more I wanted to study the Bible. What was once a "I didn't even bring my Bible to church on Sundays" reading habit turned into a daily reading habit that I make time for and enjoy doing.
I won't lie to you: it isn't always easy. Whether you're busy or you're struggling to understand the passage you're reading, it can be hard sometimes. But you know what? It's so worth it!
—
If you want to learn more about studying Scripture, are looking for something to guide you in biblical study, or are seeking a Scripture-based devotional to use, Whatever Is True and Lovely is exactly what you're looking for! By providing practical Bible study tips and favorite journaling techniques in Whatever Is True and Lovely: a DaySpring Devotional Guide, author Carrie Cristancho shares how to make meaningful connections with God's Word. Your life will be transformed as you dive into Scripture and start seeing the goodness of God at every turn.
Whatever is True and Lovely is now available! Pick up your copy today, and leave a comment below for a chance to WIN a copy!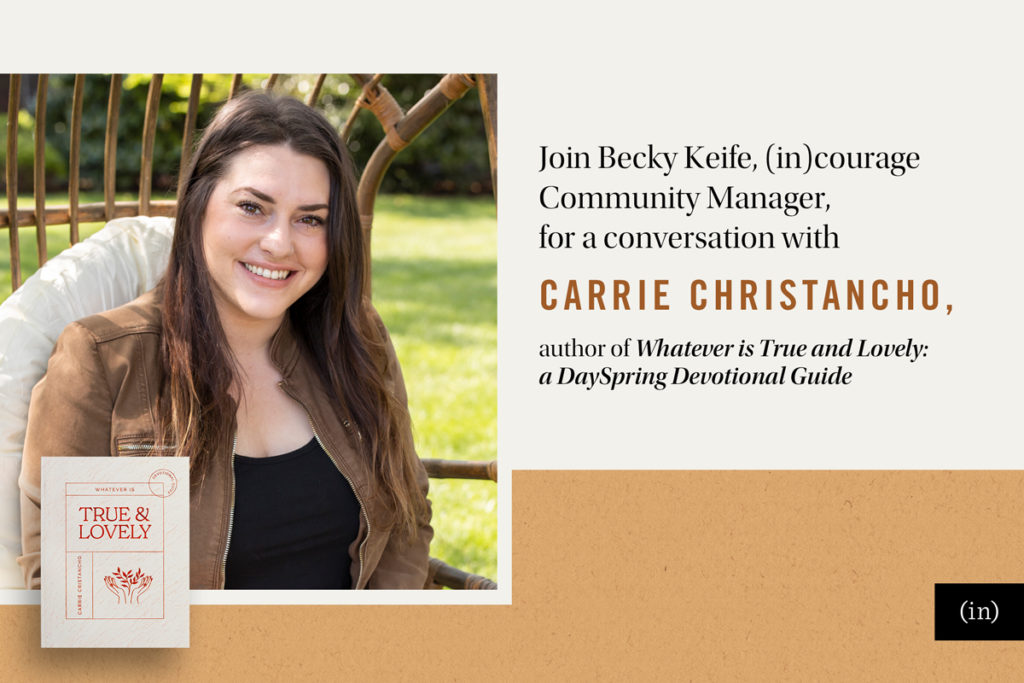 Then join Carrie and (in)courage community manager Becky Keife for a chat all about Whatever is True and Lovely! Tune in tomorrow, 6/15/22, on our Facebook page at 11am CST for their conversation.
Giveaway open to US addresses only and closes on 6/17/22 at 11:59pm CST.
Listen to today's article with the player below, or wherever you stream podcasts.
Leave a Comment