God doesn't expect you to be perfect. He doesn't expect me to be perfect. This is great news, because I make a lot of mistakes. I say the wrong thing, I act out of selfishness, I tear down others to build myself up. The gospel isn't only for those who have it all together, who make big moves, and who dream big dreams. The gospel is also for those of us who are afraid, feel unsure, and aren't courageous in the slightest. As we'll see in the story of Zacchaeus, one step of faith at a time is all it takes to draw closer to Jesus:
Jesus entered Jericho and made his way through the town. There was a man there named Zacchaeus. He was the chief tax collector in the region, and he had become very rich. He tried to get a look at Jesus, but he was too short to see over the crowd. So he ran ahead and climbed a sycamore-fig tree beside the road, for Jesus was going to pass that way.
When Jesus came by, he looked up at Zacchaeus and called him by name. "Zacchaeus!" he said. "Quick, come down! I must be a guest in your home today."
Zacchaeus quickly climbed down and took Jesus to his house in great excitement and joy. But the people were displeased. "He has gone to be the guest of a notorious sinner," they grumbled.
Meanwhile, Zacchaeus stood before the Lord and said, "I will give half my wealth to the poor, Lord, and if I have cheated people on their taxes, I will give them back four times as much!"
Jesus responded, "Salvation has come to this home today, for this man has shown himself to be a true son of Abraham. For the Son of Man came to seek and save those who are lost."
Luke 19:1-10 (NLT)
As these verses tell us, Zacchaeus was desperate for a glimpse of Jesus. Sure, he was culturally known as a sinner because of his chosen career as a tax collector, but that didn't stop him from taking a brave step to be closer to Jesus. This story demonstrates to readers that the good news of the gospel is for everyone, including outcasts and sinners. As he lumbered up the tree in his dusty tunic, he didn't expect to be noticed for this act. He didn't do it to be seen but to see the Son of Man. His small step toward God — climbing a sycamore tree — changed his life forever. Zacchaeus receives the gift of salvation after later hosting Jesus in his home, but it all started by climbing a tree.
Today, what if moving one step closer to Jesus looked like doing something out of the ordinary to see Him more clearly? You never know what repercussions that first step of faith might have. There is salvation, beauty, and healing in your story.
Even if you don't see it just yet, take one step of faith. You never know where it might lead.
Let's pray: Lord, thank You for the reminder of Your life and faithfulness through the story of Zacchaeus. Please open my eyes today to how You are working in my story. Help me to be bold in taking one step closer to You. Thank You that I do not have to be perfect in this life; I just have to rely on You. Holy Spirit, be near me as I look for ways to draw closer to You. Amen.
This article was written by Ellen Wildman as featured in Everyday Faith Magazine.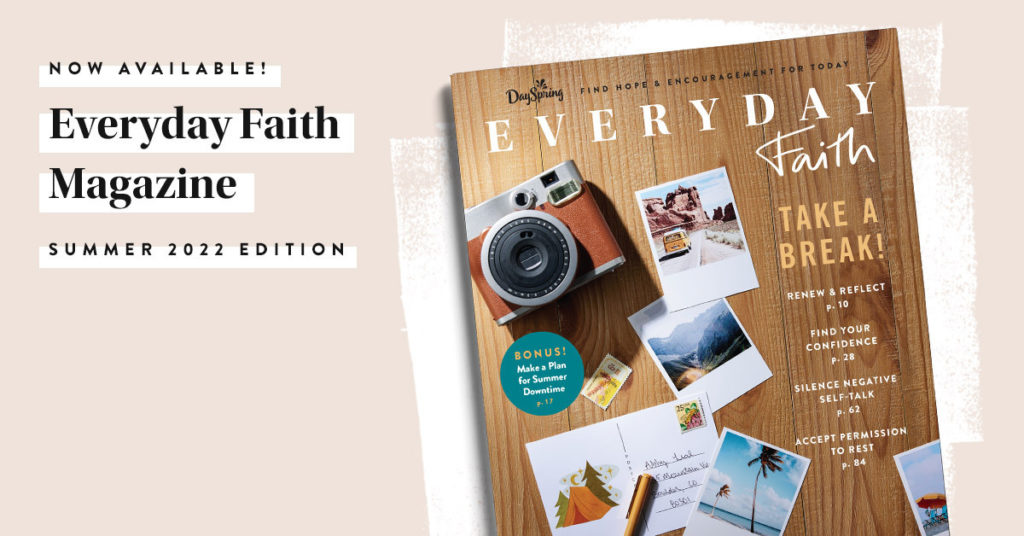 Did you know DaySpring has a magazine? It's true! And the brand new summer issue just hit newsstands!
From cover to cover in each issue of Everyday Faith magazine, you will find stories and articles to inspire hope and encouragement and to remind you that you are His. In this summer issue, you'll find tips for summer roads trips, a summer book club pick, stories of hope during difficult times, and ideas about how to live your faith this year. There are tear-out prayer cards, scannable QR codes for freebies, and an exclusive Summer Downtime Planning Calendar tear-out tucked inside!
These pages are full of the best kind of hope and encouragement — truth from God's Word!
You care about your faith — that's why you're here today! — and Everyday Faith magazine will help you know and share God's love in fresh, true, and inspiring ways. This article by Ellen is just one of many featured throughout Everyday Faith magazine, which, by the way, is perfect for tucking into your purse, bringing to the beach, and sharing with a friend.
And to help you do just that, we're giving away FIVE sets of magazines — one for each winner and one for each of them to give to a friend! Leave a comment telling us whom you'd gift a copy to, and we'll draw five winners.
Giveaway open to US addresses only and will close on 6/27/22 at 11:59pm CST. 
Listen to today's article below or wherever you stream podcasts!
Leave a Comment