I found my daughter sitting at the kitchen table, and tears pooled in my eyes before I said a single word. There were so many things I wanted to say, so many things I still wanted to teach and show her. This girl at the table was only days away from leaving for college.
All grown up, resilient, optimistic, hopeful.
"I have something to give you . . . " I sputtered, and laid a Bible in her hands.
She looked perplexed. She already owned several Bibles, so why would she need yet another Bible?
But this Bible was different. This was a "Legacy Bible." I had secretly written in the margins of nearly every page. Each note was written especially for her. They were all the things I wanted her to remember, and most importantly, all the things God wanted her to remember.
"Daughter," I wrote on the first page of the Bible, "you'll read a lot of books in your life ahead. May you hold the Bible closest to your heart! God is the author of your story."
And then, day after day, I wrote and wrote, always praying for her as I moved through the pages, letting her know the verses I had clung to for years, and sharing fascinating new revelations as I re-read old stories. It was one of the most meaningful seasons of Bible-reading in my entire life.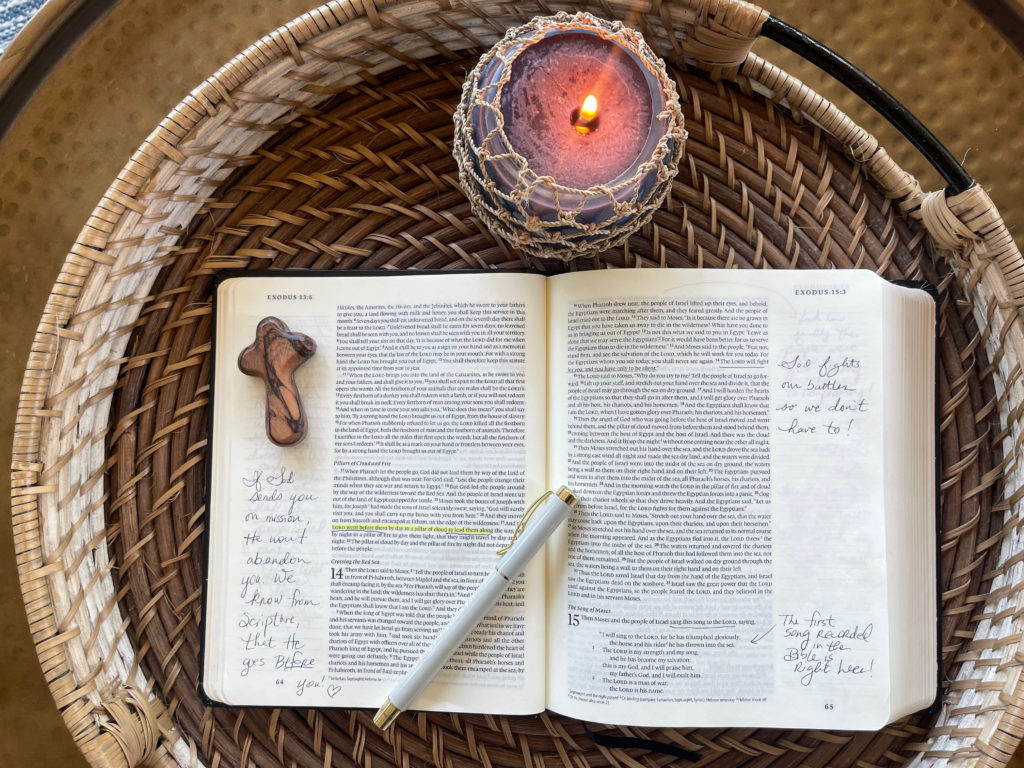 When I handed her the Bible, I saw how much it meant to her. And then, a few weeks later, I began a new Legacy Bible, this time for our second daughter.
I have plans to continue this practice as I move forward in life, God-willing, and will give away those Bibles, perhaps to future grandchildren, nieces, or nephews.
Ever since I started writing in these Legacy Bibles, friends have asked me how to get started so they can create Legacy Bibles of their own. And today, I'm sharing my simple plan with you. It doesn't take a lot of money, but it does take a commitment to sit down and do the work of reading, praying, and sharing your heart in the margins of a journaling Bible.
Start by purchasing a journaling Bible and pen, or set of pens. My first two Bibles were completed with this ESV Single Column Journaling Bible. I plan to use this Illustrating Bible next. You don't have to use colorful pens or have an artistic flair. I use simple, inexpensive pens. I believe our loved ones care more about content than polish.
Set aside a time each day, or a few times each week, to work through the Bible. Decide how long you need — one, two, or three years, for instance. Then, find a free Bible-reading plan online. I finished our first daughter's Bible in a year. Our second daughter's Bible is being completed in two years' time. Commit to a plan that works for you.
Try to write at least one reflection on each page. Consider verses you've clung to over the years. If you know verses that meant a lot to a grandmother or family friend, include those. Highlight passages that your loved one can hold on to in times of trouble. Don't be afraid of chapters that feel more difficult, such as in Leviticus. All of it points to our need for Jesus. I also like to include remarks about passages that confuse me. I have relieved myself of the pressure to have all the answers, and instead show my daughters that, as an adult, I'm still learning.
Pray for your loved one as you read and write. When working through each Legacy Bible, I kept my child top of mind, always asking, "What would I want them to know about this story today, and also years from now? What does this passage reveal about God?" My remarks include everything I'd want my daughters to know if I didn't get to have another tomorrow. It's what I want them to cling to when they get rocked by storms of life.
Give your Legacy Bible to the recipient during a milestone moment. Legacy Bibles make memorable gifts at birthdays, graduations, Christmas, or confirmation. You could also give one on the occasion of having a baby or moving into a first apartment or home.
More and more, as months slip into years, and years slip into decades, I am convinced that the best thing we can give to the next generation is a deep sense of who they are in Christ and how great our God is.
What do you want the people you love to remember most about you and about God? What do you hope they hold onto when the storms of life roll in? Write it down in a Legacy Bible.
A few days after I placed that first Bible in my daughter's hands, we were standing face to face in a campus parking lot, at college drop-off. Tears ran down our cheeks. I looked her in the eye and told her how much I loved her. How I would always be here.
Then, I wrapped my arms around her and held her as long and as tight as I could.
And then I let go, knowing God never would.
Listen to today's article below or wherever you stream podcasts!
Leave a Comment