Hi. My name is Anna, and I am a die-hard fan of physical, paper, hold-in-my-hands planners.
Yes, we use Google calendar for family calendar-ing and planning, and I'm beholden to a Teams calendar for work, but I keep a paper planner on my desk which keeps my brain in the game and organized. I've had a paper planner since elementary school, and I've kept many of them over the years, tucked away in my bottom desk drawer. Looking back through them brings me a sweet, bless-her-heart moment as I page through what I considered important enough to log at the time.
School assignments, work deadlines, appointments for me, my husband, and the kids. Birthday parties, church, volunteering, events, sports, outings with friends, trips, and meal plans. I've kept track of much of my life in spiral-bound sheets of paper, the blank squares of the monthly layout beckoning, while the lined weekly pages wait to be filled with to-do tasks. I don't get fancy with decorating or tons of stickers — just my trusty, favorite, black ink pen and the occasional sticky note or paperclip. And I log it all.
Last year, my love for the (in)courage planner was strong because writing down any and all plans provided hope and routine and joy, as I struggled my way through pandemic life. I made one meal plan, then another, and another. I read the Scriptures on the planner pages (DaySpring planners like this one include Scripture!). I clung to anything normal and wrote down whatever I could. Nothing was too small to be included.
This year is different. My planner is cheerfully loaded up with baseball games, weekly meal plans, to-do lists, and PTO meetings. There are even a few trips, both for work and friends! Friendship is back on the schedule — just last week, most of the (in)courage writers gathered for the first time in two years.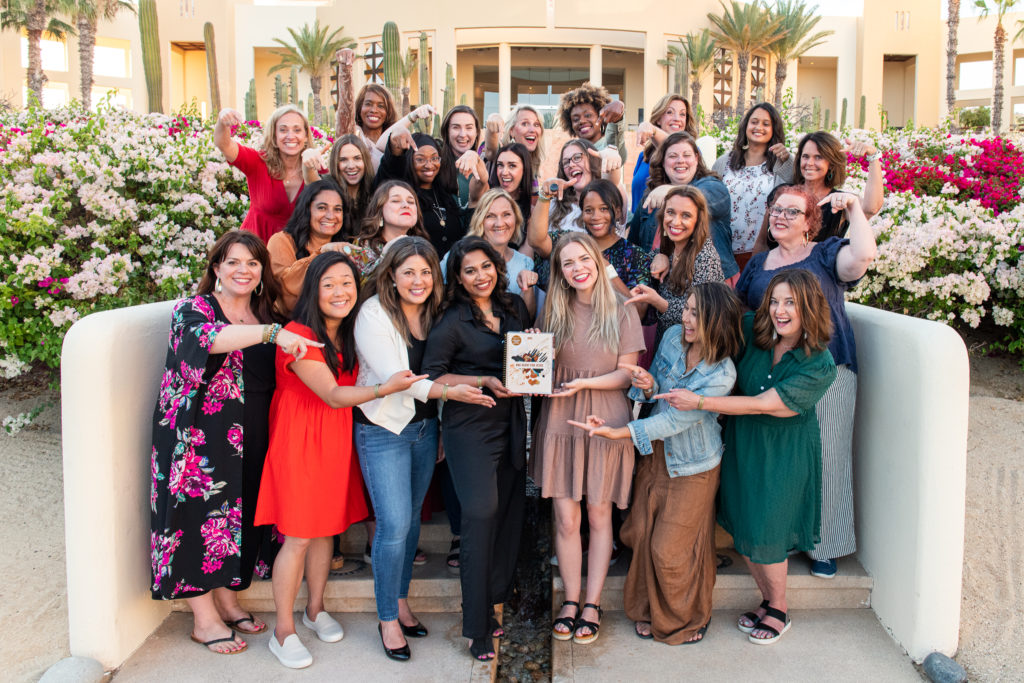 There were friends new and old, hugs and late-night talks, a lot of coffee and a lot of laughter. Some of us have been here for the better part of thirteen years, while others just joined in last month. But when we got together, it was like we've been soul sisters for a very, very long time. And it's not because we're all so much alike! I mean, you all know that.
You know (in)courage is made up of women willing to go first with their hard, awkward, messy stories. There's a whole lot that makes us different from one another — where we live, the kind of work we do, our family's makeup and cultural values, our church denominations, the color of our skin, and the curve of our hips. Each woman is a unique masterpiece of the Creator, and what draws us together is Jesus.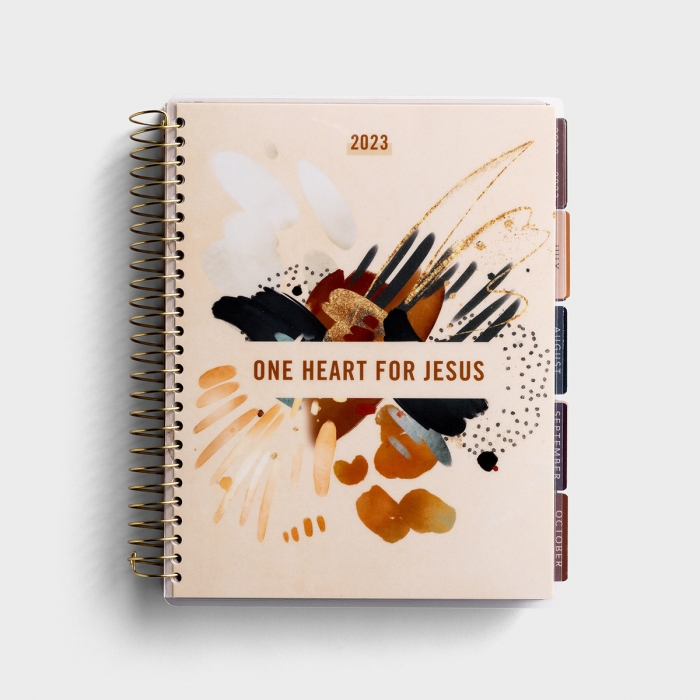 Our one heart for Jesus beats loudest when we link arms and remember that we don't journey alone. Together is how we thrive. This is reflected in our words here, in our books and devotionals, and in our brand new (in)courage 2022-23 One Heart planner.
In every month of the new planner, you'll be introduced to a different theme that reflects God's heart for you, and you'll get to read an excerpt of a story from a different (in)courage writer.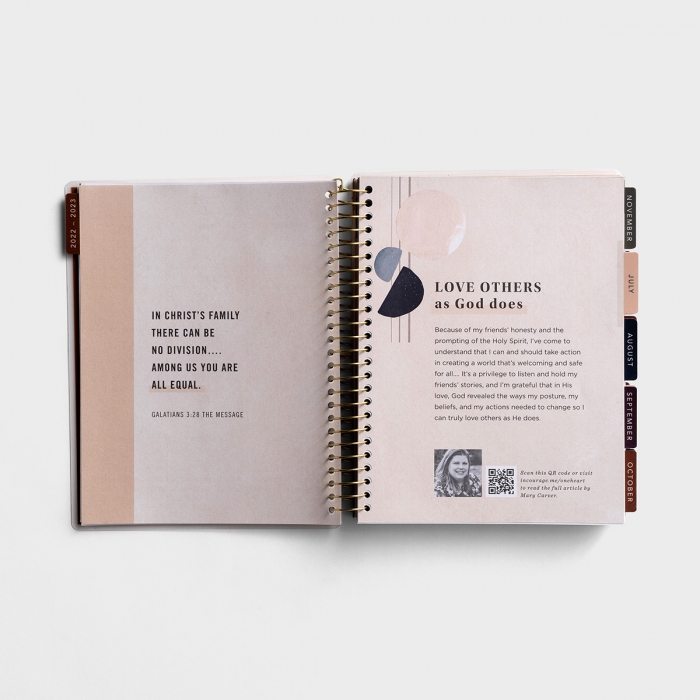 This 2022-2023 agenda planner also provides the classic DaySpring planner features, including durable laminated cover and tabs, lay-flat design with continuous spiral, an interior pocket page, and generous space for noting your plans. Because, friend, no matter what season of life you are in, prioritizing and planning helps make the most of your time.
You will be inspired by the beautiful monthly art spreads, weekly verses, and inspirational messages throughout. The notes section with lined pages will help you write down quick thoughts to come back to, the tear-out Scripture cards will encourage your heart, and there are even three pages of adorable stickers you can write on to help bring your planner some color and extra joy!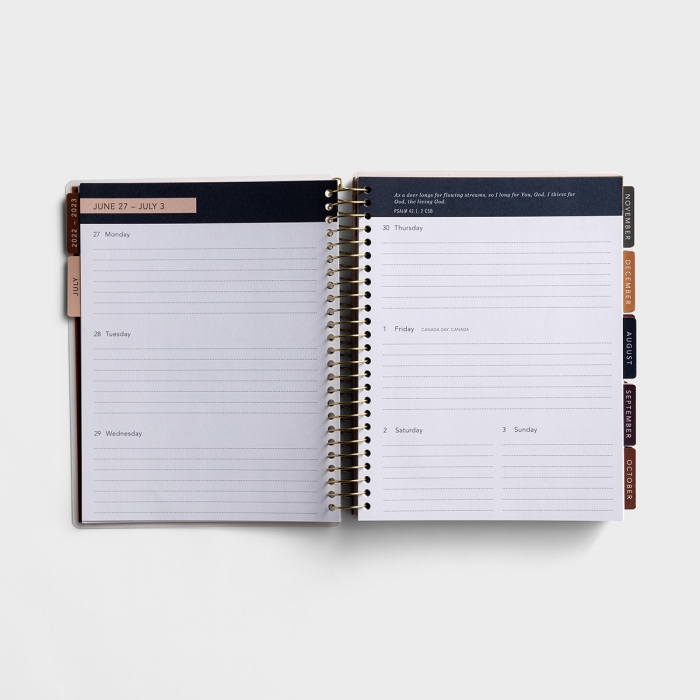 This is honestly my favorite planner — and my favorite design from (in)courage ever. It's so beautiful! See more pictures, get all the details, and buy your planner here! Plan and walk through your days remembering that you are not alone. We are connected as co-heirs of Christ and daughters of the King!
And to remind you of this throughout 2022 and 2023, we're giving away THREE (in)courage One Heart planners!
Just leave a comment on this article telling us about your experience with or love for paper planners. We'll draw three lucky winners.
*Giveaway only open to US addresses and will close at 11:59pm on May 6, 2022.
Listen to today's article at the player below or wherever you stream podcasts!
Leave a Comment