Have you ever felt hopeless? Perhaps you're facing circumstances you never prepared for or even imagined. Maybe you're looking for any hint of encouragement, any inkling that this — whatever your this might be — won't last forever or destroy you. Maybe you're afraid to hope, or perhaps you're not even sure what hope is.
We get it.
This summer, let's look for hope together!
Join our summer Online Bible Study and let's go through Create in Me a Heart of Hope, the new (in)courage Bible study from DaySpring, written by Mary Carver and featuring stories from your favorite (in)courage writers.
Create in Me a Heart of Hope looks at how God offers us hope — real, certain, unshakable hope. Looking at where that hope comes from and what it looks like in our lives will help us understand what hope is and what difference it makes. It will allow God to create in us a heart of hope.
The online study starts on Monday, June 6th, so you've still got time to join!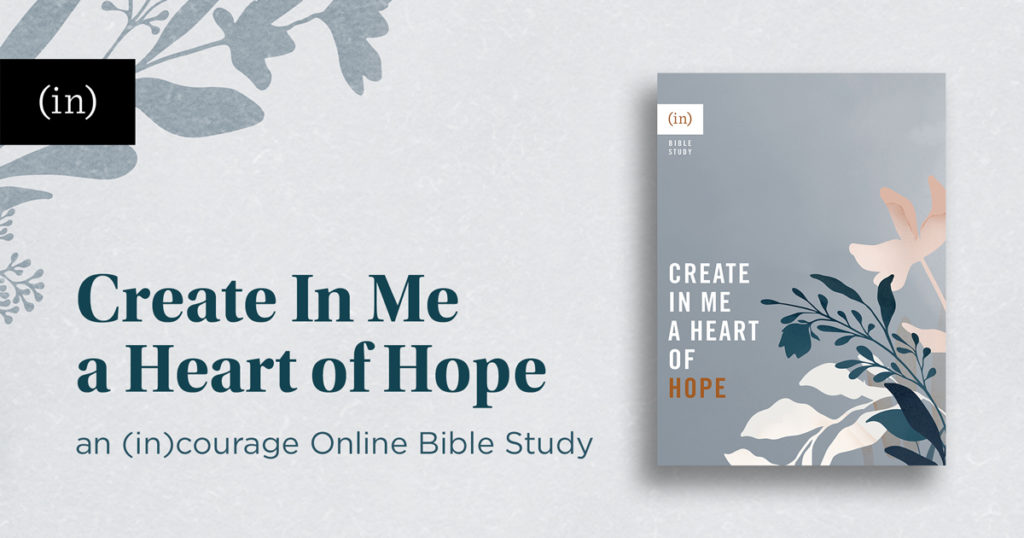 Here's what you need to know:
The study runs from June 6 to July 15.
Every Monday you can start reading that week's chapter, and we'll share the memory verse for the week on our Instagram feed.
On Thursdays, you can tune in on Instagram for "Ten Minutes of Hope with Mary" — a brief, inspiring live video that dives deeper into that week's theme.
Each week, we'll send you an email with a memory verse lockscreen, Mary's video, reflection questions, and other bonuses along the way.
You will need a copy of Create in Me a Heart of Hope to fully participate in the study. We will provide the reading guidelines, discussion questions, and video conversations! You'll also need to officially sign up for the study (it's free!). Click here to register, and when you do, we'll send you the first week from Create in Me a Heart of Hope AND a printable page of Scripture memory bookmarks for FREE!
Invite a few friends to join you! If you're looking for a way to connect with other women, this is a great way to do so. Simply read each week of Bible study, then gather to watch that week's video, enjoy your own discussion, and close in prayer. Make sure to check out our FREE Leaders Guide for Create in Me a Heart of Hope for some extra tips.
That's it! Fun and low-stress, right? We can't wait to get started on Monday!
Whatever you're facing, God's unshakable hope can meet you there. Join us this summer as we seek a heart of hope.
Listen to today's article below or wherever you stream podcasts!
Leave a Comment