The after-school havoc of homework and the dinner rush hour had created an environment of chaos in the afternoons. And when my six-year-old brought home two different family portrait drawings from art class, where I was on the computer and my phone, I knew something needed to change. So I came up with some after-school boundaries for me and my kids to prevent dinner prep crazies and help me get face-to-face time with them.
Things were going great until one afternoon when I stepped outside boundary number one: Mom won't talk on the phone until dinner is started and homework is complete.
I answered a friend's call, got caught up in our conversation, and agreed to let my then eight-year-old, Joshua, watch TV before homework was finished. That pushed us outside boundary number two: No screen time until homework is finished.
An hour later, I hung up the phone in a panic because we needed to leave in thirty minutes, but I needed a shower and Joshua needed to finish his homework. So I yelled at him to do so from upstairs.
Thirty minutes later, I ran downstairs where Joshua was playing, and his almost finished homework was strewn across the table. I wasn't a happy mama! My tone wasn't gentle, and my words gave no indication that love is patient. I ranted about his mess and threatened to never let him watch TV after school again as we scrambled to the car.
Joshua's silent stare out the car window told me he was upset. "I'm sorry I lost my temper with you. It bothered me you didn't finish your homework like you'd promised. And you left a mess on the table."
God reminded me how I broke my promise to stay off the phone. As much as I wanted to blame Joshua, my hurried, short-fused attitude was my fault. I let a phone call come before what I knew God wanted, which was for me to create a peaceful after-school environment and pace for my kids and me. My choice led to a tailspin of hurry and anxiety in my heart that spilled out in harsh tones and unkind words.
It reminded me of what Jesus said in Luke 6:45, "A good man brings good things out of the good stored up in his heart. . . . For the mouth speaks what the heart is full of."
I knew I had another choice to make. I could think of an excuse, or I could apologize.
Growing up, I never heard my parents apologize — not to each other, not to us kids, not to anyone. Unfortunately, resentment and unforgiveness were common in my family, and I hated how it felt. When I had children, I begged God to show me how to stop that precedent. Through Jesus' words, "Treat others as you want them to treat you," I sensed Him showing me early on that my children needed me to model humility and the language of apology.
So, I took a deep breath that afternoon in the car and told Joshua I was wrong for talking to him the way I did. And then I asked, "How did that make you feel?"
"Like you expect me to be perfect," he replied.
"I don't expect you to be perfect, but I do want you to be responsible," I told him. "Still, I shouldn't have talked to you the way I did. I answered my phone and stayed on too long. And when I realized we were going to be late, I took it out on you. Will you forgive me?" I asked.
"I forgive you," he said. Then he looked at me and asked, "Mom, how do you expect me to learn to use kind words when you don't even use them with me?"
That was a really good question and a very painful observation for me to hear.
I slowed my car down and pulled off the road. Reaching over to softly touch Joshua's chin, I gently turned his face so I could see his eyes. "Can I try again?" I asked.
I repeated almost exactly what I had said at home, but this time my tone was gentle. I gave the same warnings but not with the same wrath. And the outcome was much more effective.
As hard as it was to hear Joshua call me out — albeit, in a very calm and respectful way — it was good for me. It helped me see how I was contradicting things I had been teaching him and that we were learning as a family about using kind words. It also gave me the chance to restore our relationship through the language of apology and forgiveness.
Like most parents, I hesitated to admit when I messed up and to apologize to my kids. I was afraid they'd lose respect or question my credibility as a parent. But the opposite happened. They've told me as adults now how much more they respected me for admitting I wasn't perfect.
We'll never be perfect, mama, and that's a good thing. Our kids can't live up to perfect, and it helps them know they don't have to be when we admit we're imperfect too. As toddlers, teens, and adults, they need to hear, see, and experience the power of apology and the healing of forgiveness — in both giving and receiving it. You see, we model the gospel in our hearts and our homes when we admit our mistakes and confess our sins. It helps our children see how much we need God's grace and forgiveness and realize how much they need it too.
Lord, thank You for showing me I don't have to be perfect. Give me Your confidence to admit to my children when I mess up. I pray our home would be filled with the humility of admission, the kindness of an apology, and the forgiveness of Christ. Amen.
—
Do you ever feel like you're not doing enough as a mom but have no idea how you could do anything more? In her new book, A Confident Mom: Simple Ways to Give Your Child What They Need Most, Renee Swope offers the encouragement and wisdom of a friend and mentor who comes alongside to help you find confidence, purpose, and meaning as a mom.
Through personal lessons she's learned, biblical truths, and practical tools, A Confident Mom will help you take a deep breath of God's grace and show you how to:
Exchange the exhaustion of constantly correcting your kids' bad habits with meaningful and creative ways to connect with their hearts
Implement positive and encouraging practices to help you notice and nurture your child's character and unique God-given design
Let go of performance-based living and pursue relationship-driven parenting
Find a new place to start on those days when you're tempted to quit.
Leave a comment below telling us the encouragement you need as a mom, and you'll be entered to WIN a copy of A Confident Mom!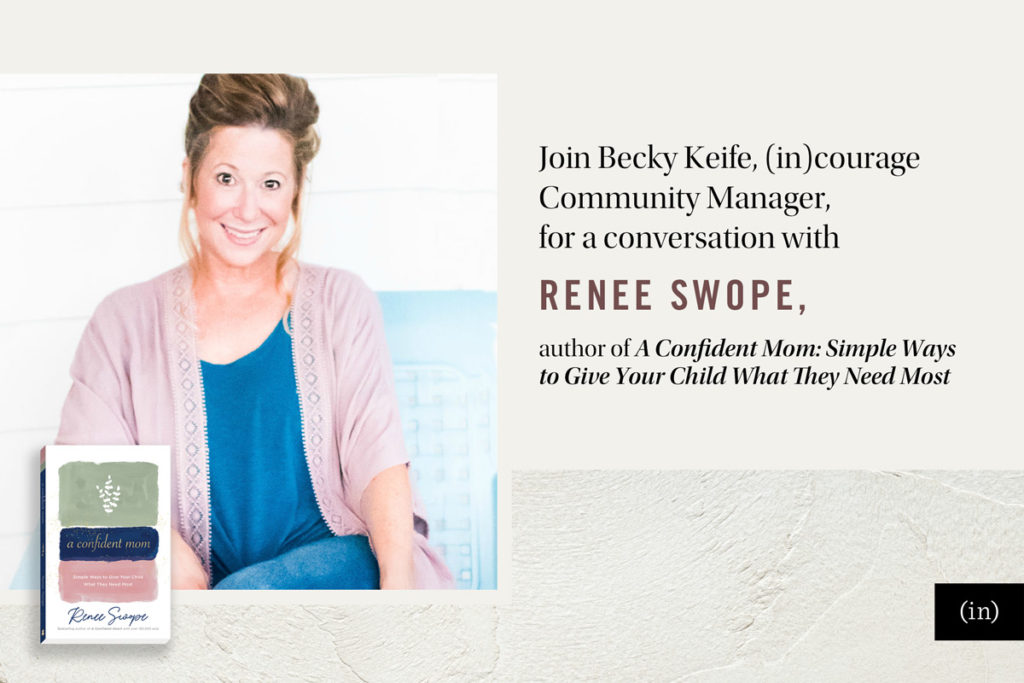 Then join Renee and (in)courage community manager Becky Keife for a chat all about becoming A Confident Mom! Tune in tomorrow, 3/16/22, on our Facebook page at 11am CST for their conversation.
Giveaway open to US addresses only and closes on 3/18/22 at 11:59pm CST.
Listen to today's article below or stream on your fave podcast player!
Leave a Comment