Nobody calls in the middle of the night with good news. My normally innocent ringtone turned ominous the moment it broke the silence and woke me from a sound sleep. After being startled awake in that manner, I wasn't even surprised to hear sobbing when I finally answered the call.
My friend apologized for calling in the middle of the night and for crying so hard her words were incoherent at first. I assured her that it was okay, that I was there for her. I told her she wasn't alone, and I told her to breathe. Gently, I asked her what was wrong.
Eventually she was able to speak, and in between sobs she told me what had happened. She was shocked and disoriented; she felt betrayed and scared. After a long pause, she finally asked me, "What do I do now? How will I sleep tonight? How can I wake up tomorrow?"
Bleary-eyed and heartbroken, I wasn't sure what to tell my dear friend. I didn't know how to help in that moment. Solidarity and encouraging words only go so far, especially in the immediate aftermath of trauma. And while I could identify with parts of her story, I'd never walked in her exact shoes. Holding my phone with one hand and my head with the other, I silently asked the One who has the answers.
What does she do now, God? What do I do? How can I help her? What do I say? What will even help her right now?
That was when my friend asked me a different question. She asked me if it would all work out. She asked me to tell her that it would be okay. And finally I had something I could hold on to and then offer back to her. Yes!, I told her. Eventually, I promised, everything would work out. Someday, I assured her, she would realize that she had healed, grown, moved on enough to feel okay again. I made sure to emphasize eventually and someday, knowing that my friend would feel the sting of this situation for quite a while. But in that moment, we both felt a glimmer of hope, and it was enough.
She felt a glimmer of hope that, while she was blinded with pain in this moment, it would not last forever. I felt hope that I would not fail my friend in her time of grief.
As my friend continued to cry and process her pain, I thought back to the last time my own world crashed down around me. I could see myself in that moment, falling to my knees on my bedroom floor. Doubled over with sobs I could not control, I felt completely unmoored. Both my emotions and my body felt like they were caught in a storm, whipping from one place or thought to another. Eyes wild and so full of tears I couldn't see, I wrapped my arms around my midsection, wishing desperately someone else could give me a hug, could sit with me, could give me any comfort at all.
When I had felt as devastated and desperate as my friend on the phone that night, I wanted so badly to know that I wasn't alone. I wanted someone to tell me that someday things would be okay again.
As I mentally clawed for any promise or reassurance to wrap my heart around, I felt that same glimmer of hope. Though it didn't occur to me to call a friend to help me in that moment, God got through to me anyway. He reminded me that I wasn't alone and that it would be okay. He pulled His promises from the recesses of my brain to the forefront of my mind, and finally my tears began to subside and my heartbeat began to slow. I remembered . . .
God is with the brokenhearted. He will never leave us. Never. He will fight for me. He will win. God will work everything out for good. He will redeem it all.
During my bedroom-floor breakdown and in my friend's moment of crisis, it was hope that saved us. It was hope that helped us make it through the next minute, the next day, our entire lives after heartbreak. Hope is what kept both of us from being completely submerged in despair, from giving up entirely. It's what helped us eventually stand up — even while we still cried, even while we still hurt — and face whatever would come next. Knowing that we were not alone and that God would help us made all the difference.
Without hope, the pain of this world can easily overwhelm us. Whether our strength is sapped by one sweeping blow or it is slowly bled by a thousand seemingly small cuts, we are done for if we aren't wrapped in the hope of God's presence. We must anchor ourselves to His promises to never leave us, to go before us in battle, to love us no matter what, to wipe away our every tear. Without that hope, we are lost.
But with it? With hope in the Lord and His love and power and mercy? Then I know we can make it. With hope, we can withstand the storm and keep pressing forward. We can face every middle-of-the-night phone call and every circumstance that knocks the wind right out of us. With hope, we know someday is coming.
Dear God, I need hope. I need a secure foundation to build my faith and my life on. I need something to hold on to when the storms of this life threaten to knock me down. Thank You for promising to be my hope. Show me the truth of Your promises. Create in me a heart of hope that clings to You in all seasons, relies on You and You only, and points others back to You when they face their own challenges. Amen.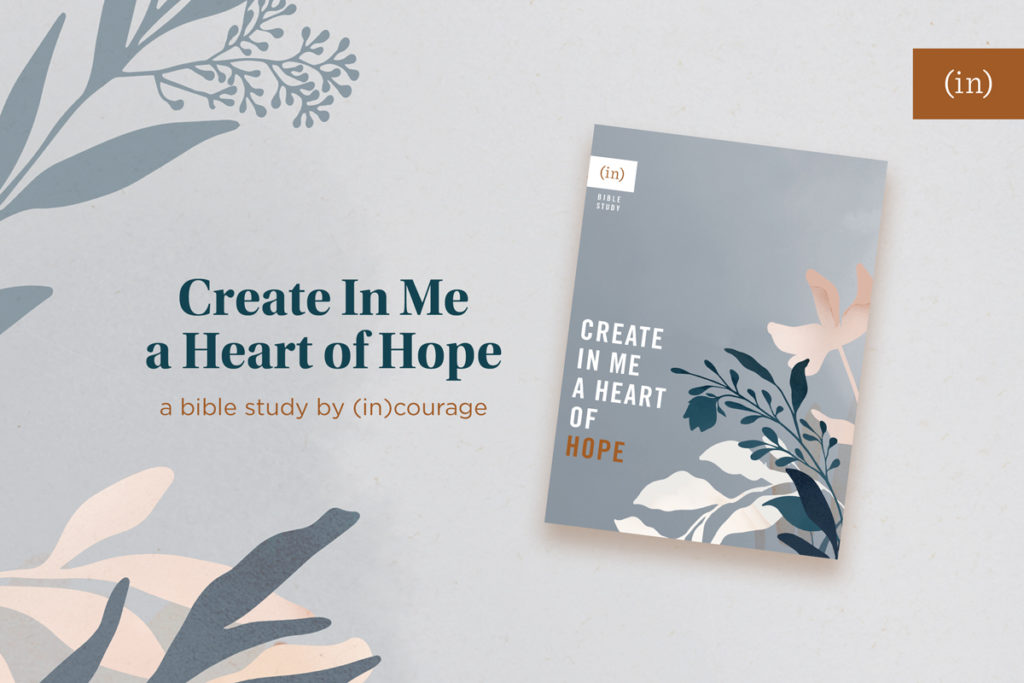 Looking for hope? We've got some for you.
Meet Create in Me a Heart of Hope, the new (in)courage Bible study from DaySpring, written by Mary Carver and featuring stories from your favorite (in)courage writers.
If you've ever gotten a middle of the night phone call with sobbing on the other end . . .
If you've ever had a bedroom-floor breakdown, arms wrapped around your midsection . . .
If you've ever asked yourself, "What do I do now? How will I sleep tonight? How can I wake up tomorrow?" . . .
. . . then this is the Bible study for you, friend. God's Word and this Bible study are here to meet you in that very place.
Create in Me a Heart of Hope looks at how God offers us hope — real, certain, unshakable hope. Looking at where that hope comes from and what it looks like in our lives will help us understand what hope is and what difference it makes. It will allow God to create in us a heart of hope.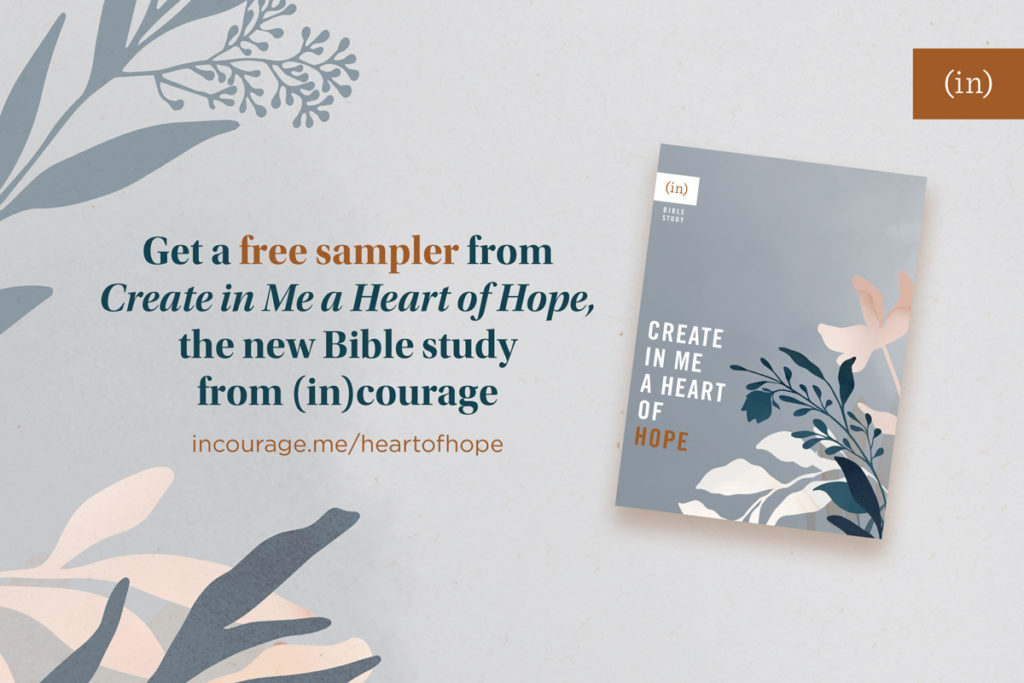 Our prayer is that this study will encourage you to seek the Lord and the hope He offers each one of us. we are SO excited to see how God will use it to speak to your heart. Sign up below to get a FREE full week of Bible study from Create in Me a Heart of Hope, and order your copy today!
Listen to today's article below or wherever you stream podcasts!
Leave a Comment