"Mommy, today at school, I learned that we are all shades of brown!" our preschooler announced at the dinner table. I perked up and leaned in to listen. She matter-of-factly explained, "Daddy is a little brown. You are really brown. And I am medium brown!" I was ecstatic! I could hardly believe it. 
You see, years before we had children, my husband and I contemplated how we would equip our children to navigate our hyper-racialized society. We understood that our multi-ethnic children would need to navigate their interracial social context in ways that Nathan and I, as children, did not have to. We knew people would ask, "What are you?" We knew that some White people may see them as Black and some Black people may consider them "not Black enough." We considered how we would instill a sense of belonging to humanity, whether or not they were rejected or embraced by a racial group. We wanted them to know the essence of their personal identity — who they were and Whose they were. When polite society inevitably inquired about their origins, we wanted them to understand that they were fearfully and wonderfully made in God's image — that each of us is a reflection of God. 
We knew we didn't have all the answers, and we couldn't anticipate every awkward racial encounter. But we wanted our family and our home to welcome learning, conversation, and growth. We wanted to normalize the diversity of God's human family, while also acknowledging that race is a man-made construct designed to diminish God's glory. And guessing that our children, like their parents, would have friends from various backgrounds, we wanted to normalize belonging amid differences. We desired for our children to love differences — for them to see and honor God's glory in all people!
So when our preschooler used "brown" to encompass our various hues, we embraced it. "Yes, hues of brown!" I agreed. Without hesitation, I explained how melanin is brown and how the amount of melanin we have depends on where our distant ancestors lived in proximity to the equator. "Daddy's ancestors lived further away from the equator. My ancestors lived closer to the equator." We also nurtured understanding about ethnicity, culture, and nationality.
Our family-oriented, life-giving lessons and conversations became a beacon of hope for friends and neighbors. Moms, especially, reached out to me to help them move beyond the colorblind approach, which had deprived them of understanding how each of us is a unique piece in God's mosaic. As a result, they had been afraid to even talk about skin tone and race. Moms wanted to learn and understand how to nurture natural curiosity without the fear of perpetuating racial division. And I was more than happy to pour from our family's cup.
Because of the finished work of Jesus, we don't have to be afraid to break free from ideas and practices that discourage us from seeing, valuing, and loving our neighbor.
In Romans 12, Paul reminds us to avoid aligning with ideas and practices that are not a reflection of God. He wrote, "Do not conform to the pattern of this world, but be transformed by the renewing of your mind. Then you will be able to test and approve what God's will is — his good, pleasing and perfect will" (Romans 12:2 NIV). Paul encourages us to renew our minds so that we can align with God's will — to see as God sees. In that same chapter, he illustrates how we are parts of one body, though we are individuals — "each member belongs to all the others" (Romans 12:5 NIV). Paul then implores, "Be devoted to one another in love. Honor one another above yourselves" (Romans 12:10 NIV).
As our minds are renewed, a glorious vision for humanity is restored. From the conversations within our home, I am encouraged that what I thought was for the love of my own children, God has multiplied for the love of all children, for the sake of families and communities all around.
—
Hues of You: An Activity Book for Learning About the Skin You Are In offers a smart and honest starting point to help you have natural, effective, and meaningful conversations about skin tone and race. Divided into four main sections — Hues of You, Hues of Your Family, Hues of Your Ancestors, and Hues of Your Friends — each page offers space to explore identity in a variety of social contexts, so that you are empowered to openly recognize, embrace, and honor God's multi-hued world.
We are so excited about this new book from our dear Lucretia! It's such a wonderful resource and will enhance any child's library. Leave a comment today and you'll be entered to WIN one of five copies we're giving away!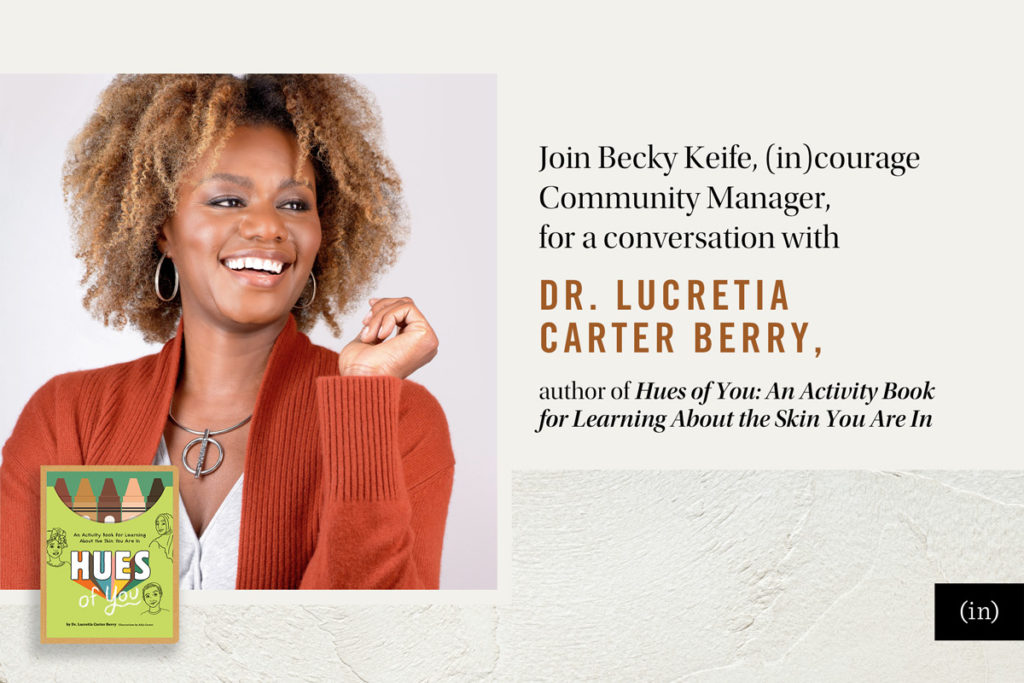 Then join Lucretia and (in)courage Community Manager Becky Keife for a chat all about Hues of You! Tune in tomorrow on our Facebook page at 11am central for their conversation.
Giveaway open to US addresses only and closes on 3/3/22 at 11:59pm central.
Listen to today's article below or stream on your fave podcast player!
Leave a Comment