At the end of the first week of January, I posted a question in my Instagram stories: How would you rate your past week from 1-10? I was not prepared for the answers. Many had middle to low numbers. There were a lot of 4s and 3s. But there were also a lot of negative numbers. One person said -10, another -2,000. I had more than one person write, Whatever the worst possible number is — that's how I'm doing.
I sat with those responses for a long time, chatting with the folks who had answered and getting to know more of how they were doing. What stood out to me were the layers of struggle that so many people are navigating right now: people's stress from the continued pandemic is higher than ever; many of us have family members who have contracted COVID (some of us have been hit personally by the virus); we're fatigued from work, even burned out; friendships have been torn apart by different views on politics and race; young moms feel isolated in their homes, unable to go anywhere because they have unvaccinated littles; ministry leaders have decision fatigue, unsure of whether to continue meeting in person or online and how to shepherd folks well in a time when almost nothing feels stable. The list goes on and on.
There were so many responses to my question, and it made it clear to me that not only are we all struggling in different ways right now, we also want to feel seen and be heard. We long to be asked, "How are you doing?"
People I didn't even know were drawn to my simple question, and they wanted to share their life story with me. It's a human need to be seen, especially when we're hurting. Many of us need someone to talk to right now. We need a hug, a shoulder to cry on, a community to make the loneliness more bearable. We need friends to tell us "It's okay to not be okay" right now. No quick fixes. No pithy advice. Just co-sufferers, who help us keep putting one foot in front of the other and tell us we're going to make it.
God created us as humans with a basic need to live in community and to carry each other's burdens (Galatians 6:2). In fact, Scripture specifically challenges us to "encourage one another and build each other up" (1 Thessalonians 5:11). These are difficult challenges even in the best of times, let alone during a pandemic. We're all hurting right now. Nothing feels normal. Our mental, physical, and spiritual health have all been hit. We're tired. Many of us are unhappy. It's hard to care for others when we are hurting ourselves. Yet the beauty of the body of Christ is that we were created to care for each other, even in the midst of our own pains, and in doing so, make each other's burdens feel lighter.
I wonder how this year might look different if we gave more attention to asking each other, "How are you doing?" This question could look different from one person to the next. In many Asian cultures it sounds more like, "Have you eaten yet?" It could be a text message that states, "I'm thinking about you today. Do you need anything?" Or as others have recommended, maybe we can ask each other, "How are you coping?" or "What's been on your mind lately?" instead. Living in a pandemic, we can assume we're all not doing that great. The focus is more on how we're handling the stresses, where we're struggling, and the pockets where we're finding resilience.
There is spiritual weight to asking each other, "How are you?" Checking in with a friend, a neighbor, or family member tells that person they belong, that their personhood and experiences matter, so let's check in with each other! Be spontaneous and call up (or text) a friend today. Be intentional and set up a rhythm in your Google calendar for whom you will check in with and when. As you reach out to folks, be willing to be vulnerable back. The more transparent we are of how we're doing, the more we create a safe space for others to share what's going on with them.
2022 will probably be just as hard as 2021. But we can help lighten each other's burdens by encouraging and building each other up. We don't have to journey through another year alone. Who knows how the simple act of reaching out to someone and asking, "How are you?" may just be how God will show up in our lives to give us His joy and strength to keep on keeping on.
—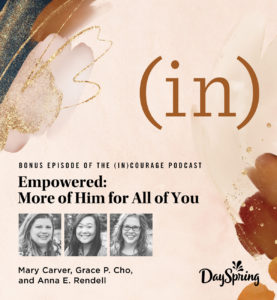 Tune in today to a bonus episode of the (in)courage podcast! (in)courage friends Mary Carver, Grace P. Cho, and Anna E. Rendell discuss their new devotional Empowered: More of Him for All of You. Don't miss this conversation — listen today!
Leave a Comment