Confession: Some of the worst moments of my life have happened while I was going too fast.
I'm not talking about the speeding tickets — there have been a few — or the time, in my typical rush, I knocked the water glass to the floor, shattering it into a thousand pieces. I'm talking about bigger things — the way that, in a hurry, I have cut short meaningful conversations with people who needed me to listen or the times when I have rushed my kids or shut someone down with my body language, all because I was running behind.
I was at my worst when I was a young mom. I would fantasize about how I might be able to coordinate the kids' naps for just forty-five minutes so I could squeeze in some work — as if those forty-five minutes were the real work I was called to do.
People have this romantic idea that because we live on a farm, our lives are slower paced. But the truth is — like almost everyone I know — we succumb to the enchantments of faster, bigger, stronger too.
Our culture has trained us to want quick fixes. It seems everyone is selling a faster way to grow your business, lose weight, make a buck. We get tempted to order life around hustle and achievement, which leaves us anxious, weary, and tense. These are the symptoms of what I call "a hurried heart."
There is no pill or magic cure to fix a hurried heart. The cure is "an inside job." And that cure starts here: by making a commitment to a life of growing slow.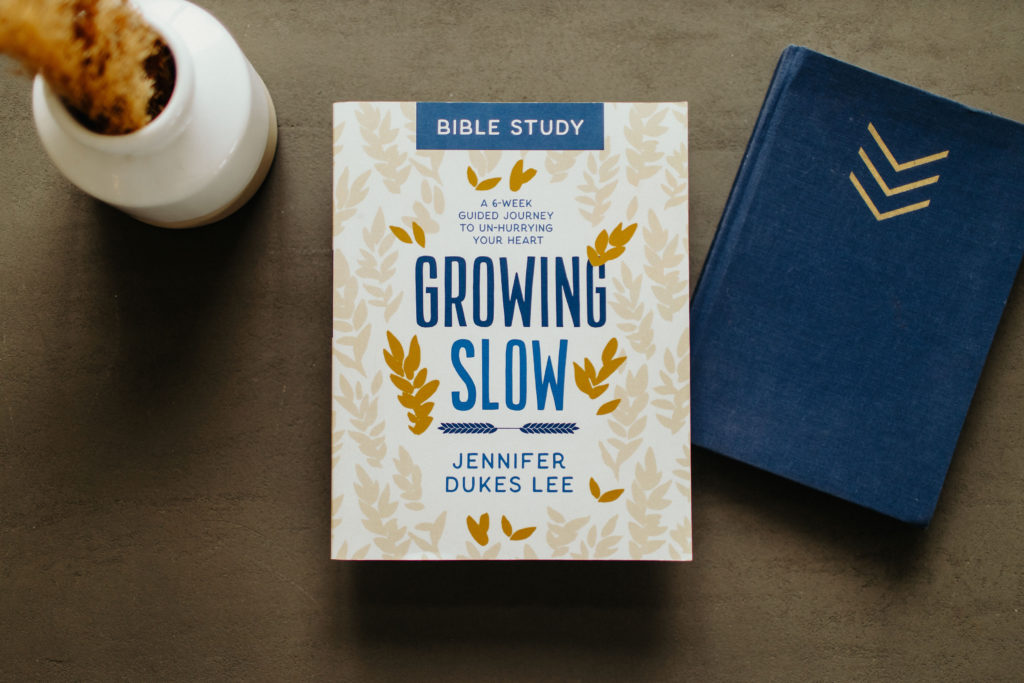 When I examine the Biblical narrative, I find the courage to take a growing-slow approach to life. The Bible is a story unfolding slowly as God's people move through times and places to experience His faithfulness.
God's seeming slowness exasperates people. The Israelites' journey from the wilderness to the promised land, for instance, must have felt like forever. And then the people had to wait many generations for the promised Messiah to come. When Jesus did arrive, He lived an unrushed, unhurried pace — walking from village to village, taking the time to heal, listen, and teach. But Jesus didn't always show up when and where people wanted Him to, and that caused frustration.
Think on this for a moment: The Biblical story isn't even over yet! There's a big part of the story we are still waiting for — the second coming of Christ. But even that kind of slowness is for our benefit. "The Lord is not slow in keeping his promise, as some understand slowness. Instead he is patient with you, not wanting anyone to perish, but everyone to come to repentance" (2 Peter 3:9 NLT).
This is the way of our Lord — slow, steady, unhurried. Just as He led the Israelites to the promised land, He is leading you. There's a fascinating story in Scripture that gives me comfort when I don't instantaneously see results in my life.
In the story, the Israelites have been delivered from slavery. They are in the wilderness on their way to the promised land. God explained to them how He would drive out the Hivites, Canaanites, Hittities, and others to make way for the Israelites to claim their promised land.
"I will not drive them out in a single year, because the land would become desolate and the wild animals too numerous for you. Little by little I will drive them out before you, until you have increased enough to take possession of the land" (Exodus 23:29-30 NIV, emphasis added).
God could have given them the land all at once. But He knew a better way: little by little.
Take a look at those verses again. Notice the apparent consequence of giving over the land all at once: " . . . the land would become desolate and the wild animals too numerous for you."
"Little by little" is how God chooses to roll sometimes. And that might be for our own good.
You are likely eager to jump into your promised land right now. You may feel impatient. But get a little quiet. Go a little slower. God knows what He's doing. He's moving you forward, little by little.
Dear Lord,
I confess that I am sometimes in a hurry and don't like to wait for Your hand to move. Your Word says that You are not slow in keeping Your promises, as some understand slowness. Help me to live in the promise that You will move things forward in Your will, in Your way, and in Your timing. In Jesus' name, Amen.
—
We love what Jennifer Dukes Lee writes about in her latest Bible study, The Growing Slow Bible Study: A 6-Week Guided Journey to Un-Hurrying Your Heart, which is excerpted here today. In this study, she helps you:
· gain the courage to slow down and enjoy your life
· uncover surprising truths that will help you grow, even in difficult seasons
· lay down burdens you've been carrying and receive God's healing
· find value in the good things you are already growing.
Order your copy today and enter to WIN a copy! To encourage you to live a life of growing slow, we're giving away FIVE copies of Jennifer's Bible study book! Leave a comment telling us one way you want to commit to slowing your life down.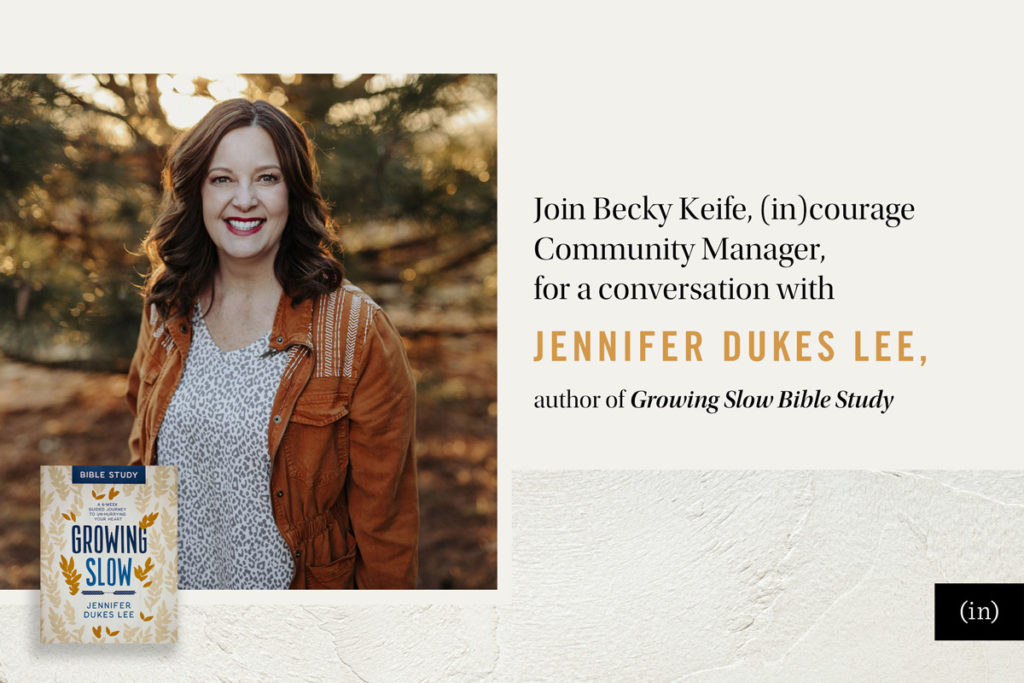 Then join Becky Keife and Jennifer for a chat all about the Growing Slow Bible Study! Tune in tomorrow on our Facebook page at 11am central for their conversation.
Giveaway open to US addresses only and closes on 2/16/22 at 11:59pm central.
Leave a Comment