When the pandemic hit in early 2020, my small business, like so many others, was turned on its head. All of my live events (my primary revenue stream at the time) were canceled, and my husband was furloughed. I felt in my heart that the traveling road show season of my business was coming to an end, and as much as I loved it and was going to miss that season, I loved being home with my young son more. I prayed and asked God to lead me to whatever was next and to make very clear what I should do about my business. As we focused more and more on online product sales, my inventory started to spill from the bonus room above our garage into our guest room, attic, dining room, and then into the garage itself. I knew in my heart that we had outgrown my home office, and my patient husband was not so subtly wanting his garage spot back.
In that moment, God led me right to what would one day be the future home of my business, a former doctor's office that had been abandoned and was in desperate need of repair. A fixer upper was putting it lightly, but where most saw a mess, I saw a future masterpiece.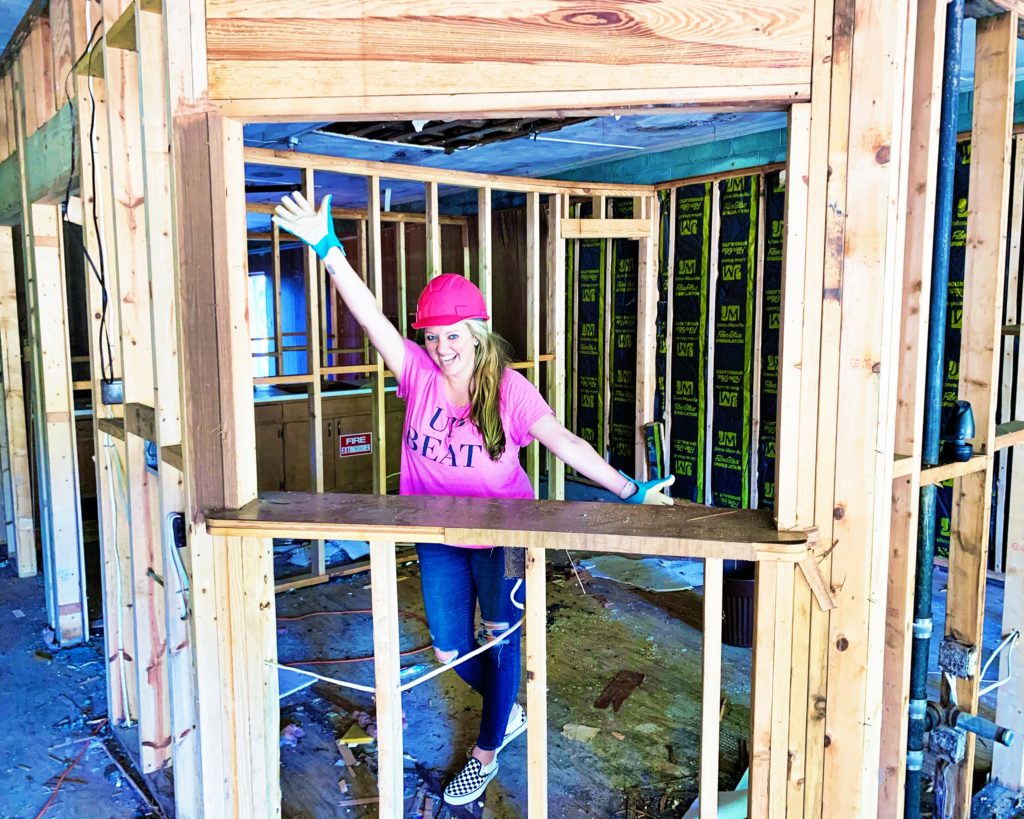 As I talk about in my books (Betty Confetti and Happy Hand Lettering), I am all about turning a mess into a message and mistakes into confetti. I could tell you dozens of stories about the signs I witnessed in that building, even on my first walkthrough. Same college, same name, same house number, and if I wasn't a believer, I could have easily written them off as coincidence. But instead I knew with all my heart that they were just little nudges of reassurance from the Lord that I was exactly where He wanted me to be. God doesn't give me a handful of confetti all at once; I seem to collect one piece at a time. Little by little, slow and steady, on His timeline and not mine, it always seems to come together.
My dad is a contractor, so for more than thirteen months, he and I got to work together side by side, hammering and nailing and sawing and building my dreams by hand. This father/daughter duo, aptly named Confetti Construction Company, completely renovated and restored the building, an eighty-year-old town landmark, to its new (and colorful) glory as the home of my company, All She Wrote Notes. I wouldn't trade this time working with my dad for anything in the world. It's been one of my life's greatest joys and a gift that I know came straight from my Father in heaven.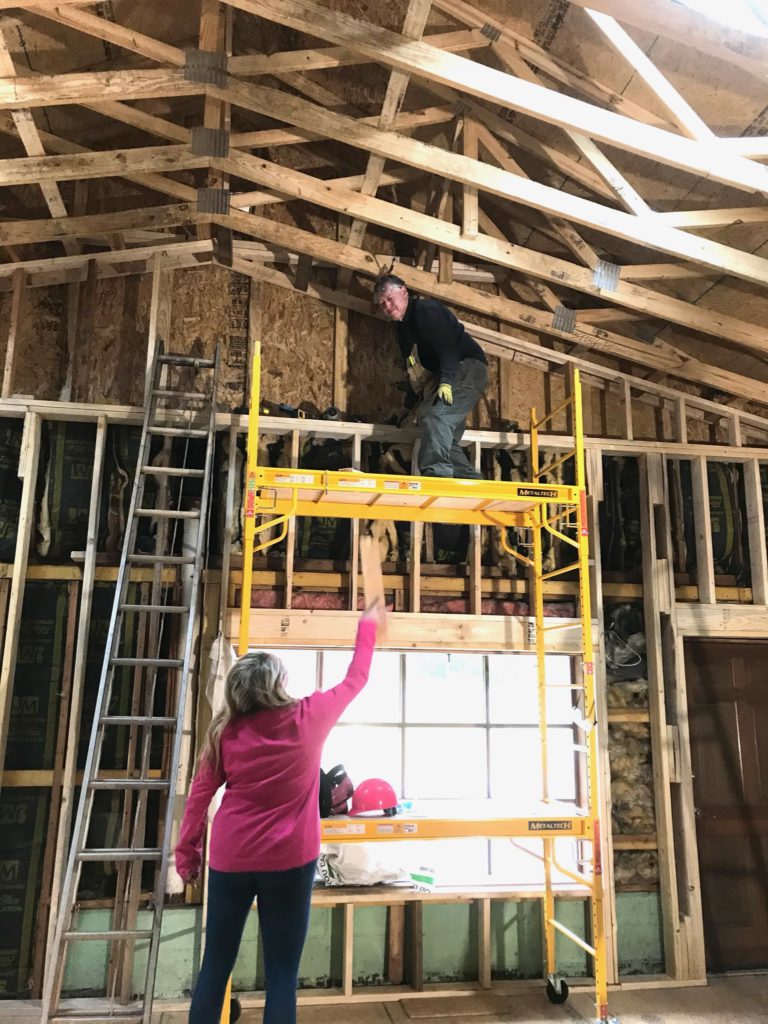 As with many construction jobs, it's always more work than you think it will be, and we ended up having to completely gut and restore the building from the foundation to the roof. I worked alongside my dad, learning and laughing every week as we made progress. Since so much demo work was required, for a long time it felt like we had to go backwards before we could move forward. But all along, I was reminded that we were building it back on a stronger foundation than it was before — in more ways than one. I constantly prayed for guidance and direction, trusting the Lord to reveal the next step and the next how of His perfect timing. Nobody has ever called me patient a day in my life, and if I had known at the beginning of the process how long it was going to take, I probably would have said no. But I'm so glad I just walked in faith and trusted that it would be ready whenever it was meant to be ready.
Right before we installed the sheetrock, I went around with both of my parents and wrote some of our favorite Scripture passages in the walls. My favorite, at our checkout counter, is from Luke 16:10 — "Whoever is faithful with little will also be faithful with much." It fills me with joy to know that God's words are buried here beneath our very foundation and that everyone who gets to visit us here will be surrounded by His presence.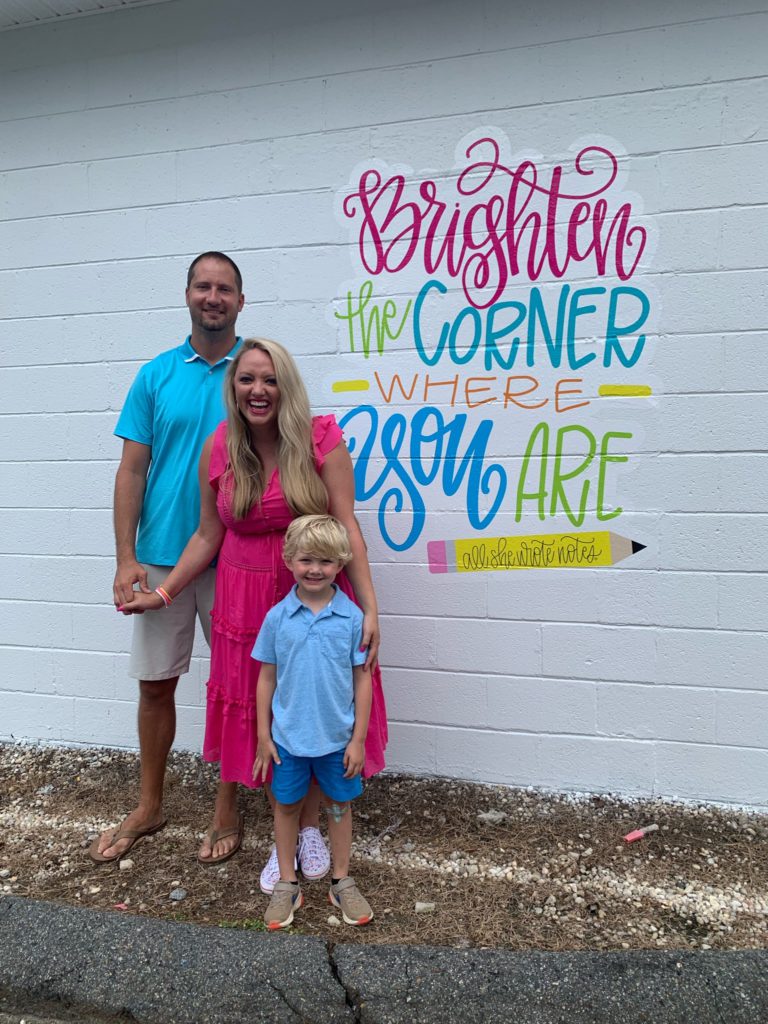 The mural I hand-lettered on the side of my building says, "Brighten the corner where you are." You may remember that as an old hymn or camp song — all about shining the light of Jesus right where you are. So how can He use you today? You don't have to build a colorful building or an online following. You can brighten your corner by choosing praise and positivity every single day, right where you are. Ask God to help you shine His light today.
—
Are you hopeful for some hope?
There are times in life when it's easy to be joyful, and there are other times when, well, it's just hard to see the good in anything. Life circumstances come at us fast, and before we even realize it, we start going through our days with an unseen heaviness that weighs on our souls and minds.
In her new book, 100 Days of Praise and Positivity, Maghon leads you through uplifting devotions, encouraging Bible verses, fun hand-lettering exercises, and more — all to remind you of the One who longs to refresh your spirit and renew your heart and mind.
Order your copy today and enter to WIN one of five copies that we're giving away! Leave a comment telling us about how you move towards a positive, praise-based mindset and you'll be entered to win.
Then join Maghon and Becky for a chat all about 100 Days of Praise & Positivity! Tune in tomorrow on our Facebook page at 11am central for their conversation.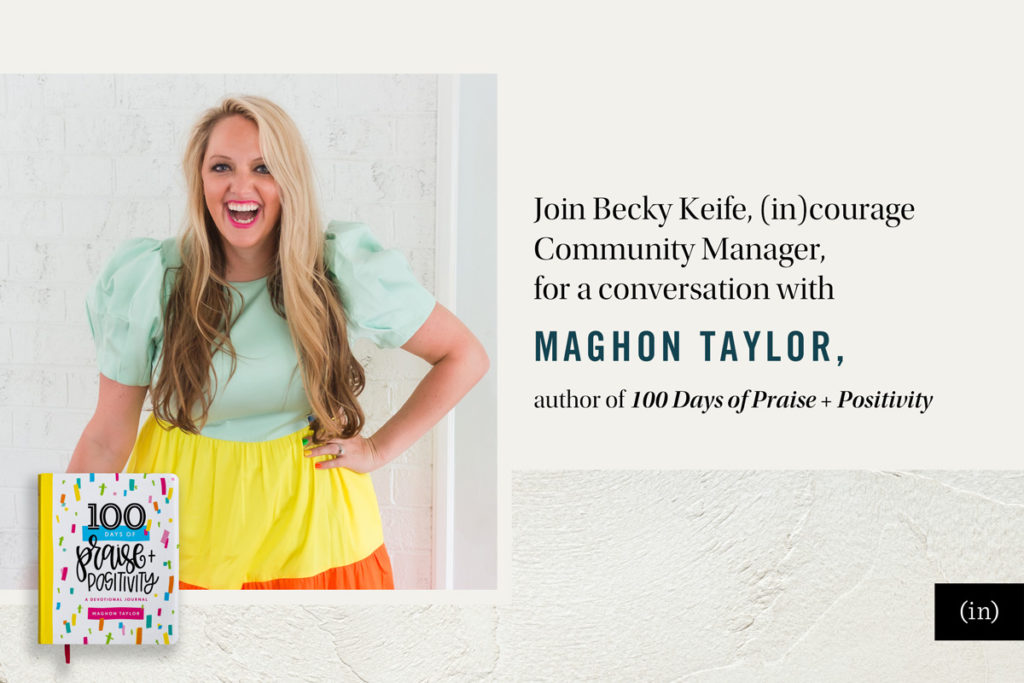 Giveaway open to US addresses only and closes on 1/14/21 at 11:59pm central.
Listen to today's article below or on your favorite podcast player!
Leave a Comment