"Bring it on!" — that's what I say to the Christmas season. Bring on the fun, the gifts, the food, the baking, the music, the movies. Bring on the merry! I love Christmas, but you know that.
As a little girl, I could hardly wait for Christmas to arrive. When you're a kid, the longest and slowest days happen between Thanksgiving and December 25th. Now, as a grown-up girl, Christmas seems to come faster and faster.
A few years ago I made a decision to press pause on the last two weeks of December. I decided to hustle fast the first two weeks and spend the rest of December on the merry. My work rhythm gives me that opportunity (My work is feast or famine — no in-between) though I know most of the world has a steady, even workflow. Even so, there is a way to pause in December. It might not look like two weeks, but it can look like rest. 
You might be thinking, Rest? Now wait a minute, the title of this article looks like a list of ten things to do. Oh, don't be fooled. These Ten Ways to Be the Merry are about being, not doing. Being takes some doing but not as much as doing takes. Confused? Perfect! Let's go!
Remember, sometimes the way to bring the merry is to be the merry.
10 Ways to Be the Merry
Rest. Did you know that resting, getting enough sleep, and taking short breaks during the day makes you more productive? Activity and productivity are not the same. Running from thing to thing is busyness and brings no guarantee of accomplishment. Take a few minutes to be still.

Breathe. Well of course you do this all day every day, but intentional breathing is different. Being mindful of the breaths you take can slow you down, reduce stress, and help you make better decisions. So set a timer and take a few deep breaths each day. Four counts in, four counts out. Breathe to be calm.

Stop. Shut down your work before dinner. I guarantee it will all be there in the morning. Shut down social after dinner. I promise you won't miss what you don't see. Unplugging makes being present possible. Spend those moments each evening being there for friends, family, and maybe even your fur-friend. Stop to be present.
Write. Write down everything you are grateful for. Remember the little things and the things we tend to take for granted. Add them up as you write them down. Gratitude is a great way to reset a hard day or top off a great day. Write out your thankfulness to be mindful.

Splurge. Take time to treat yourself to a long hot bath, a matcha tea, a massage, a brisk walk, or those boots you've been eyeing. It's okay to get yourself a gift and to take a little bit of time, just for you. Treat yourself to be pampered.
Share. Tell each other stories of Christmases past. What was your biggest surprise? What was the craziest gift you've ever gotten or given? What have you always loved about the season? Ask others these same questions. Reminisce to be nostalgic.

Dance. Host a dance party of one. Sing along to your favorite Christmas song with a hairbrush in hand and DANCE IT OUT. Get your friend or family to join in. Let loose to be silly.
Create. Everyone is creative because we are all created in the image of the Creator. Creativity looks different for each of us. You might knit, cook, write, style outfits, paint, or imagine everything you read in that novel.  Well, you get the picture. Express your creativity to be creative.

Choose. Joy is a choice and not so much a state of mind as it is a state of the heart. Joy brings a peacefulness even in difficult circumstances. Joy comes from a heart set on the eternal. Choose joy to be joyful.
Be. Did you know that you are one of a kind? Everything about you was designed. You are exactly who you are intended to be. You are loved deeply by the Father. You have a purpose and a role to play in this amazing love story. Be that. Be the created. Be you. After all, if you aren't you, who will be?
One last thing. I know I said ten, but I have to add number eleven because it really is number one. Don't forget Jesus at Christmas. It really is very easy to do. Our world is loud and demanding and rarely applauds silence, solitude, and reflection, yet this is what we all desperately need. We need it every day. So, in all the hubbub of the season, carve a little time for you and carve a larger slice of time for Jesus.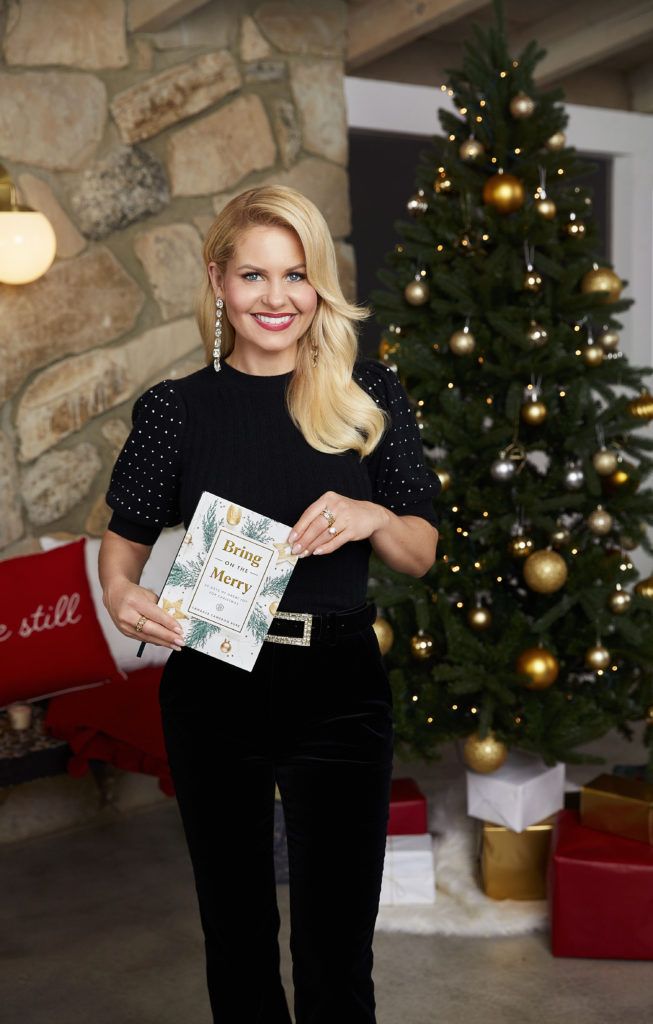 We love these words from Candace Cameron Bure! She really is the queen of Christmas! And guess what? To help you welcome the Christmas season, we're giving away FIVE copies of Candace's new devotional, Bring On the Merry! Leave a comment below with one of the ways you rest during a busy season, and we'll draw five winners.
Today only, you can save 50% on Candace's Jesus Every Day devotional guides. These are beautiful, inspiring, and sure to help you engage with the Bible to discover the life-changing power of God's love. You'll also find tons of other beautiful gifts while you browse at DaySpring — and use code FRIDAY to save 30% sitewide through 11/28!! Some exclusions apply.
Then tune in on Sunday 11/28, when (in)courage friends Mary Carver and Anna E. Rendell host their annual watch-along party on the DaySpring Facebook page! As you watch Candace's new movie premiering on the Hallmark Channel (starting at 6/7 central), Anna and Mary will post trivia and discussion questions, and have tons of giveaways and prizes, all on Facebook!
No matter how you start your Christmas season, we pray you're able to rest, be merry, and keep your focus on Jesus.
*Giveaway open to US addresses and will close at 11:59pm on 11/28/21.
Leave a Comment