There's a question I've been chewing on for quite some time. I can't get it out of my head. It goes like this:
What if the display of God's power in our lives is directly related to acknowledging our need for Him?
In the midst of personal crisis, national unrest, or a global pandemic, people ask, "Where is God?" Here's what I'm coming to believe more than ever: He's in our need. He's in our lack. He's present and powerful when we're ready to admit how desperate we are without Him.
The end of our rope is the beginning of God's grace. This is true in our individual circumstances and in our desire to make this world a better place. Mother Teresa said, "I alone cannot change the world, but I can cast a stone across the waters to create many ripples."
I can't help but think of the famous story of how God used one small stone to create mighty waves of change. I'm thinking of the rock that took down a mighty giant. Goliath was the nearly ten-foot-tall Philistine warrior who threatened to destroy the Israelite army. Day after day, for forty days, Goliath came forward and challenged any man from the opposing side who had enough guts to face him. The future of both nations rested on this single man-to-man battle. Whichever side was victorious would get their enemy's land, wealth, and surviving citizens. Saul was king of Israel at the time, and not one soldier in his mighty legion was willing to fight such a powerful opponent with everything on the line.
The Israelites were woefully aware of their insufficiency, but they failed to understand that God's power was what they really needed. Enter David. David was a young shepherd and the youngest of eight sons; his father sent him to the battlefield to bring provisions to his brothers. When David got to the front lines and heard about the dire situation his people faced, he didn't hesitate to offer his help.
What made the young shepherd willing to face an opponent that hundreds of grown men trained in combat wouldn't? Was it because David was simply conceited like his older brother suggested? Did he think so highly of himself that he believed he could accomplish what no one else could? I don't think so.
David's uncanny courage came from knowing that it would be God's power that would defeat the giant. And he was willing to be the conduit. Without a breastplate or sword or spear, David approached Goliath with nothing but a sling and pouch full of river rocks. He took one smooth stone, placed it in his sling, and let it soar. The rock sank into the Philistine's forehead, taking down the ostensibly unconquerable soldier.
A sheep-tending little brother stood victorious on the battlefield, showing God's undeniable power.
So what does an old Bible story that reads more like a mythic fairy tale have to do with us? While it's unlikely that you or I will ever be asked to save a nation by slaying an epic giant, we each are destined to face opportunities to help when the odds are stacked against us. Surely we will see someone in need and look down at our own measly stones and be tempted to think, It's impossible for someone like me to make a difference.
The right response is, Yeah, it is impossible — without God. But with God, all things are possible.
David wasn't responsible for the outcome. He was responsible for hearing God, responding in faith, and showing up. An entire nation of people was changed because of it.
We offer our pebble. God's power magnifies the ripples. He accomplishes with a simple stone what we cannot do on our own.

Isn't this just the very message that we all need right now? When the world's problems loom large and your ordinary life stretches you thin, is it still possible to be a difference-maker? Absolutely! One small, intentional, extravagant act of kindness at a time. Our newest (in)courage book, The Simple Difference, by Becky Keife, is now available wherever books are sold — find direct links to retailers here.
And what would a day of celebration be without a big fun giveaway?!
To celebrate the release of The Simple Difference, we're giving away a kindness gift bundle!* Just leave a comment telling us about a way you've experienced kindness, and you'll be entered to win a bundle that includes:
Friends, this book? It's for you, in the same story-sharing way (in)courage is for you. The Simple Difference: How Every Small Kindness Makes a Big Impact will help you see more of the people in front of you, more of God's lavish love for you, and more of His power within you. We're thrilled that this new book is finally able to be in your hands.
Order your copy of The Simple Difference today, and join author Becky Keife tomorrow, October 6 at 11am Central, on Facebook for a conversation with (in)courage team member Anna E. Rendell as they discuss The Simple Difference!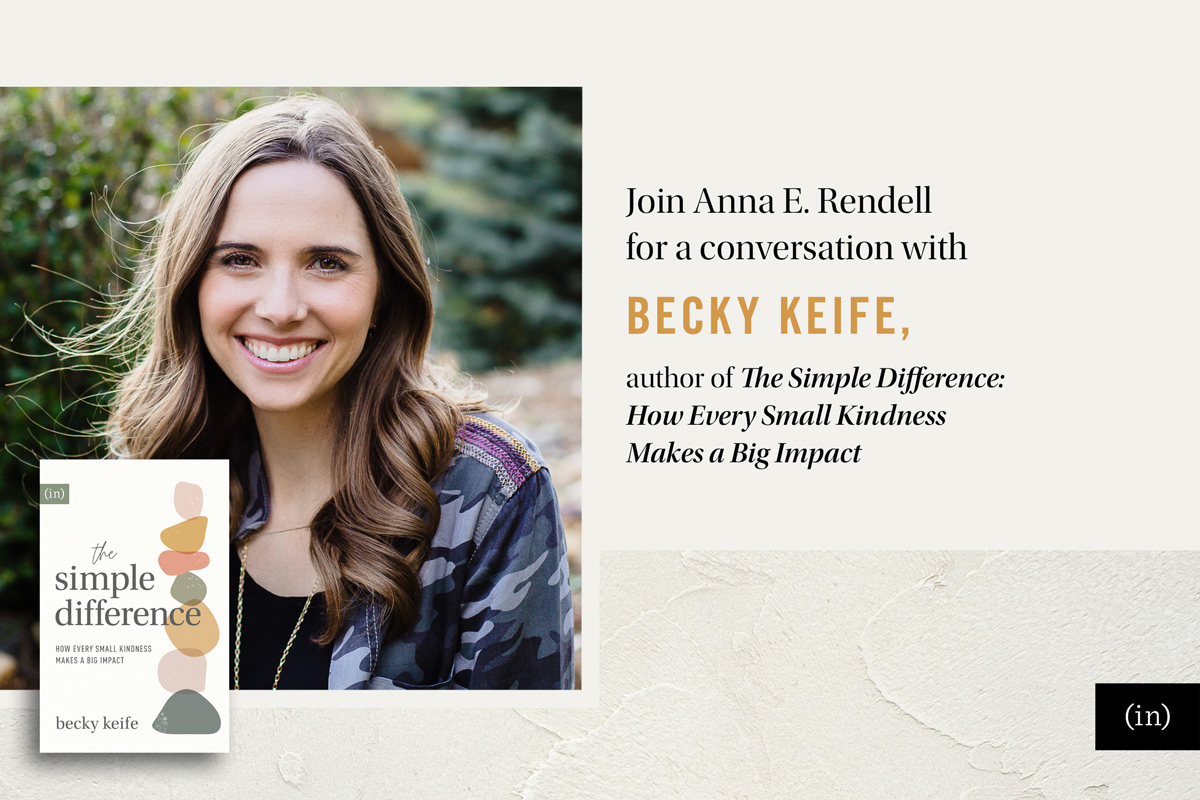 The giveaway is open to US addresses only and closes on 10/8/2021 at 11:59 p.m. Winners will be notified via email.
Leave a Comment