I will be with you when you pass through the waters, and when you pass through the rivers, they will not overwhelm you. You will not be scorched when you walk through the fire, and the flame will not burn you.
Isaiah 43:2 (CSB)
I'm standing on a stage in front of a crowd of women. I see teenagers with side ponytails, sweet mamas in skinny jeans, and lovely silver-haired seniors. I wish for the chance to have coffee with them all, to hear their stories one by one. So I do what I consider to be second-best — I tell mine.
I come to the part about how we all have bullies in our lives. Mine hassled my elementary friends and me after school, until one day he called me a word none of us were supposed to utter under any circumstances. At this point I decided to take matters into my own hands. Although the quiet and gentle type, I promptly pushed him down — without causing injury or serious concern from any adult authorities — and sat on his back until he promised to repent of his bully ways. The audience laughs at this, and I tell them I wish this was my only encounter with a bully. But I still fight them every day.
My grown-up bullies are anxiety and depression, two words we can be hesitant to say at church. Yet the psalmist freely confesses, "I am deeply depressed" (Psalm 42:6 CSB). Struggling with depression or anxiety doesn't mean we are spiritual failures, we've disappointed God, or we're not strong enough. This is what I have come to believe: we live in a fallen, broken world, and if we are in a battle, it simply means we are warriors.
I declare this to the women in the room, and after the session, one of the leaders says to me, "When you said those words, I could hear a collective sigh of relief." After I finish speaking, a line of women that stretches almost out the door forms in front of me, and one after another says either "Me too" or "My daughter struggles with depression and anxiety." If you're reading this and you or someone you love is in this battle, know you're not alone.
The hope in all this is that Jesus has promised us victory. I believe I will likely have to fight this battle as long as I'm on this spinning earth. But through a plan that includes every part of who I am — spiritual, emotional, social, physical, and mental — these days I'm winning more than I'm losing. I also have partners in the fight, including a counselor, a doctor, and good friends who speak truth to me on the days I can't remember it. (When people ask me what to do next about their depression and anxiety, I always recommend starting with a trustworthy biblical counselor.)
What we don't talk about, what we keep secret, where we let shame and guilt take hold are the places in our lives where we remain defeated and unhealed. So I'm speaking publicly about this struggle with you too.
Depression and anxiety are part of my life, but they're not the boss of me. They're also not my identity. I'm strong, brave, and loved. I'm a daughter of God who has been promised victory. So are you. There is no shame in being a warrior. Fight on.
Lord, like the psalmist, I long to freely confess my truth. I am deeply depressed. Yet even as I speak those words, the next to fly out of my mouth is the truth that as I fight, I am a warrior, and in that there is no shame. Thank You, Lord, for the victory of speaking up, of not keeping secrets, of healing and identity. Help me live into mine. Amen.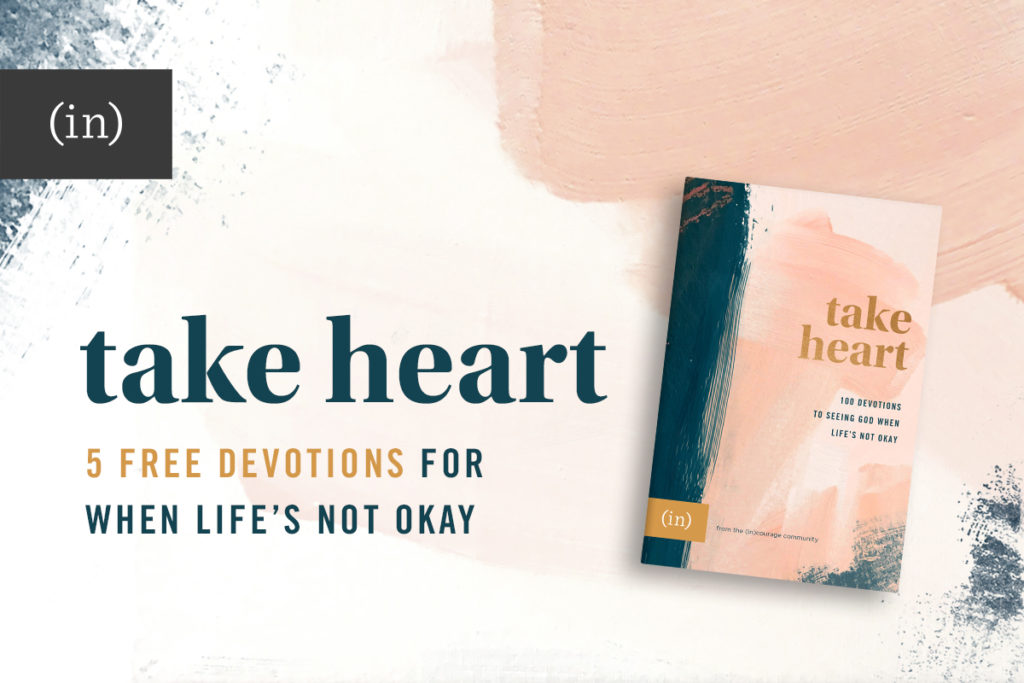 This devotion was written by Holley Gerth and appears in our devotional Take Heart: 100 Devotions to Seeing God When Life's Not Okay. This collection of courageous stories from forty-four different authors is where you can find your story reflected — from struggling with weight, anxiety, and depression to suffering through miscarriage and grieving the death of a husband; from experiencing injustice and questioning our purpose to walking through church disappointments, loneliness, and infertility. The Take Heart writers share from the depth of their hearts and experience so that you will know beyond a doubt that you are not alone and that you are (and always have been) loved.
Get 5 devotions from Take Heart for FREE — just sign up below and we'll email them right to you.
This book is an offering of hope, from one heart to another — sister to sister, friend to friend. We can't wait to help you take heart.
Leave a Comment