I memorized my first Bible verse at the age of eight, snuggled into my Powerpuff Girls comforter, looking for deliverance from the shadows and monsters of the night. It was Psalm 4:8, "In peace I will lie down and sleep, for you alone, Lord, make me dwell in safety" (NIV). Twenty years later, the monsters in the night look very different, but I still find myself in need of the peace and reassurance only He can bring. These days, I've been finding such encouragement in reading through the gospels again, learning about Jesus' life from the four different angles of Matthew, Mark, Luke, and John. I'm memorizing and holding on to the truth that God is with me always, as it says in Matthew 28:20 —
And remember, I am with you always, to the end of the age.
Matthew 28:20b (CSB)
To accept the promise that Jesus is with me is to believe that He is guiding me through each day, each moment, each pleasant surprise and bitter disappointment. When I look at the gospels, I discover the character of Jesus — someone who was deeply invested in the lives of real, messy, complicated people. Whether you're getting to know Jesus for the first time or have walked with Him for years, you'll find renewal and strength as you get to know Jesus in the gospels. 
Matthew, the first book in the gospels, was written by the apostle of the same name. While this book takes a strongly Jewish perspective, you'll discover throughout its pages the life story of Jesus, following Him from birth to resurrection. He is the Messiah who fulfills the promises of the Old Testament. Matthew's emphasis on Jesus as the Messiah reminds us through eye-witness accounts that Jesus lived as a human here on earth, caring for and serving those around Him. The same empathetic and compassionate Jesus present in this book is the Jesus who wants to be there for you. As Matthew 11:28-30 says, "Come to me, all you who are weary and burdened, and I will give you rest. Take my yoke upon you and learn from me, for I am gentle and humble in heart, and you will find rest for your souls.  For my yoke is easy and my burden is light" (NIV).
Mark, written by John Mark, varies from Matthew in that it focuses more on Jesus as the Son of God. Reading through this gospel and relating to Jesus as both human and divine will inspire worship, awe, and a renewed faith in Him. As Jesus announces in Mark 1:15, "The time has come . . . the kingdom of God has come near. Repent and believe the good news!" Throughout the pages of this book, you'll encounter the good news over and over again. You'll discover Jesus as someone who experienced emotion, hunger, and trials. You'll also find Jesus' explanation of His divinity, including His rejection, suffering, death, and resurrection (see 8:31).
Luke, the longest book in the New Testament, was written by a doctor named Luke, a friend and coworker of the Apostle Paul. This book is designed to strengthen the faith of believers by recalling the events of Jesus' life in extreme detail. You'll discover a Jesus who fulfills the words of the prophet Isaiah, "The Spirit of the Lord is on me, because he has anointed me to proclaim good news to the poor. He has sent me to proclaim freedom for the prisoners and recovery of sight for the blind, to set the oppressed free, to proclaim the year of the Lord's favor (Luke 4:18-19). You'll also learn more about the Holy Spirit in this gospel, which is a reassuring reminder that if you believe in God and have invited Him into your heart, you have the Holy Spirit dwelling within you and guiding you throughout the moments of your life. Not only is Jesus with you, but the entirety of the Trinity — the Father, Son, and Holy Spirit — are guiding, directing, and supporting you in every season.
John, the last book of the gospels, was written by "the disciple Jesus loved" (see 13:23). This gospel varies from Matthew, Mark, and Luke in that its primary purpose is to reach unbelievers with the good news of Jesus. If you are investigating Christianity for the first time, are a new believer, or want to get back to basics, this is the book for you. John 3:16-17 says, "For God so loved the world that he gave his one and only Son, that whoever believes in him shall not perish but have eternal life. For God did not send his Son into the world to condemn the world, but to save the world through him" (NIV). John will give you an in-depth picture of the life of Jesus and lay out His eternal sacrifice on the cross for your sins. 
No matter what book of the gospels you read, you'll encounter Jesus as your guide, your ally, and your salvation. And as you discover Him more deeply, you'll find that Jesus really is who He says He is — the God who loves you and who is with you "always, to the end of the age."
Ellen Wildman, product manager over Bibles and Bible Resources at DaySpring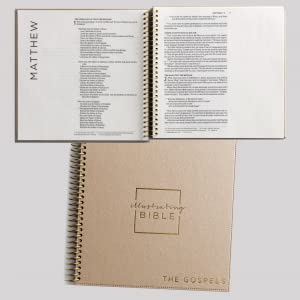 DaySpring's Illustrating Bibles are specifically designed to inspire the Bible journaler's heart. In this new NIV Illustrating Bible: The Gospels, you'll meditate on God's Word as you journal your way through New Testament books Matthew, Mark, Luke, and John. It's the perfect way to explore your creativity, express your faith and engage Scripture as you focus on the unconditional love and faithfulness of God through Jesus.
Spend time decorating and personalizing the pages of God's Word or add your own flair by including your Bible study or sermon notes, reminders, worship songs, or your favorite Bible verses. The durable fabric cover and metallic copper spiral binding make it easy to create as it lies perfectly flat for your artistic needs and it grows with all your journal entries.
The NIV Illustrating Bible: The Gospels releases on August 3 and is currently available for pre-order on Amazon. . .
. . . and we're giving away THREE of them*!
To enter, leave a comment telling us what a particular gospel has meant to you, and we'll choose three winners.
*Giveaway open to US addresses and will close at 11:59pm central time on July 26, 2021.
Leave a Comment