Now that same day two of them were on their way to a village called Emmaus, which was about seven miles from Jerusalem. Together they were discussing everything that had taken place. And while they were discussing and arguing, Jesus himself came near and began to walk along with them.
Luke 24:13-15 (CSB)
I was in the middle of a wilderness season, spiritually parched and lost, unsure of the answer to every who, what, where question I was asked. I had stepped away from church ministry, uprooted my family from our home city of seven years, and moved back to my husband's childhood home to live with his parents. The move wasn't a part of the original plan we had been so sure God had for us when we first moved into our community and church. But for a solid year, God confirmed and affirmed that being with family, taking risks with our careers, and entering into a wilderness was exactly where He wanted us to be.
We came into this new chapter of our lives with naive hopes and dreams — of me starting a writing career and of my husband opening up a restaurant. It made sense that this was the time to do these things, with extra hands for childcare and saved up resources. We were ready to take on whatever would come our way, holding hands and cheering each other on.
But a wilderness season is just that — a wilderness. We can't predict next steps or plan for the future because no clear path is available. There are dangers we can't avoid and pitfalls we don't expect. Our weakest points become exposed with nowhere to hide and nothing to cover ourselves.
Though we knew it would be difficult, we couldn't have imagined the pain, the disappointment, the confusion that would ensue. My husband's desire for a restaurant stalled and eventually staled. Our marriage became fragile, every painful silence and harsh word creating a chasm between us. My mental health crumbled into depression and suicidal ideation. I didn't know who I was outside of my role as wife, mother, and daughter-in-law, and it seemed that my gifts of leading and pastoring others were no longer needed.
And in that emptied place is where God showed me that my influence hadn't ended.
I ran into a young woman, a friend of a friend's, at a local church seminar on racial reconciliation, and though we had met one-on-one a few times before, we were still getting to know each other. In a room full of strangers, I was relieved and grateful to see a familiar face. We chatted in between sessions, and at the end of the seminar, she approached me and asked if I'd consider mentoring her.
I was taken aback by her question. Who was I to invest in someone? What did I have to pour out to her? Surely I wasn't in the right place spiritually, emotionally, and mentally to be of any use. But as these thoughts swirled around my mind, I also inquired of God: What do You think I should do? And almost immediately, I felt God answer, If others don't walk with you during your wilderness season, how will they know how to walk through theirs?
Before I could second guess myself, I heard the word "yes" come emphatically out of my mouth. She squealed with delight, and instead of squirming in regretful doubt, I was at perfect peace.
Over the next year or so, we spent time together, read books, had meals and coffee. We didn't follow a discipleship program or center our mentorship on gaining more knowledge for the sake of our spiritual growth. Instead, we built a friendship. We committed a designated time each month to meet and talk and kept to it as best we could. We walked together through our doubts and fears, witnessed each other's grief, and celebrated the breakthroughs. And through it all, we saw God.
The last thing I thought I'd do during my wilderness season was to mentor, but no matter who we are or where we're at in life, we all have influence to share. Influence is simply the capacity to affect change on someone. It isn't only for pastors and leaders in the church. It's not about having a position of power or years of experience. It has nothing to do with age or gender or how much clout we already have.
And influence might look different for every person. It can look like using our gifts, skills, time, and effort. It can be about where God has placed us — our location or our proximity to someone else or the role we play in our families, jobs, and communities. All of us have been given influence in Christ, and we are to use it to encourage and lead others toward Him.
Wherever we are, however God has made us, in Christ, we are women of influence.
Story by Grace P. Cho, as published in HomeLife Magazine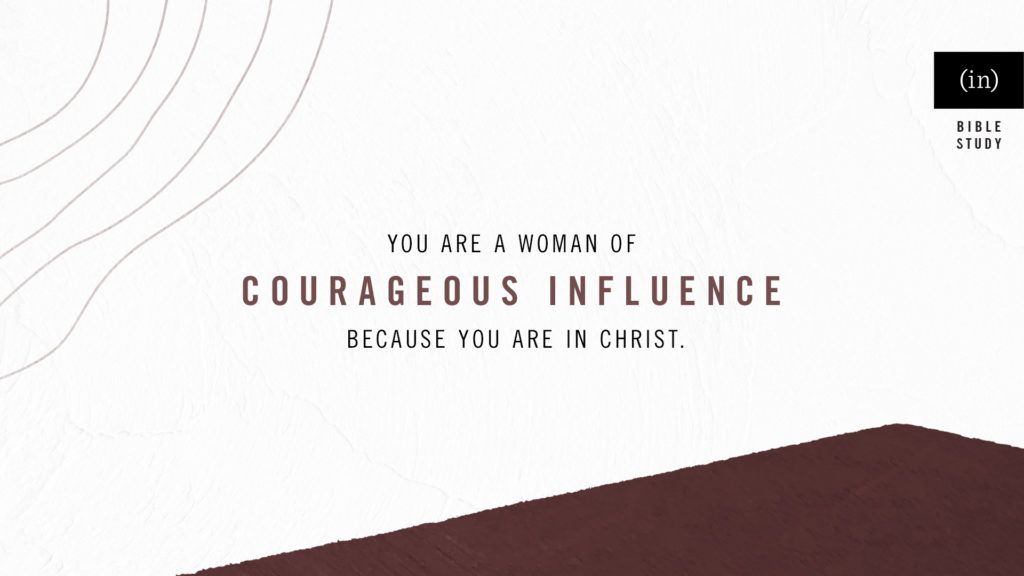 Our next Bible study, Courageous Influence: Embrace the Way God Made You for Impact, written by our editorial manager Grace P. Cho and featuring stories from (in)courage writers, is for you, whether you feel you have influence in your life or not. And we guarantee that you do!
Sign up here, and we'll send you a FREE week from each our first four Bible Studies! Yep, we'll send Week One + discussion videos from Courageous Simplicity, Courageous Joy, Courageous Kindness, and Courageous Influence. Read each at your own pace and decide which one resonates most with you!
Leave a Comment