'Twas the week of the book launch, and everything was a bit crazy — stressful even. I was torn between wanting to do my best work and the deep desire to surrender to whatever God had in store. It was exciting, overwhelming, and a little disorienting. 
So naturally, during the busiest work week I've ever had, we decided to take a trip. 
My sister was home and wanted to go to our grandparents' cabin a few hours north. We didn't want to miss out, and I couldn't think of a healthier way to follow up the stress of work than to go to a cabin with no cell reception.
We packed our bags, piled into the car, and navigated north up some hills and into the woods. My three-year-old noticed us using Google maps, and in an attempt to convey where we were headed, I told her, "We are that blue circle, and we're going up, up, up to the red one."
"Are we driving up to the sky?" she laughed.
"Isn't it helpful to see exactly where we are so we can point ourselves in the right direction?" I said to her. Immediately, I turned to my husband and said, "I'm writing that down!" Because YES — it is helpful to see exactly where we are so we can point ourselves in the right direction.
So where are you, and in which direction are you headed? What are you growing toward? Who are you becoming? Are you becoming more like Jesus, or are you becoming more like your favorite social influencer on Instagram? Like plants growing in the direction of the sun, we grow toward something even if we're totally unaware of it.
Day by day, whether we realize it or not, we are becoming. We expand in new directions as we experience life. And just as plants grow toward the sun because it nourishes them and gives them life, if we set the Lord as our destination, our direction, then every little turn along the way leads us toward Him. 
I don't know about you, but I don't often stop to think about my growth, my direction, or my intentions. However, lately, I've been doing three things that have made all the difference in pointing myself back to Jesus:
Leaving my phone plugged in on the kitchen island when I go upstairs at night.
Reading on my Kindle before bed.
Opening my Bible first thing each morning (before picking my phone back up again from the kitchen island).
These are baby steps, but they're helping me be intentional about where I'm headed.
I've spent the past year learning it matters less what we produce and more who we're becoming. So let's figure this out, shall we? Let's grow toward and become more like the One who gives us life and life abundantly.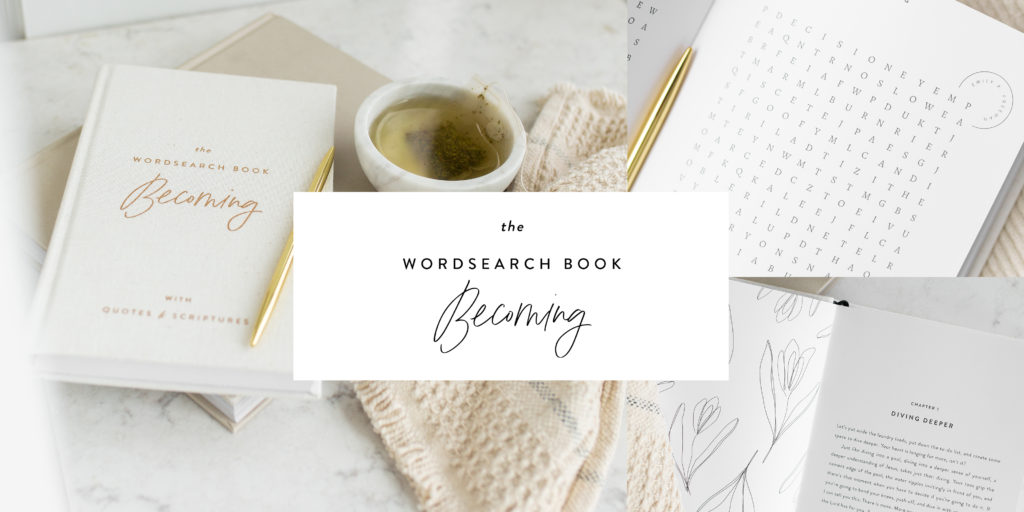 A few years back, Margot Groner stumbled upon a wordsearch book in her local grocery store and started a routine of solving one before bed each night. She quickly realized that wordsearches weren't living up to their potential. They're not just little books to help you pass the time. They could be a way for us to pause, reflect, and enjoy; they could even be a way to spend time with the Lord if what was inside them was intentional. In The Wordsearch Book: Becoming, Margot pulled together quotes and Scripture on real-life needs and created word banks out of them. In this book, you'll find over 70 word searches, along with devotions and journaling prompts for you to soak up all the goodness.
The pages walk you through what it looks like to grow in the direction of goodness and become all you were meant to be. It asks questions like: Who are you becoming? Who do you want to become? And most importantly, how can we become more like Jesus?
The Wordsearch Book: Becoming is your childhood wordsearch book all grown up and gorgeous! 
So fun, right? Well, good news — we're giving away FIVE copies*!
To enter, leave a comment on this article sharing how you stay pointed in the right direction, and we'll choose five winners.
Also, tune in tomorrow, June 9th at 11:00am central, on Facebook for a conversation with author Margot Groner and (in)courage Community Manager Becky Keife as they discuss The Wordsearch Book: Becoming.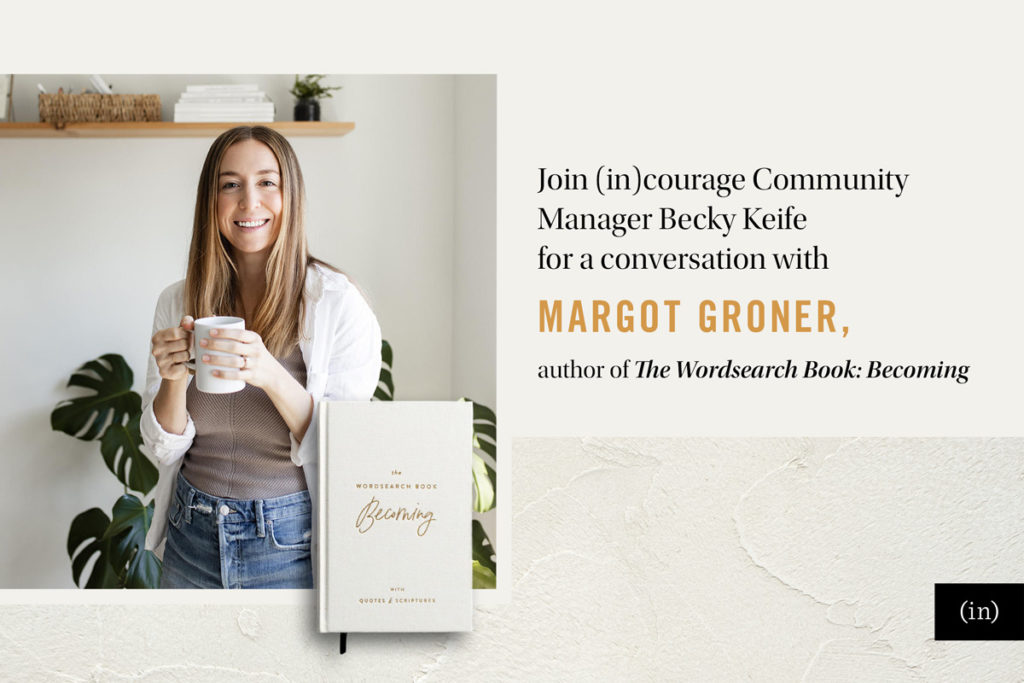 *Giveaway open to US addresses only and will close at 11:59pm CST on June 11, 2021.
Leave a Comment