One stormy spring day, I found myself on the skinny dirt road that borders the "back 80" field of our farm. It was another rainy day, on top of a series of rainy days, and because of the puddles, my husband — and farmers all across the Midwest — couldn't get into the fields to plant. The unrelenting storms brought blow after blow to so many of us in the agricultural industry, who are tasked with feeding the world.
Everything was falling way behind.
As I was driving alongside our wet and crop-less fields, something important hit me. I have so often felt the way that field looked: with no growth evident. Behind.
At key points in my life, I've felt so far behind — in my career as an author, as a mom, a farm wife, and even in my spirituality. My fear of falling behind has been a reason for my rushed existence. It's why I felt like I had to be so insanely productive all the time, as if life were a constant game of catch-up to meet milestones.
Ironically, for me, the strongest pressure to hustle came when I started writing books about Jesus. I say this is ironic because nothing Jesus ever said communicated an ethic of hurrying and hustling.
This isn't something we authors talk much about publicly, but there's an expectation of growth in the publishing industry. Growth in sales, influence, and something called "platform," which is an indication of how many people follow you on social media. If you have a decent-sized platform, it shows that you have an audience who already likes you. This is not a criticism of the publishing industry. Publishers have to pay to keep the lights on, and they need some assurance of sales.
At the time when my career took off, I was a "small-platform author." Sometimes I thought I had snuck in the back door when no one was looking. (There's a name for this: imposter syndrome. It's usually accompanied by an author curling into a fetal position and rocking back and forth in the corner between writing sessions. Yes, I'm a ball of positivity while writing books.)
As a new author, hustle felt like the only option. Yet a question began to emerge: Do I really want a fast life that rubs me raw?
And it was. Life was rubbing me raw — physically, mentally, spiritually. I asked myself, In the rush to become a "somebody," have I forgotten that I already am?
All systems pointed to one conclusion: I had to undo and unlearn all of the dangerous "go-big-or-go-home," girl-boss messages that I'd believed my whole life.
And so I embraced a new and life-changing philosophy that I call Growing Slow.
And this is one of the surprising discoveries I made: We are actually not falling behind.
Because the truth is, there are no set milestones for where we are supposed to be at any given point in life. Not for when you get married — or even if you get married. Not for when you have kids  —or even if you have them. Not for when you earn a certain salary or master a certain set of tasks.
Sometimes, you look around at everyone else's progress and feel like you're a failure who can't hit milestones.
Their dreams are coming true.
Their kids are making the honor roll.
Their marriages are fruitful and fun.
Their businesses are thriving.
Deep inside, you wonder if you're disappointing God.
Friend, you are not a disappointment, I promise you. If you saw your progress the way God does, you'd never doubt for a moment that you're making a difference.
We don't need more memes or motivational speakers to sell us a way to move ahead. We need permission to be where we are.
Did you know you are allowed to go your own pace? You are allowed to shut down the computer at five o'clock. You are allowed to take the time you need to figure things out. There's no such thing as an overnight success, and your life will not be ruined if you grow slow.
Look around you: there is growth in your fields, inching heavenward, not with brute force but by the will of the Divine Farmer who makes all things beautiful in their time (Ecclesiastes 3:11). A corn plant never compares itself to the one beside it. It never fights the clock or doubts the harvest will come. In that back 80, Scott eventually planted millions of corn seeds. In time, each plant did all of the miraculous things a corn plant does until it reaches full maturity.
" . . . at the proper time we will reap a harvest if we do not give up" (Galatians 6:9).
God promises that the harvest is coming — not just for everyone else but for you too. In His way. In His timing.
Friend, you are not falling behind.
Growing Slow: Lessons on Un-Hurrying Your Heart from An Accidental Farm Girl charts a path out of the pressures of bigger, harder, faster, and into a restful yet active — and far more satisfying — way of living. Order today and get $47 worth of freebies, including six Bible study videos, the first session of the Bible study workbook, and the Growing Slow Guided Journal and Growth Tracker.
And to celebrate, we are giving away FIVE copies of Jennifer's book, Growing Slow!*
To enter, tell us in the comments a way you've experienced the beauty of slowing down, and we'll choose five lucky winners!
Then tune in tomorrow, May 12th, at 11:00 am CST on Facebook for a conversation with Jennifer and Becky Keife as they discuss this beautiful new book and Bible study.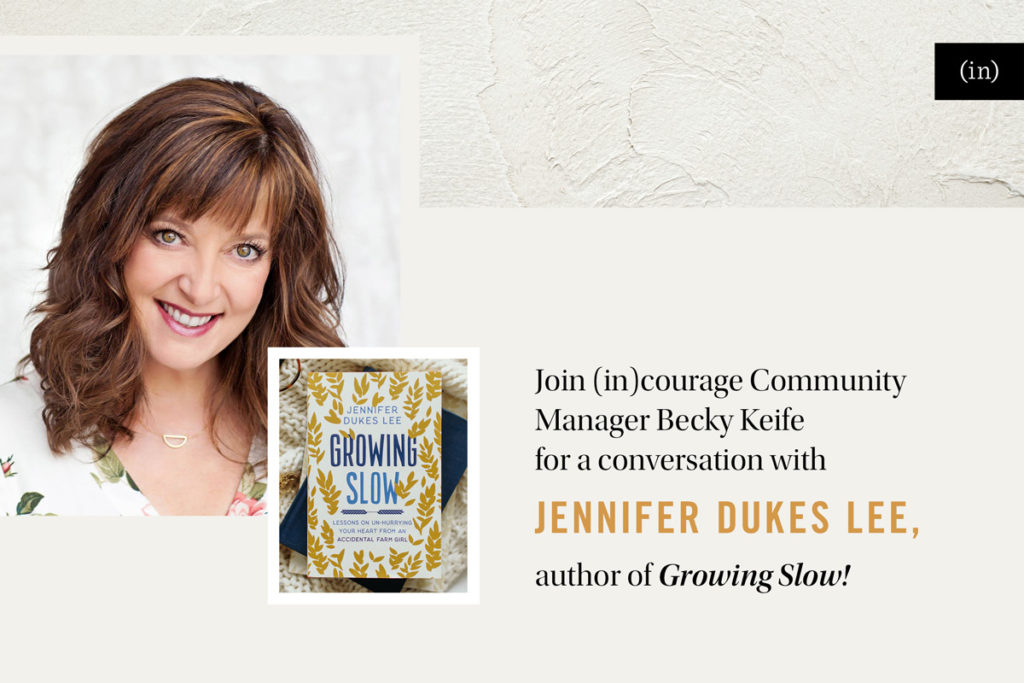 *Giveaway open to US addresses only and ends 11:59 pm CST on May 14, 2021. 
Leave a Comment