It's been said that life is a blank page, but because of my mother's fate, the script for my life was already written.
Ah-Ma was a teenage mail-order bride from Hong Kong married to a busboy working in a noodle shop in San Francisco Chinatown. He left me when I was seven years old.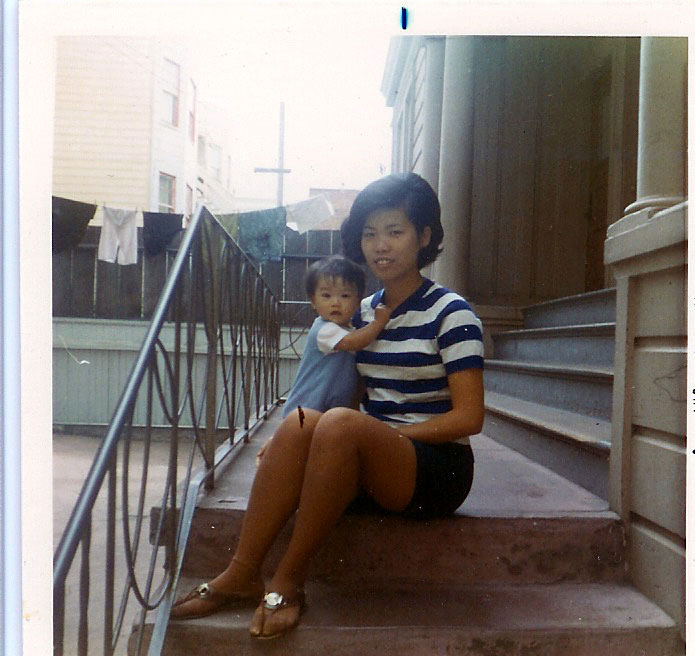 Ah-Ma is "mom" translated from the Chinese Cantonese dialect. The second girl of eight kids, Ah-Ma's mother chose her to marry a stranger ten years older to immigrate her family to the land of opportunity. She had dreams of a better life, but I had different dreams of my own.
So, what would you do if you found yourself in the middle of a story you never intended to choose for yourself?
I never told anyone about the real story behind Ah-ma or my father because I always felt those were the parts of my story that made me feel weird, flawed, and out of place. So, I just cut those parts of my story out.
All my life, I grew up hiding my heart, trying to be "normal" like everyone else. I was stuck between two worlds: at home, I was Chinese Bonnie, the oldest daughter taking care of my little sister Mei-Mei, walking her home from school, helping with homework, and putting aside my work when it was dinner time. I'd stand over the kitchen sink, swish-swashing bok choy and then I'd throw a wok over the stove top to stir-fry a meal of sliced chicken, julienned green onions, and a generous splatter of minced garlic.
But the minute I stepped outside my doorway, I became American Bonnie, where I felt I could only talk about the things that happy, shiny people talked about. Without a place where I could fully belong, I walked around split into two halves that lived in different worlds and was never fully present in either. It was a bit like the children in The Lion, the Witch and the Wardrobe, who traveled beyond the wardrobe but could never bring Narnia back with them.
I was never whole Bonnie anywhere.
To navigate my life as an adult, as a wife, and as a mom to two boys, I decided to create a new story with my own family. I told myself, Leave the past where it was, Bonnie. I never wanted to talk about the family secrets that left me feeling like I didn't belong anywhere, but God knew how to reach me — through my curiosity.
One day, I was rummaging in an old file cabinet and stumbled upon an old forgotten birth certificate. I realized I had never seen the home I was born into and set out to find my childhood home and my father in San Francisco's Chinatown to uncover the family secrets I had run away from.
What I discovered about my past has become my story of how God creates beauty out of brokenness as we discover our true worth in God's love.
Can you relate to having different parts of your life split up between your private world, where you hide your wounds, and the outside world, where you perform, please, or achieve?
The truth is, we're all on a journey to find belonging out of loneliness and beauty out of brokenness.
God has given each of us a unique set of cultural heritages, with a rich diversity of stories and different types of families, to show the world He is powerful to carry us through every imaginable human experience. When we open up about our lives and share our stories, others can see that nothing is wasted under the power of God's loving hand. And because of God's never-ending, faithful, and healing love, you and I no longer need to hide our brokenness.
God values and treasures the beautiful parts of you that others have overlooked. God tenderly whispers, You are my treasure. I cherish you.
We become beloved.
Over the pandemic, I wrote about my Asian American stories of faith and placed them in a new book named Sweet Like Jasmine. And for the first time, I read those stories to my children, Josh and Caleb. They can see that God was at work in all the parts of my story, and now I stand unashamed, embracing who I am as both Chinese and American and living whole as God's beloved daughter.
Leave a Comment