Born and raised in Arkansas, I'm as Southern as a girl can get. If my two sisters and I weren't at school, we were at church, and if we weren't at church, we were sitting around the table eating together. The table — it's where I grew up, the place where I laughed, cried, shared exciting news (and not so exciting news), debated with my sisters, and opened my heart to Jesus. I didn't realize how much that table meant to me until I moved away.
At age twenty-four, I moved to Birmingham, Alabama. For the first time in my life, I lived alone and worked long hours, leaving little time for community and friendships. Lonely and depressed, I thought my life was incomplete because I was single. I threw myself at dating apps and constantly felt discouraged. After weeks of hearing me complain about my terrible life, my mom offered me the best advice I've ever received: "God calls us to serve people. Why don't you cook a meal and invite people over?" And then she finished with a phrase that she has repeated over the years to my sisters and me: "Be a blessing."
After rolling my eyes and grumbling for longer than I would like to admit, I took my mother's advice. I cracked open a cookbook and hosted dinner for friends for the first time in my adult life. The four of us squeezed around a table for two — and had the best time. I will always remember that night because I made four-cheese tortellini. It was terrible. But that night God taught me something important: I was lonely, not because I was single, but because I had not been investing in and nurturing a community in my life.
That night Jesus ignited in me a desire for community, a realization of the importance of the table, and a curiosity for the art of hospitality. Fast-forward seven years and here we are.
After four years of cooking for friends and hosting dinner parties every week (around my very small apartment table), I decided to share my love of hospitality with the world and launched my blog, A Table Top Affair. I also started posting my recipes and party ideas on Pinterest and Instagram. I wanted to encourage people who were stuck in a rut, people who didn't know how to meet others or how to cultivate their own community. So I began trying to put a formula to it — a formula for empowering people to overcome their insecurities in the kitchen and to truly invest in opening their homes even though they might not have the picture-perfect family.
It took me being single and lonely to see that God had big plans for me around my kitchen table. If I wasn't single or had put off embracing hospitality until I had a husband and 2.5 kids, I would have missed all the memories, relationships, and conversations about Jesus around that table.
At some deep level, I believe we are drawn to the table. When Jesus said, "I am the bread of life," I believe He literally meant for us to bring people to the table and serve them and to let Him do the rest. When we set the table and prepare a meal, there is something supernatural that happens to our hearts. It's undeniable!
Throughout my book, The Living Table, it is my hope that you will be inspired to clean off your table and prepare to serve others. In fact, I have an easy go-to handbook that is full of tips on how to be prepared to serve. Trust me, I know life gets overwhelming and busy, but God longs for us to release all our pressures to Him. He wants us to live peaceful lives — lives that are full of joy and fellowship.
No matter what phase of life you are in (single, married, mom with littles, empty nester, or recently retired), loneliness can overwhelm any one of us. It's our community that encourages us through the ups and downs of our lives, and through these interactions we get to experience the joy of God's goodness. So, what do you think? Is God calling you to dust off your table and open your door? If so, why not follow His lead? After all, He will be with you throughout the process, giving you everything you need.
My prayer is that the joy of hospitality that permeates the pages of this book will begin to infect your life.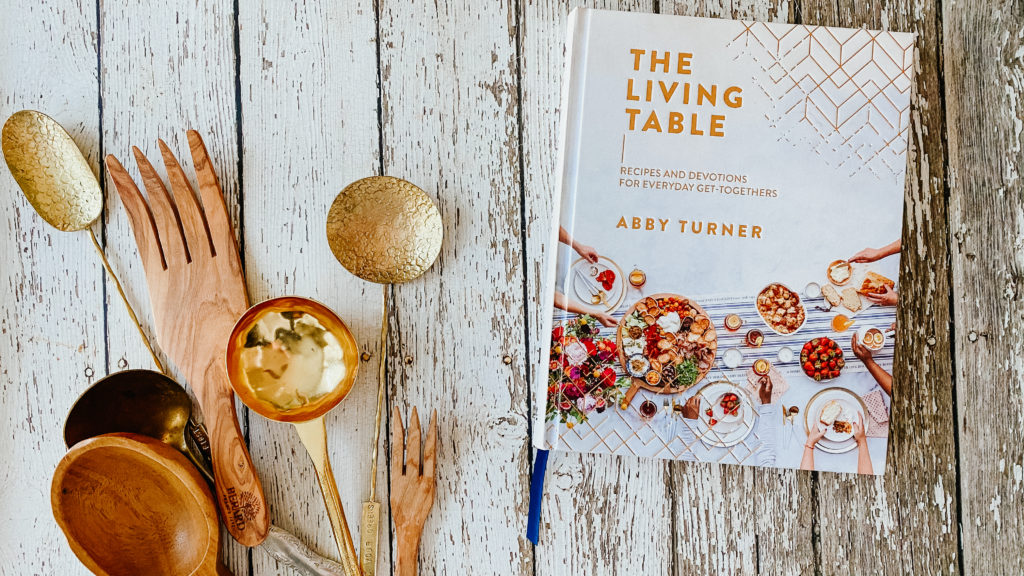 In The Living Table: Recipes and Devotions for Everyday Get-Togethers, Abby Turner shares easy-to-recreate recipes and fun DIY projects that take fifteen minutes or less. Each section starts with a first-hand account of the miraculous ways God has showed up at Abby's table — how deep conversations have led to deep spiritual growth, how a new friend has become a forever friend, and how tears and laughs and mishaps have become treasured memories. With each section focusing on specific tables (dinner table, coffee table, outside table, etc.), you'll discover fast and easy ways to liven up any moment, whether that be Tuesday night home with family or a well-thought-out Thanksgiving.
God is asking each of us to open our homes and prepare our tables, and The Living Table devotional cookbook equips the most intimidated hostess. Hosting isn't about being perfect; it's about offering care to one another and building community.
To celebrate this beautiful new book, we are giving away FIVE copies of The Living Table!*
To enter, tell us in the comments how you cultivate community right where you are, and we'll choose five lucky winners!
Then tune in tomorrow, May 26th, at 11:00 am CST on Facebook for a conversation with Abby Turner and Becky Keife as they discuss The Living Table.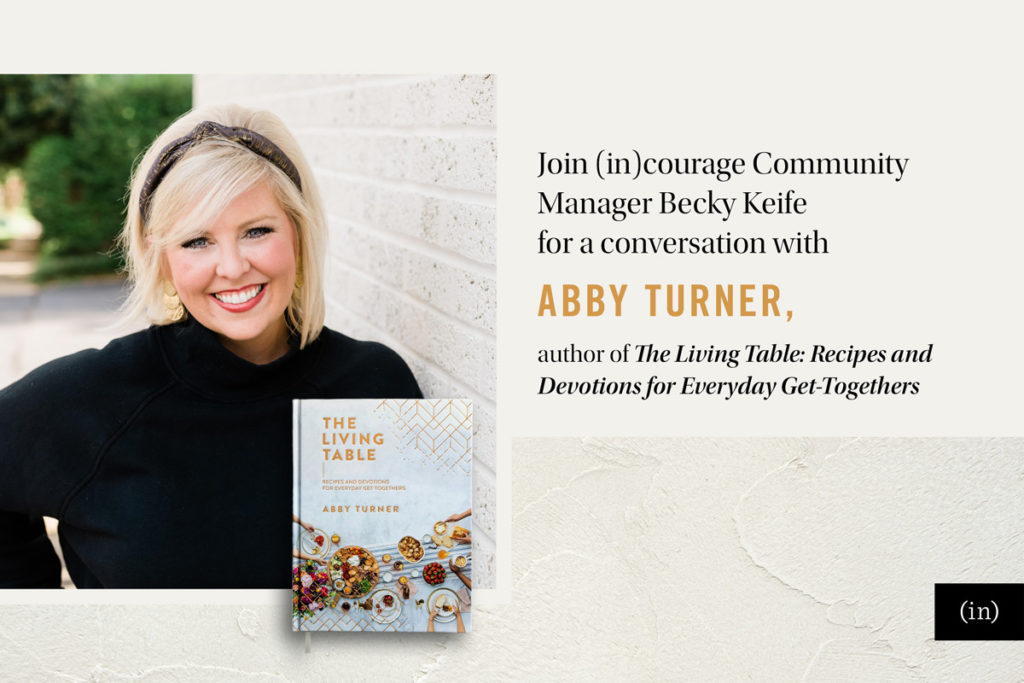 *Giveaway is open to US addresses only and ends at 11:59pm CST on May 28, 2021.
Leave a Comment