Sometimes when life hands you lemons, you have to make lemon meringue pie. Or maybe you go all in for lemon primavera pasta or a French lavender-infused lemon tart or Mediterranean garlic-lemon chicken kebabs! Well, you get the idea. Make lemonade if you have to, but don't sit around feeling sour.
This past December, we were supposed to be heading to the airport to catch our flight to the Big Island of Hawaii. This was a special trip my husband Shawn and I booked for the week after Christmas as a gift to our three daughters and my parents. After almost a year of sheltering-at-home and changing plans because of the global pandemic, we thought maybe we could squeeze in an end-of-the-year, we-survived-the-craziness vacation. Our family has Polynesian roots, and we were eager to visit the place where my grandparents had met.
We knew we were taking a risk, but we were hopeful. (And the airline said our tickets were fully refundable.) We already canceled plans earlier in the year to visit friends in Germany and travel to France. I also canceled a work trip to Cabo, Mexico and plans to attend a conference in Michigan at my alma mater.
Alas, COVID-19 numbers surged in California in December. Our governor asked people to cancel their travel plans and stay home for the holidays. Hospitals were full to capacity across the state. We finally decided it was best to cancel our trip to Hawaii and hunker down at home.
Needless to say, we were all disappointed. I have to admit this travel-loving, adventure-seeking mama right here was beyond discouraged, frustrated, and shed some tears over this one. My soul was weary by the end of 2020.
That Sunday — the day before we were supposed to depart — my sweet husband suggested we host a luau at home. "If we can't go to Hawaii, let's bring Hawaii to them," he said.
He encouraged me to order some Hawaiian barbecue from a local restaurant and pick out a movie to watch as a family. I perked up a bit. Sounded fun! I needed a diversion to lift me from my sadness of having to cancel four much-anticipated trips that year and my own cabin fever.
When I shared the idea with my girls and parents, they took it to the next level. My fourteen-year-old, who spent the first decade of her life traveling internationally and doing missions work with her dad and me, suggested we explore a different country each day of our vacation. She started a spreadsheet and a Pinterest board right away. I hauled out my international cookbook collection, and we all started planning not just a luau but a virtual trip around the world.
An idea was born: traveling the globe from the comfort of home.
We spent Christmas break trying out new recipes, reading books aloud, watching movies in the evenings, and discussing snippets of history we were learning about the different people groups and countries. What started as disappointing turned into a wonderful two weeks of exploration.
Our circumstances challenged us to consider why we love traveling and learning about other cultures so much. We believe God uniquely created each one of us in His image. If we want to grow in our understanding of God, we need to grow in our knowledge about each other.
In college, I spent a semester in Costa Rica and traveled throughout Central America. I delighted in new foods like gallo pinto, tres leches cake, and refresco drinks made from all kinds of fruits we did not have in the United States. As I honed my Spanish language skills, I also gained a greater knowledge and respect for Central American history. Although I do not have any Central American roots, I felt somehow at home in these cultures.
After college, I took a missions trip to Haiti. I fell in love with the people there, especially the children who were so inquisitive and innovative with very few resources. I eventually moved to Haiti to teach English to pastors and started a non-profit there with my late husband. My Haitian sisters and brothers taught me about perseverance and courage, and my faith deepened as I witnessed their exuberant faith.
As Paul illuminates in Romans 12 and 1 Corinthians 12, God created each one of us as unique parts of the same body. Each part of the body plays an important role and function. We need each other because our differences serve as an invitation to experience the nuanced glory of God.
Yes, the body has many different parts, not just one part. If the foot says, "I am not a part of the body because I am not a hand," that does not make it any less a part of the body. And if the ear says, "I am not part of the body because I am not an eye," would that make it any less a part of the body? If the whole body were an eye, how would you hear? Or if your whole body were an ear, how would you smell anything? But our bodies have many parts, and God has put each part just where he wants it.
1 Corinthians 12:14-18 (NLT)
We all may have to consider travel a little differently moving forward. And yet, it's important that we still open our hearts to what we might learn from all image bearers of God. When we explore the food, culture, music, and history of people around the world, we gain a greater experience of God's Kingdom.
___________________________________________________________________
Dorina's family curated a robust list of books, recipes, music, dances, games, and video recommendations for your family to learn about countries and cultures you might not be able to visit in today's circumstances. Global Glory Chasers was created in partnership with Dr. Lucretia Berry, founder of Brownicity. Global Glory Chasers will be a monthly membership program housed in the Brownicity learning community for learners of all ages.
And to celebrate, Dorina and Lucretia are giving away a FREE 3-month membership to Global Glory Chasers AND a signed copy of Dorina's children's book, Cora Cooks Pancit!* To enter, tell us in the comments which country you'd like to learn about, and we'll choose one lucky winner!
Then tune in tomorrow, April 29th, at 4:00 pm CST on Facebook for a live conversation with Dorina Lazo Gilmore-Young and Becky Keife as they discuss this fabulous new course.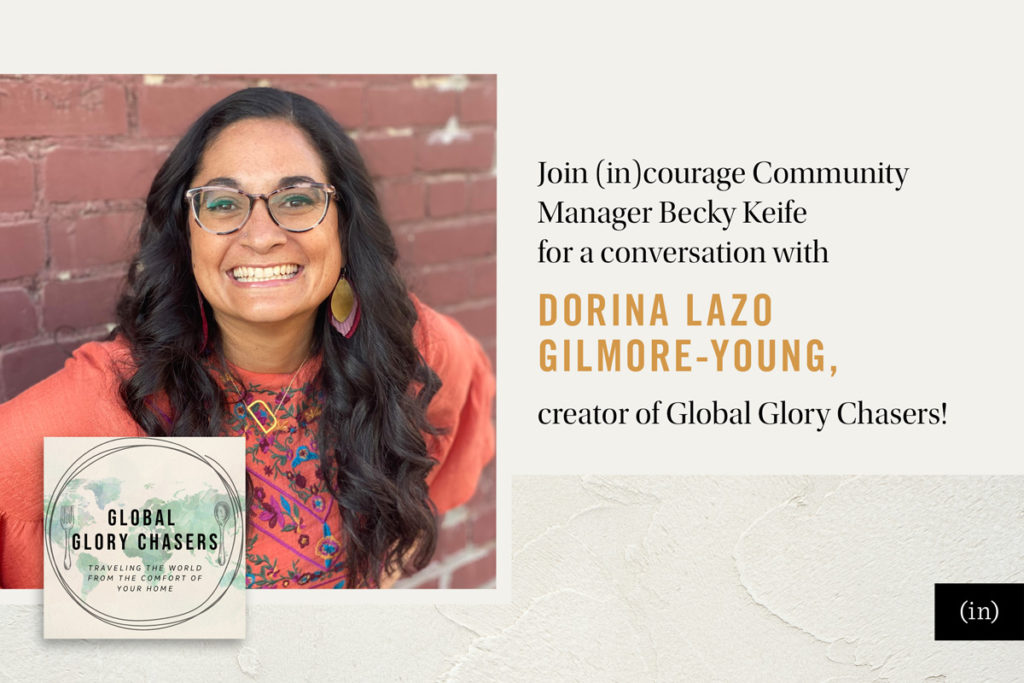 *Giveaway open to US addresses only and ends 11:59 pm CST on May 1, 2021. 
Leave a Comment