Lord, our Lord, how magnificent is your name throughout the earth!
You have covered the heavens with your majesty.
From the mouths of infants and nursing babies,
you have established a stronghold
on account of your adversaries
in order to silence the enemy and the avenger.
When I observe your heavens,
the work of your fingers,
the moon and the stars,
which you set in place,
what is a human being that you remember him,
a son of man that you look after him?
You made him little less than God
and crowned him with glory and honor.
You made him ruler over the works of your hands;
you put everything under his feet:
all the sheep and oxen,
as well as the animals in the wild,
the birds of the sky,
and the fish of the sea
that pass through the currents of the seas.
Lord, our Lord,
how magnificent is your name throughout the earth! 
I'm not what you'd call an outdoorsy person. In fact you'd be accurate to call me an indoorsy person. No matter the season or the weather, I prefer air conditioning and carpet far more than fresh air and green grass.
But that doesn't mean my soul doesn't crave interactions with the outdoors. It does, but I don't always realize it until I'm forced outside and catch an unexpected glimpse of God's creation.
If I'm not careful, I can spend all my days with my head down — staring at a screen or the work of my hands, focused on the immediate and the urgent, ignoring what's going on outside my reach, my home, my small world. Without realizing it, I've secured blinders on my face and my heart, filtering out most of the world and, as a result, most of the One who made that world.
Thank God for brilliant sunsets and blizzards and views from an airplane window. Thank God for puppies and people with different perspectives and all the big and small ways His creation breaks the monotony of the everyday and reminds me just how big this world is (and how He is infinitely bigger than that).
My husband and I have an ongoing debate. We both love the mountains and, in particular, have really enjoyed time we've spent in Colorado. We find the magnitude and beauty of the mountains to be breathtaking, humbling, and an undeniable testimony to God's greatness. We find that our eyes are drawn to the natural beauty whether we're hiking to a waterfall or driving through crowded streets. Up close or in the distance, the mountains refuse to be ignored and keep us mindful of God at all times.
The debate comes in when we imagine living near such natural beauty. If mountains were simply part of our everyday environment, would we remain so focused on their magnificence and their creator? Would we be able to maintain a posture of wonder and worship, or would we eventually put the blinders back on?
One of us (hint: it's me) insists that I would never tire of gazing at the mountains in gratitude and awe. I can't imagine a world in which I don't even notice the towering peaks and swooping valleys. Surely they would never become normal or grow old; surely I'd never stop hearing the call of nature and crave its message of God's power and love.
Except . . . this is exactly what happens nearly every day of my life. I stop to breathe in the fresh air. I stare at the bright pinks and oranges striping the sky, blinking away tears of gratitude for such a show. I smile at the calves in the field as I speed down the highway. And then I go about my life, head down, eyes back on the immediate and the urgent, forgetting once again the splendor of this world and the song it sings of God's glory.
Can you relate? Do you find it easier to keep your head down than to look up and out at the world God created? Could you use a reminder to pause and observe the heavens and the works of God's hands?
What a difference it might make if we regularly let nature point us to God! What a different perspective we might have when we look back at our small corner of the world after contemplating the vastness of the world He's made!
As we move toward the time for remembering Christ's sacrifice and resurrection, the ultimate act of love, let's also set aside time to remember God's creativity and power in making the world, the original act of love. After all, the world Jesus came to save had to be made first, and God decided to make it beautiful. Let's watch the mountains point to the heavens and listen to the seas roar His name. Let's look up and remember who He is and how powerful He is. Let's never grow tired of hearing His creation shout the magnificence of His name.
Heavenly Father, I am in awe of You. When I see the mountains or a rushing river, a flower pushing its way out of the ground or a sunset painting the sky, I cannot deny that You are a mighty and powerful God. You are a wonderful artist, and I'm so grateful. Thank You, Lord, for giving us beauty in every corner of this planet — to enjoy but, more important, to remind us of your magnificence. Forgive me, God, for the days I never look up once, for the times I'm so focused on myself that I forget to look for You. Please keep reminding me, keep pulling my eyes up. Don't let me get tired of or used to the wonder of You. Help me see the beauty of the world You came to save. I love You. Thank You. Amen.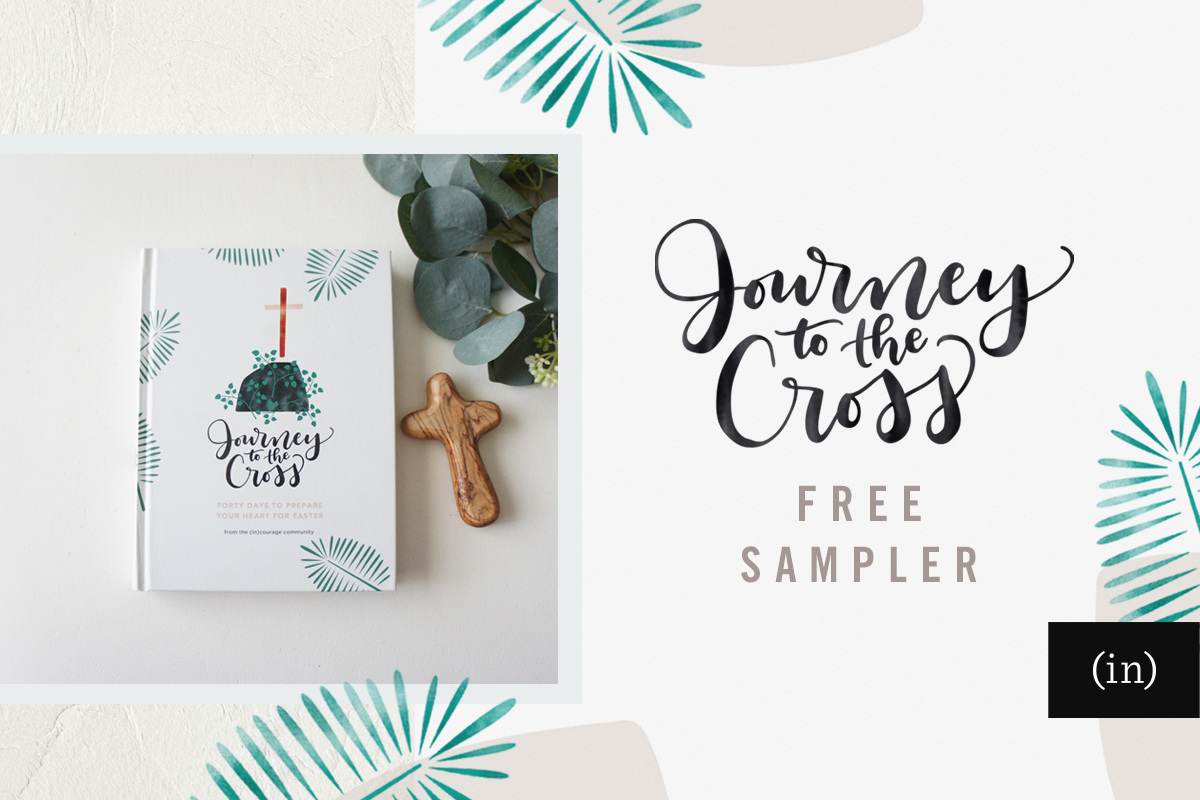 It's not too late to have a meaningful Lenten season. Let us send you a FREE sampler from our Lenten devotional, Journey to the Cross! Journey to the Cross: Forty Days to Prepare Your Heart for Easter was written with women of all stages in mind so that we can all better experience the power and wonder of Easter with intentionality and depth. We hope it will bless your Lenten season.
Leave a Comment