My heart is often tangled, a crisscross of hopes and dreams, worries and what-ifs and never-ending to-do lists. I pray throughout the day, offering each twisted strand to God, asking Him to unravel that which leaves me feeling knotted up — in the first moments of the morning before my feet hit the floor, in "Fix-it-Jesus" desperation when I'm DONE helping kids through distance learning and laggy internet, in quiet reflection as I wash the evening dishes.
When the phone rings with bad news, when the workload looms heavy, when a friend texts a request, when someone is sick, when a great email comes in, before dinner, at the side of my son's bed — all day long I talk to God.
I'm so grateful that God turns His ear to our prayers.
I love the encouragement we receive in Hebrews 4:16: "Let us then approach God's throne of grace with confidence, so that we may receive mercy and find grace to help us in our time of need."
How incredible that we have access to God's throne! Driving to work or changing diapers, sautéing onions or taking out the trashcans, on bended knee or knee-deep in dirty laundry, in every moment of our day, we have the opportunity to pray. Though conversation with the Creator is not hindered by time or place, I have found that there is something really significant about praying through writing.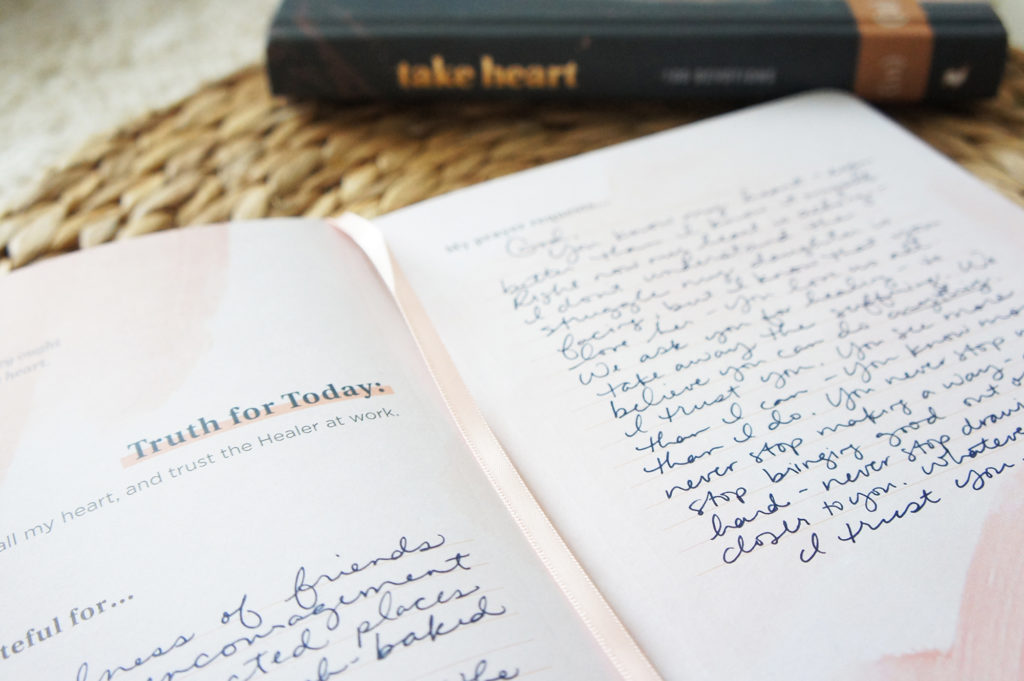 I've been journaling my prayers for twenty years. Sometimes I am faithful in the discipline. Other times months go by between committing my concerns to Jesus through pen and paper. But I never regret when I take the time to scrawl out my requests to God.
There's something clarifying that happens in the writing. The tangled thoughts become a little clearer. The heaviness of trials becomes a bit lighter when I remember through the rhythm of ink that the burden is not mine to carry alone. And perhaps the greatest gift in journaling my prayers is having a written record that reminds me what I prayed and how God answered!
In the haze of the mundane or seasons of crisis, it's easy to forget so many of the things I talked to God about. Sometimes it's not until I look back through a prayer journal that I am able to see the awe-inspiring evidence of God's hand at work. If I hadn't recorded the request, I likely would have missed the answer — missed giving God the glory due Him.
As we finish out the final six weeks of 2020 and step into a new year, I don't want to miss God's fingerprints in my life. I don't want to overlook the proof of His power or the mark of His presence. So today I'm going to begin using my new (in)courage Take Heart Prayer Journal from DaySpring. A companion to our new devotional, each day of the Take Heart Prayer Journal starts with a Scripture passage and a truth for today. Then there's space to record what you're grateful for and your prayer requests.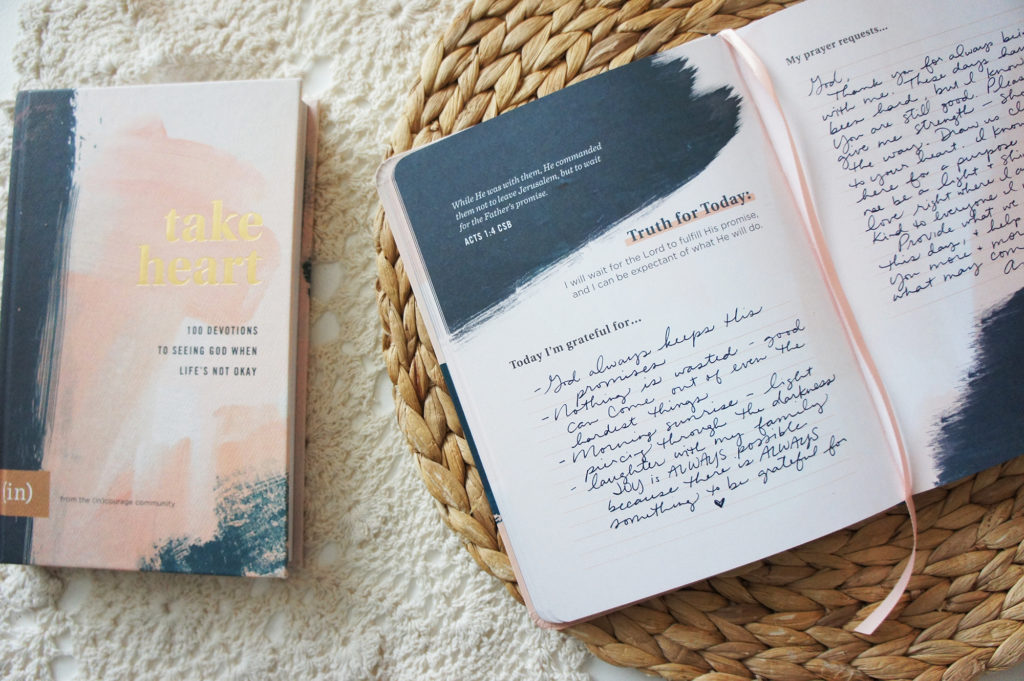 I think often of Paul's encouragement to the Colossians: "Devote yourselves to prayer, being watchful and thankful."
As God's daughters, we can pray boldly and expectantly, knowing the Father hears our requests. Journaling helps us be watchful — expectantly waiting His response — which naturally leads our hearts to gratitude for all that God has done and will yet do. There's nothing better than recognizing how God has moved on your behalf! I love writing down the answer to my prayers in the margin of my journal.
Want to join me in training your heart to pray, be watchful, and give thanks? You can grab your copy of the Take Heart Prayer Journal here. (Or use any journal or notebook you have on hand!)
We're also giving away FIVE sets of the Take Heart Prayer Journal and devotional, Take Heart: 100 Devotions to Seeing God When Life's Not Okay.
To enter, leave a comment sharing your favorite way to pray or a recent answer to prayer!
Giveaway ends 11/25/20 at 11:59 pm CST and is open to US addresses only. Winners will be notified by email.  
Leave a Comment