For everything there is a season, a time for every activity under heaven. A time to be born and a time to die. A time to plant and a time to harvest. A time to kill and a time to heal. A time to tear down and a time to build up. A time to cry and a time to laugh. A time to grieve and a time to dance. A time to scatter stones and a time to gather stones. A time to embrace and a time to turn away. A time to search and a time to quit searching. A time to keep and a time to throw away. A time to tear and a time to mend. A time to be quiet and a time to speak. A time to love and a time to hate. A time for war and a time for peace.
Ecclesiastes 3:1-8 (NLT)
For some, the holidays can be a time of anguish and pain. Missing family members no longer with us, hearts bearing the marks of infertility, financial problems, and so on. All this and more can hamper the supposed joy of the season that we're "supposed" to feel.
Thank goodness for these verses in Ecclesiastes, and for our old friend Charlie Brown. They both show us that there's room in the holidays for emotions besides joy.
Remember in the movie A Charlie Brown Christmas when sweet Charlie confesses to his friend, Linus, that he just isn't feeling the Christmas spirit?
Charlie thoughtfully says, "I think there must be something wrong with me, Linus. Christmas is coming, but I'm not happy. I don't feel the way I'm supposed to feel."
Or how about when he visits his mailbox, finding it empty again? Charlie says, "Rats. Nobody sent me a Christmas card today. I almost wish there weren't a holiday season. I know nobody likes me. Why do we have to have a holiday season to emphasize it?"
We can all relate to our old pal Charlie, and we can all find a piece of ourselves in his story. We can have high expectations of our holiday feelings thinking, "It's Christmas! We are supposed to be rejoicing and feeling all the warm fuzzies! We are supposed to set the tone for joy!"
But sometimes we simply aren't able to do this. There is no guilt in feeling your very real, very valid emotions.
There is a time for all of them.
As those verses in Scripture say, there is a time for each and every emotion we experience and feel. Often some of the feelings listed in these verses crop up two at a time. Sometimes they take turns or trade off, one for the other. And instead of burying them, these passages encourage us to feel it all — to lean right into the pain if need be. These verses validate and make space for it all.
God welcomes our honesty. He wants us to bring Him the nitty-gritty of our feelings, the raw emotions we often suppress, because He sees us. God sees the pain and fears you've been hanging on to, and He beckons welcome.
There is no "supposed to." There is only God, and He invites your all, right into the Christmas season.
Let's pray:
God, You know my struggle. You know my pain. I want to be happy, but Lord, I'm not sure how I'm supposed to feel. So I bring it all to You. I place this pain, this unknown and confusion, in Your hands, and I ask for Your healing to be bigger than my despair. I love You, and I trust You with this. Amen.
What emotions are you harboring this year? Can you bring them to the Lord?
---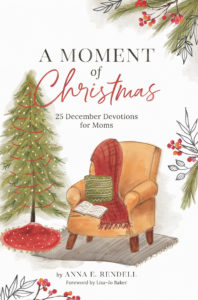 A Moment of Christmas: 25 December Devotions for Moms by (in)courage contributor Anna E. Rendell will help you prepare your heart for Christmas with twenty-five days of devotions and Scripture readings, reflection questions, and extra goodies — recipes, inspiring quotes, and time-saving tips. Toss this book into your diaper bag or leave it on your kitchen counter, and let your heart be encouraged in the cracks of your day. As you prepare your heart for Christmas by reading through these pages, you'll be inspired to drop the pursuit of perfection and chase holy.
We want to help you welcome the holiday season by giving away TWO copies!
Leave a comment about one of your favorite Advent or Christmas traditions, and you'll be entered to win one of two copies of A Moment of Christmas!
Giveaway ends 11/13 at 11:59pm CST and is open to US addresses only.
Leave a Comment