In January of 2016, My husband and I made the drive from Northern Virginia to Southern Maryland to spend an evening with family. While the meal was being prepared, my brother, Dan, sister-in-law, Kayla, and I stood in the corner of the kitchen, talking and laughing, as usual. I shared about our recent move and our search for connection. I shrugged and explained that I knew the importance of community, but I just didn't know how to find it. My brother, six years younger yet so much wiser, said, "If you want to build community and make connections, you need to serve."
His new wife, Kayla, smiled and nodded. She was living out her mission to love God and others by serving on their church's hospitality team. She knew a simple cup of coffee could forge a connection, bring a smile, and create community.
I didn't know the impact this single conversation would soon have on my life. Seeing Dan and Kayla together warmed every heart who knew them. They were brought together by God to impact His Kingdom far beyond what we could comprehend. Dan's words stayed with me as we traveled back home in search of that community I was craving. I thought about the way he had dedicated his life to serving God and the church through his talent as a musician. In following God's lead, he was able to bless others with the gifts God had given him. At ages twenty and twenty-one, they both had a clear understanding of where they were meant to be, and it was inspiring to watch them live each day with purpose and intentionality.
One month later, on Valentine's Day, we received the devastating news that Dan and Kayla had been in a car accident. On their way home from their six-month wedding anniversary dinner, a driver under the influence struck their vehicle, and Dan and Kayla had gone home to be with the Lord.
Our world stood still. We tried to wrap our minds around a future that wouldn't look anything like the one we had pictured. Each morning brought new waves of grief, and still, as I read the Psalms and prayed for strength, I felt the Lord closer than ever. Losing two people so rooted in their purpose created in me the strongest desire to follow their lead and pursue God's purpose for my life. A new perspective emerged from my brokenness. For the first time, I craved heaven more than anything on earth.
As my perspective shifted, so did my desire to live differently. I continued to pray for an opportunity to serve the way they did. I loved my career in interior design but felt the pull to pursue something more ministry-minded. In a leap of faith, I left my job and begin the search for a home-based business. Late one evening, my search brought me to the Mary & Martha website for the very first time. I opened the page to find beautiful home decor, Scripture, and a message that read "Welcome, Serve, Connect." My eyes welled with tears. In my head, I heard Dan's voice. In my heart, I felt God's nudge. Purpose-filled products that aligned with my passion. Christ-centered community. Connection. A place to serve. In the midst of my deepest sorrow, my heart was filled with joy to find a place like this.
Within Mary & Martha, I connected with a beautiful sisterhood all across the U.S. I was instantly surrounded by like-minded women who lifted me up, prayed for me, and came alongside me in living out my calling. Four months later, I attended Mary & Martha's national conference, and stepping into that conference room felt like coming home. Full of warmth, joy, and worship, the weekend with this community was an answer to prayer. They were on a mission to serve and embraced the call to love God and others in all they do.
At the end of the conference, we were handed a beautiful quote by Roy Lessin, co-founder of our parent company, DaySpring. It read, "When a stone is dropped into a lake, it quickly disappears from sight — but its impact leaves behind a series of ripples that broaden and reach across the water. In the same way, the impact of one life lived for Christ leaves behind an influence for good that touches the lives of many others."
I saw this firsthand through Dan and Kayla's beautiful lives. I knew that God had led me to Mary & Martha to continue the ripple of good they had begun. Knowing God is in control and working through us in this way brings me peace.
Loss has taught me that every day, every moment, and every conversation matters. As Christ-followers, we are called to reach across our communities, to impact them like ripples across the water. My prayer is that you would be encouraged to build community, make connections, and serve as you live out God's unique purpose for you.
Each of you should use whatever gift you have received to serve others, as faithful stewards of God's grace in its various forms.
1 Peter 4:10 (NIV)

What a beautiful story from Jess! Imagine being part of a faith-based company where you create your own schedule, share inspirational products, earn unlimited income, and belong to a sisterhood of women! If you'd like more information, discover the Mary & Martha difference today!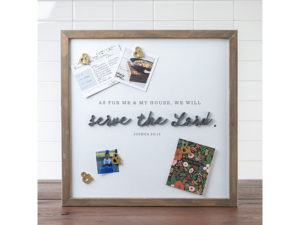 And to get a glimpse of their wonderful products, Mary & Martha is giving away FIVE of these printed canvas magnetic signs, valued at $98! Comment below with what you loved hearing about their company for a chance to win!
Giveaway closes 11:59pm CST on October 14. US addresses only. 
Leave a Comment