For the last several weeks, our air has been smoky in Central California because of the fires chasing up and down our state. We have been forced to stay inside for many days, which was a little harder to swallow after five months of sheltering at home due to the global pandemic.
My husband Shawn and I decided to take our three daughters and my parents on a weekend trip to the Central Coast to get out of the murky air. On that Saturday morning, Shawn and I drove to Montaña de Oro State Park for a trail run. I craved fresh air and some space to breathe before the new school year began with all my girls learning at home.
Some friends recommended this amazing trail that overlooked the ocean. I am all about chasing God's glory along ocean vistas. We made our way to the trailhead and started our run.
Montaña de Oro State Park boasts golden wildflowers in spring, secluded sandy beaches, streams, canyons, coastal plains dotted with succulents, and hills upon hills. As the trail wove through the park like a thread through a tapestry, we found ourselves peering over the edge of rugged cliffs. A symphony of waves crashed beneath us.
I felt the storm in my soul begin to calm as my heart tuned in to the cadence of the ocean waves. I was reminded of my Daddy God who holds all the details, all the decision fatigue, and all the problems of this year in the palm of His hands.
Then I began to notice this bird flying overhead. As I ran, he flew just ahead of me. He was so close I could make out the curve of his expansive wings. I'm not a birder, but I'm pretty sure it was a hawk or eagle. I could tell by the way he would flap his wings only once or twice and then soar on the wind.
The prophet Isaiah says, "But those who hope in the Lord will renew their strength. They will soar on wings like eagles; they will run and not grow weary, they will walk and not be faint" (Isaiah 40:31).
These words remind us that we are called to place our hope in the Lord. We cannot trust in our own sense of control over situations. So much in this season is out of our hands, and we have to look to God when we feel weary and broken.
Different translations and versions of the Bible use different words in place of that word "trust," which help us get a fuller picture of what the prophet Isaiah was saying. We are called to "wait" for the Lord (ESV), to "trust" in Him (NLT), and "wait upon" Him for our next move (MSG). When we trust and wait for God, He leads us in surprising ways to fly like eagles.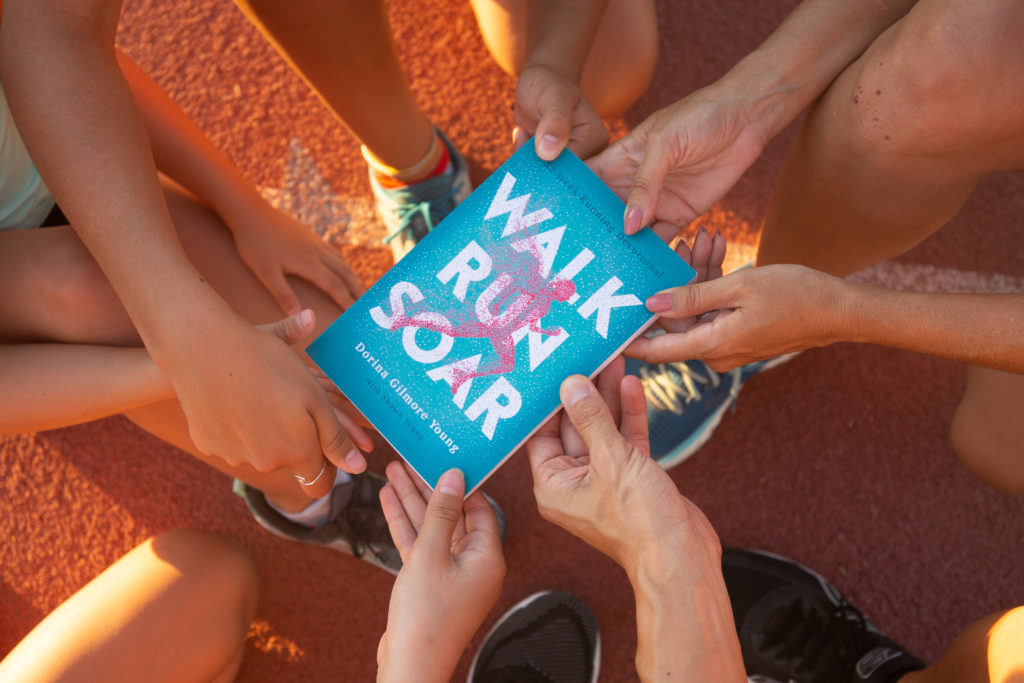 Eagles are beautiful, majestic birds created by God to soar. They have long, large wings. Their bodies are very light with bones that are hollow. Their skeletons weigh about half a pound, but their wings are very strong.
When eagles fly, they flap their wings for only a short time to gain altitude. Then they stretch their wings horizontally and use wind thermals to soar or glide through the air, conserving energy.
A wind thermal is a big gust of wind that rises up from the atmosphere. Eagles wait and perch (sometimes for days) before they catch a good, strong wind thermal to carry them to where they want to go. Like the eagle, we also must wait with hope, listening for the Holy Spirit to whisper, nudge, or direct us where to run next.
While we wait, Isaiah 40 says God "renews our strength." An eagle molts, which is the natural way God renews and replenishes its wings. The old feathers fall out and new ones grow in to take their place. Similarly, God can give us a dose of renewed strength, power, and ability while we are waiting for Him.
Whether you are waiting for an answer, waiting for healing, waiting for a child, waiting for a job promotion, or just waiting for this pandemic to be over, know that your waiting has purpose.
Waiting does not mean wallowing or sitting idle. In the waiting, God can give us fresh strength so we can soar when the time is right.
We can't simply rely on our own strength because it is too often misguided and will eventually run out. Like the eagle, we need to conserve energy and look with anticipation for that just-right wind the Holy Spirit provides.
We need to stop striving and start soaring.
This post was adapted from the Introduction to Walk Run Soar.
---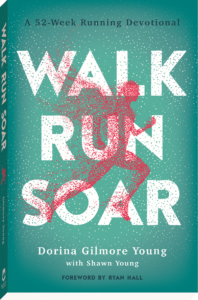 Walk, Run, Soar is a 52-week devotional and training journal designed for runners (and walkers!) who hope to experience God's presence, purpose, and glory in a deeper way as they run. Dorina Gilmore Young, and her triathlete husband, Shawn, will get you moving with a new motivation: improving your spiritual health. Along with weekly devotions to inspire you, Walk, Run, Soar includes:
· practical running/training tips
· training schedules from a running and triathlon coach
· advice on how to fuel your body well
· reflection questions and action steps
· space to journal and record your running progress
Whether you are new to running or a longtime runner, Walk, Run, Soar will motivate you to hit your fitness goals while strengthening your faith.
And to celebrate its release, we'll be choosing FIVE winners to receive a copy! Tell us whom you'd like to gift the book to (whether it's for someone else or for you) in the comments below!
Giveaway closes October 2 at 11:59pm CST. Open to US addresses only. 
Leave a Comment