My family has moved quite a bit. But whether we've moved a few minutes away or a few hours away, it's never been an easy process.
Selling a home, finding a suitable new one, getting your belongings from one place to another and setting up a new place is pretty stressful.
Military folks, bless your hearts, you move all the time, so I'm sure you get very efficient at it! I'm always in awe of my friends who move every three years to a new community. But I know it isn't easy.
Even under the best of circumstances, when you are excited about the move or the new house, there's almost always a bit of apprehension surrounding such a big change. My family is facing transition once again as we are packing up our house that we've lived in for the past six and a half years and moving over an hour away to Seattle to bring our family closer together.
We feel God has laid this move on our hearts for this season of our life. We feel at peace as we have prayed for wisdom and protection as we move forward.
Our heart is to serve the Lord, wherever He leads.
Even so, we can't help but have a little bit of fear and apprehension for all the what ifs. It isn't an easy move. My son is changing schools, and as a teenager, that means he feels like his world is ending and I'm the obvious cause.
My heart breaks for my son as he fears this change, because even though I want to believe with all my heart this will be a good move for all of us, change feels risky when you can't see the outcome. He doesn't always see that I am FOR him, watching our steps and praying protection over him to the very best of my ability as his mom.
I'm making the move for his good. I'm making decisions because of him, not in spite of him. I am going before him and following after him, even when he doesn't see it. I'd go to the ends of the earth for that boy to make sure he was safe.
If only he knew and found hope in that truth.
We will move to a different home, in a different place, so I too fear this big change and the impact on our lives. My husband and I — as the grownups — feel like the weight of the world is sometimes on our shoulders.
Who knows what could happen if we step out in faith, believing this decision is best for our family?
Even with our best intentions, one false move and it could all feel like a terrible mistake. Moving is scary, but I want to have hope.
I believe God is going before us and behind us and in every detail that we entrust to Him.
Whether we see His hand of protection or not, whether the outcome is what we dreamed of or not, God is for us and with us. The journey is where we learn faith, hope, and trust for the destination. We are always safe, because we are His children.
As I was traveling on business this past week, I had the opportunity to sit and chat with several women who began to share their hopes and dreams for a home for their family. I love that women can connect and share a bit of their hearts and home stories with me.
As a home blogger, I am amazed by what a universal thing it is to have that even small subconscious hope for a safe and comfortable home to dwell in and nurture our family. And while we all hope for that safe place, we also fear that hope. Because, what if? 
The precious women I spoke with last week were in tears as they described their dreams of a future home (no matter how humble and realistic the vision might be!) because they feared leaning into those dreams with too much hope.
Some were reflecting back in amazement because they are now moving into the home of their dreams, in complete awe of how God worked out the little details after years trying to suppress or hang on to the hope. God gives good gifts. And some were still holding their breath, feeling fragile or vulnerable, waiting for contracts, or a loan to go through. Others are still hoping for the right house and community to be found even under less than ideal circumstances.
Some have felt the sting of disappointment for so long, hoping for good things is just far too risky. But God is still God. He's still a giver of good gifts, if we recognize them for what they are.
Hope is trusting in God's goodness and faithfulness, no matter what that looks like.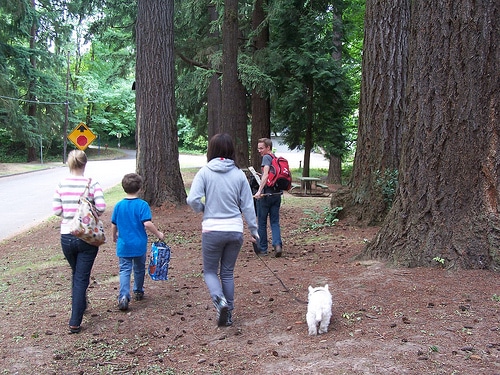 Until the key is in your hand and you can bolt the door safely behind you, there's naturally an uneasy feeling when you are still walking on the bumpy road. Whether we are chasing our dreams, following God's calling for our family, or just making the best of a situation, we all face times of change that will challenge us to surrender, to fear, and to cling to hope. A new home, a new community, a new job, a new school, a new situation.
God goes before us and behind us, watching over us, and no matter what, He's for us.
We learn to trust in what we know about His love for us, in his promises, not in what we see around us. Because even in the twists and turns and bumps and bruises along the way, His goal is always to take our hand and lead us safely home. There's hope in the journey and we can look forward to the destination, because we are safe when we trust the Navigator.
What hopes are you fearing? Will you pray for our family as we journey toward a new place (you can follow us here)?
How could we pray for you, today?
[linebreak]
Share on Twitter:
Hope is trusting in God's goodness and faithfulness, no matter what that looks like. {Tweet this!}
Leave a Comment