I just returned from 10 days in Kenya and Ethiopia with my 15-year-old daughter. 
We spent time at Mercy House, the non-profit our family started in 2010 and visited Fair Trade Friday partners in both countries.
I wasn't even home yet when I heard the words that make me cringe:
"I love what your family is doing, but we could never do that. We are just too _______ [insert one of 1000 reasons].
The statement makes me uncomfortable, but I also understand it.
I feel the same way about 365 days a year. "I can't do this mission. Our family is too human. We don't know what we're doing, I can't even keep up with laundry. I yell at my kids. We are argue and live this grace thing out in ugly ways some days."
My list of "I can't and I shouldn't" is endless.
But living on mission doesn't start with doing something for God. It begins with what He has done for us.
"We serve a missionary God. He is all about the sending. We are a missionary people. We are about the going." ~Jason Johnson.*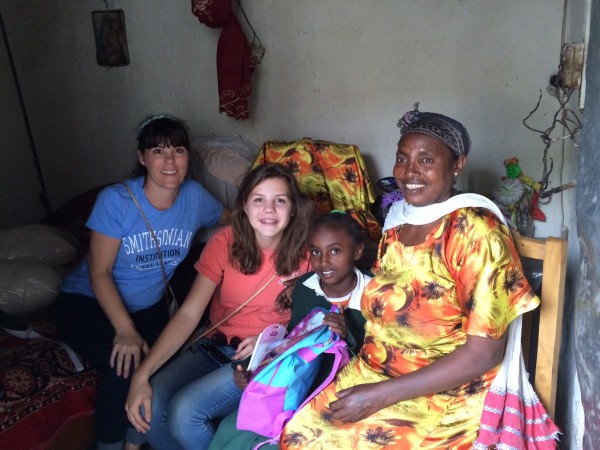 By nature we are a sent people. That's our identity. It's the why of our lives.
The question isn't Is my family called to a mission?
That question has already been answered.
It's simple really. God has called all of us — families included — to welcome others into His family.
"God's mission for the family is expanding God's family." ~Ann Dunagan
We are called to GO.
Do you wonder what God's will is for your family? It's to fulfill His mission. We wonder where, what, when . . . and we often get bogged down in the unknown details. The way we accomplish this mission will look a million different ways.
Where are you going today? The grocery store. The school. The neighbor's house. Wherever you go, fulfill your mission and shine Jesus. Your small step of obedience might lead you to great destinations or it might just lead you to the dog food aisle. Either way, going is half the victory. Because that is your family's greatest mission.
"If it falls to your lot to be a street sweeper, sweep streets like Michelangelo painted pictures, sweep streets like Beethoven composed music . . . Sweep streets like Shakespeare wrote poetry. Sweep streets so well that all the host of heaven and earth will have to pause and say: Here lived a great street sweeper who swept his job well." ~Martin Luther King Jr.
God isn't waiting for us to be perfect or get our act together, so we can change the world; He specializes in using the less-than-perfect places in our lives for His glory.
It's our mission if we choose to accept it.
Written by Kristen Welch, We are THAT family
[linebreak]
Share on Twitter:
God specializes in using the less-than-perfect places in our lives for His glory. {Tweet this!}
Leave a Comment